Visual Arts
Someone Save Arts Alive!
Cradle of Creation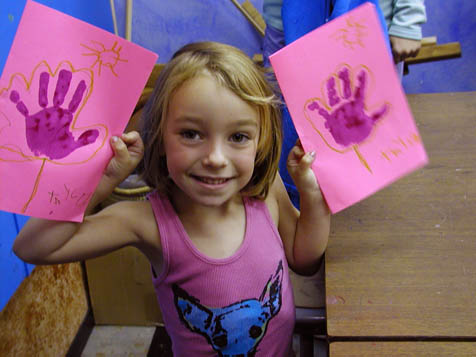 It's 5:30 on Friday evening, and the long hallway gallery space at Arts Alive! Creativity Center, a converted warehouse on Calle Cesar Ch¡vez, is jammed with people, all listening to artist Robert Shetterly as he introduces his traveling exhibition, Americans Who Tell the Truth. The capacity crowd ranges in age from younger than eight to nearly 80, and in social status from lowly journalists to Congressmember Lois Capps. The atmosphere pulsates with intense feeling as Shetterly shares his vision. "History is not just something that we read about or that happens to us," he said. "History is something we shape by our determination to be involved in the events of our time." Surrounding us on the wall are 50 portraits of famous and less well-known Americans united in their commitment to end social injustice, both here and around the world.
Close by but discreetly in the background stands Laura Inks, the owner, director, and creator of Arts Alive! Beyond this gathering, in the dance studios and rehearsal spaces of the complex, various classes and workshops are going on-all under one roof, and all made possible by one woman's vision. Not 30 feet from where our congressperson stands beside her grandchild, speaking with a voice full of emotion about the hope Shetterly's project gives her for democracy, 15 teenagers perform a hip-hop routine, their dancing visible through a studio window. Deeper inside the large warehouse space, more classes in dance, art, and music are revealed-a panoply of creative pursuits, all enjoying the most cherished of Santa Barbara resources: inexpensive ($25 an hour!) space.
Yet even this robust display of community-mindedness does not complete the Arts Alive! story. Simultaneous with these activities, there are professional troupes arriving at major venues elsewhere in town-Loose Affiliation of Artists at Center Stage Theater, Boxtales at the Lobero-that have held their rehearsals leading to this night at Arts Alive! There is no space in town that can make a comparable claim to having given birth to so much diverse creativity.
All the more reason why the latest news from Inks and Arts Alive! is discouraging, though not without hope. In an email dated September 22, Inks told her many friends and associates in the arts community, "While Arts Alive! has been a marvelous success in many ways, financially it has not, and it's time to face reality and move on. There is just not enough income to keep it going." Although the Santa Barbara Jazz Dance Academy will remain, Inks is not in a position to continue running the space on its current financial basis into the new year.
As of today, the last officially scheduled Arts Alive! program will be Teen Street Art, an outreach project funded by the county and intended to address the expressive needs of at-risk Santa Barbara youth. After that, the future of Arts Alive! is unclear.
Inks still has hope that an angel may be found who will support the foundation and keep a large part of her initial vision intact. Elsewhere in her message, she wrote, "My first dream would be that someone buys the business, takes over the favorable lease, and continues on with the foundation I've established as an incredible art studio and workshop space. They will come with an infusion of fresh ideas and a financial boost and take it to the next level." Leasing individual rooms on a separate basis would also be an option, as long as potential tenants, whether they are arts organizations or small businesses, could live comfortably alongside the Jazz Dance Academy.
As a participant in the Santa Barbara arts community for the better part of the last decade, I have, as many others do, a strong personal attachment to this truly grassroots space and foundation. Some of the most wonderful, mysterious, and unexpected things to happen in this town have occurred there, and I would hate to see it go the commercial way of too many other valuable venues. When I think of the range and depth of what Arts Alive! has sponsored-everything from Karl Frost's magical Axolotl, the blindfolded participatory contact improvisation event I attended there in 2004, to the recent show of art by area architects-I feel that we are collectively on the verge of losing something crucial. Let's shape Santa Barbara's history, as Shetterly would have us do, and find a way for the spirit of Arts Alive! to live on.
4•1•1
For more information about Arts Alive!, call 963-2278 or visit artsalivesb.com