Cover Story
2007 Surf Issue – Surf Season Returns
It's Back
Get ready for crowded beach parking lots, neck tan lines, salty post-nasal drip and unexcused absences from work and school-surf season is once again kissing the coastline of Santa Barbara. The all-too-short annual love affair between our beloved cobblestone points and northwest ground swells officially opened this month with a spattering of sublimely surfable days throughout the county, and the hungry hordes were on it.
In celebration of this yearly return, The Indy offers up our annual Surf Issue. In the following pages, you will get to know a few of the unique personalities that help make Santa Barbara surfing the living, breathing, swirling kaleidoscope of culture that it is. From former world champions and pint-sized grommets with world-champ dreams to underground legends and hard-charging shapers, our seaside hamlet has a tradition of surf culture on a par with anywhere on the West Coast, and this year we looked to shed a little light on the salty fabric of our board-riding culture.
Also, Carpinteria-based, long-time surf scribe Mike Kew makes his Indy debut with a tale about chasing chilly waves north of
San Francisco. And check out a preview of Contemporary Arts Forum's Glass Love exhibit, and the Trilogy Arts surf benefit at SOhO. So kick back, dig in, and fire the stoke 'cause surfing days are here again.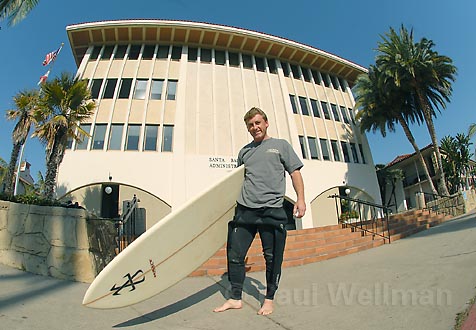 Scott Bull
When you ask Scott Bull what sorts of organizations he is involved in, he is only half joking in his response, "How about I tell you what I am not involved in-that would be way easier." Since moving to Isla Vista in 1993 from the mountains of Santa Cruz, Bull has been a certifiable tour de force in area coastal preservation issues, a regular in the lineups of I.V., and a steadfast participant in the party-rich social circuits of Santa Barbara. Just a quick look at his resume is enough to make vertigo set in-he started the first I.V. chapter of the Surfrider Foundation; he is the current chairman of the Santa Barbara Surfrider chapter; and he sits on the board of directors for the Gaviota Coastal Conservancy, Goleta Valley Beautiful, and the Citizens Planning Association.
He also helped found the Coastal Fund (formerly known as the Shoreline Preservation Fund), works as the student affairs adviser at UCSB on a number of earth-friendly issues, and, when concert season is in full swing, he pours beer at the S.B. Bowl. But as busy as Bull is, surfing still enjoys the pole position in his life as both an escape from his hectic schedule and a source of inspiration. "When it's good, I'm on it; I have to be," said Bull. "Surfing really puts everything I do in perspective. When I am sitting in the water, looking up at the bluff tops and feeling the beauty we have here, it just makes me want to do my job better. It is such a force, man. I love it."
For almost 15 years, the man most people know simply as "Scotty" called Isla Vista-with its car-crammed streets, student-stuffed houses, and idyllic seaside setting-home. It was a rare day that Bull didn't ride his bike to the beach and paddle out at Sands or Devereux. Even with a long overdue move to downtown Santa Barbara this past summer, something that he admitted has "changed my whole surfing experience," Bull still claims with unabashed I.V. pride, "Devereux is by far the best wave on the planet. It just gets so, so good out there."
But luckily for all of us, Bull finds himself sitting in a lot of different lineups these days, his activist eyes taking in an assortment of new views. "I just really appreciate a coastline that doesn't look like L.A.," he said, "and I want to make sure it stays that way around here." And that's good news for everybody in Santa Barbara-whether or not you surf.
Wayne Rich
Unlike any other shaper of his pedigree and age, Wayne Rich is still going full bore-both in the shop and in the water. His custom longboards are both art and fully functional nose-riding chariots, but more importantly, coming up fast on the age of 50, Rich still charges waves with a casual stoke and high-performance recklessness of someone half his age. When the swell is right and those rare bird-tube friendly points in Gaviota turn from flat to perfect, it is all but a guarantee that you will find Rich locked in, screaming around a low-tide rock, cheater-5 in the barrel with no leash, no regard for the flesh- and fiberglass-eating rocks just a few feet away, and trademark grin plastered across his face. "Surfing makes me feel 10 years old every time I do it," said Rich. "Sure you're going to eat shit sometimes, but that's all part of the fun."
Raised in the surf ghettos of Hermosa Beach, Rich began a slow and steady migration north almost 20 years ago with long stays in Oxnard and Carpinteria before settling down in Goleta in 2004. Making a living building surfboards is never easy-both financially and physically-and, though he enjoys a solid underground following for his signature Wayne Rich Surfboards throughout California and Japan, the former martial arts enthusiast readily admitted the years of sucking foam dust, breathing toxic fumes, running Skill 100 planers, and chasing waves takes its toll. "No doubt it's a battle," he said. "I am almost 50, I'm getting beat up but I'm going to shape and surf for the rest of my life. I love it, and if I didn't do it, I wouldn't be alive."
Besides his board business and well-known free surfing sessions, Rich has competed in longboarding competitions for the better part of two decades and continues to do so today. Though he explained his interest in contest as a way to "validate his designs and learn what other people are doing," he also manages to do pretty damn well in them. Almost always making the finals in his age division no matter if the contest is local or international, Rich hit a high-water mark in 2006 when he placed fourth in the world at the World Longboard Championships at Playa Hermosa. But at the end of the day, it is the realities of the Santa Barbara County coastline that fuel Rich's legendary stoke. (In a culture that seems to breed snide remarks and constant cut-downs, you are hard-pressed to find anyone in surfing with something truly negative to say about Rich-except that maybe he catches too many waves and is way too nice about it.) As he put it, "I just feel real lucky to live here. Between the Channel Islands and Malibu to Jalama, you have such a magic zone where you can test surfboards in any and every ocean condition imaginable."
Janna Irons
A Kauai native and relative of world-famous professional surfers Bruce and Andy Irons, UCSB student Janna Irons is no slouch on a surfboard herself. Since moving to Santa Barbara in 2002, the 23-year-old has turned more than her fair share of heads with her skills in the cove at Rincon while also proving to be a standout in the emerging world of professional women's longboarding. Easygoing and contagiously nice, Irons recently said of her contest surfing, "I really couldn't care less about winning. I just do the contests as an excuse to travel and hang out with all the girls." Nonchalance aside, her results have been both impressive and consistent, including a semifinal appearance at the World Championships in France this year.
A communications major set to graduate this December, Santa Barbara wasn't necessarily a whole new world when she moved across the Pacific. With her mom born and raised in town and her aunt and uncle Debbie and Tom Trauntbein both Rincon junkies, Irons had been coming to the 805 "at least a couple of times a year" since she was born and had enjoyed the bevy of point breaks-ideal for longboarding-that make up Santa Barbara's coastline long before she ever enrolled at UCSB. But since she has been fulltime here, the tradition of style and flow that permeates much of the Santa Barbara surf culture has had a positive impact on the Hawaiian. "I never surfed a single fin before I lived here. I think my style got a lot better and more classical from the points. : I've really learned to slow things down," said Irons. Even though her post-graduation plans call for extended travel and of course surfing, Irons intends to keep her connection with Santa Barbara. "More and more lately, this place feels like home; I love Santa Barbara."
Kim Mearig
There is a good chance that if you surf Rincon, you know who Kim Mearig is. In the surfing world, hers is a name associated with numerous contest wins during the 1980s, including her title as the 1983 ASP World Champion. Today, still surfing, but spending the majority of time with her children, Mearig remains one of the better wave riders to be seen at Rincon. She often surfs there with her 15-year-old son, Justin, her husband, Brian Gruetzmacher, and occasionally with her daughter, Kaitlyn.
Mearig started surfing when she was 11, going to Ledbetter Beach and Mesa Lane. The 1981 Santa Barbara High School alum surfed with the likes of Tom Curren; the two were often in the lineup at Hammonds during their high school years in addition to both surfing for the Op team.
Back then, the boys in the water treated her very nicely, as she was one of the only girl surfers around. "I think a lot of them liked to see us out there," Mearig said, "because it mellowed out the lineup-not so much testosterone flying around." Now, people still treat her well, although she gets a bit miffed when out-of-towners make a big deal out of her celebrity status. "It would be nice to fly under the radar nowadays. You don't really think when you're competing that the publicity will continue [afterward]."
Although she still loves to surf, Mearig expressed concern about the abundance of "angry young men" in the water today. She cited forecasting and the hyping of swells as a major contributor to the crowds in the water. "A lot of people from inland didn't used to surf a lot because you actually had to go to the beach and check the surf. I still do."
Her message to aggressive people in the water: "Just be courteous. We're all out there to have fun, and when it gets really crowded and crazy, it's not so good."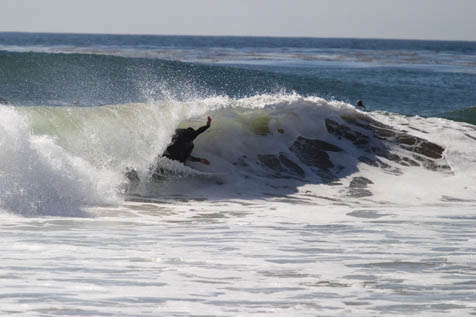 Brad Johnson
Goleta native Brad Johnson isn't sure he deserves local status because, as he put it, "I was born in Los Gatos and didn't move here until I was one and a half." But to see the talented goofy foot take apart any one of the Goleta or Gaviota waves he has been haunting for the past three decades is to bear witness to local knowledge at its finest. Even with a budding board-building business and a variety of other caretaking and gatekeeping jobs, Johnson manages to surf about as much as humanly possible. "Surfing is definitely priority number one," said the 1989 Dos Pueblos High School graduate. "It's the bad surf days that are the heavy work days. I definitely try to schedule everything around the weather and what's happening in the northern and southern hemispheres."
Getting his first taste of saltwater kicks at an early age on a boogey board at Goleta Beach, the coastline of the Goodland-from the Sloughs up to Sands-was an easy-access playground for Johnson, his brother, Scott, and good friend John Shields. Though hundreds of swells have passed since then, the program still remains more or less the same. Outside a handful of multi-month long journeys into the South Pacific to find surf, Johnson has survived on a steady diet of North County waves. "Sure, when I first got my [driver's] license we would hit Ventura or something, but pretty soon we started heading north, and that was it," he said.
Since graduating high school, Johnson figures he has had his hands on more than 15,000 surfboards as a shaper, glasser, or sander. This experience, no doubt, is instrumental in the blossoming of his Trilogy Arts-a surf, skateboard, and snowboard company he is part of with fellow Goletan and long-time Lake Tahoe resident Ruben Sanchez. Making everything from high-performance shortboards to artistic abalone-inlaid longboards, Johnson has been stepping up his board building in recent months. With new shaping facilities close to his home and plans underway to relocate all of Trilogy's business operations from Lake Tahoe south to Goleta, Johnson is coming through on a claim he made to his father years ago. "I remember my dad would always bring up my surfing and say, 'Where are you going to be in eight years? Where is this going to take you?' I'll never forget, when I was about 20, I answered him by putting my hands out like I was standing in a barrel and said, 'Hopefully right here.' And, well, it's been a lot more than eight years, and here I am," Johnson said.
Randall Stoker
If you've spent any portion of the past 35 years surfing near Coal Oil Point in Goleta, you know who Randall Stoker is. Tall, tan, sandy toed, and Buddha-like in his smiling detachment, the man known simply as Stoker has been cruising the points of Goleta, Santa Barbara, and unknown destinations north since 1968, dropping his trademark "Heeey now!" greeting on generations of Goodland surfers while drawing casual, buttery smooth lines across the faces of countless waves. His lifestyle, from an outsider's perspective, seems perfectly in tune with the ebb and flow of the sea-each day dictated by little more than the "rollers" hitting whatever beach he may be on. Asked to explain his typical routine, Stoker said, "At night, whenever I wake up, I just turn on the weather box, and if it sounds interesting, I'll go check it out." With a home address just a short walk from the beach in Isla Vista and a star-studded cast of surfing friends from California and Hawai'i (his home away from home), chances are that Stoker's "checking it out" will invariably lead to a session or two. As a result, if you are a kooky novice, a sponsored aspiring pro, or a creaky-kneed old salt, you have encountered Stoker, and chances are he gave you a smile and probably a shaka too.
Surfing culture would not be what it is without people like Stoker. Simply put, he is a legend. After attending private school at Devereux in the early 1970s, Stoker moved to Montecito where he stayed at the Wolfe residence-home to a well-known surfing family-and attended Santa Barbara High, graduating in 1975 as a member of the school's 100th class, something he described recently as "a pretty cool thing to do." Running around with Ronnie Wolfe and other Montecito surfing standout Dickie Nelson, Stoker was right in the middle of the blossoming S.B. surf scene and what many people consider to be the golden age of 805 wave riding. As he put it, "If you aren't over 50, you missed it man. : In 1972, we counted 41 days of good surf in a row at Rincon. It was just insane, man, and places up north-it was like God had landed on the beach or something."
As much of a fixture in the local surfing culture as he has been for the past four decades, Stoker is also a mainstay in Hawai'i, specifically the island of O'ahu. Spending an increasing amount of time each year living on the islands, Stoker embodies the Hawaiian spirit of Aloha as well as anybody living on the mainland, carrying it with him always and exuding it to all he encounters. "The Hawaiians are the most giving people in the world," said Stoker. "It's the only thing Captain Cook couldn't take away from them, and I think we all can learn from it."
There is a model of surfboard, called the V-Machine, or more appropriately "The Stoker," that Randall has developed throughout the years with a handful of world-class shapers (most recently Trilogy Arts' Goleta-based Brad Johnson is making them). Stoker described the wide, sexy, and oddly door-shaped tri-fins as "a basic fish alternative," but should you ever encounter someone who rides one (and you can count world-famous surfers like Joel Tudor, Bonga Perkins, Tom Curren, and, soon, Jack Johnson among the converted), they always seem to be wearing a grin on their face, oddly reminiscent of the one Stoker beams all the time. The boards are fun, fast, and, as Stoker explained, "Pretty much perfect for the conditions you run across when you are just cruising around here." Something that, luckily for us, Stoker is pretty good at.
Morgan Maassen
At an age when most kids are stuck navel gazing in high school history class and wondering about what the weekend may hold, Morgan Maassen is treading on a decidedly more soulful path. Graduating from high school at the age of 16 because he was "tired of wasting time," Maassen exhibits a sense of self and artistic-flavored work ethic that goes far beyond his 17 years on this planet. The S.B. native eats, sleeps, and breathes all things ocean, and ever since he took a movie-making class in seventh grade at the Crane School, he has been following this bliss with a camera in hand. With three surf films already under his belt, some serious graphic designing and editing chops, and a self-made Web site featuring his work (bogus-media.com) that had about half a million hits last year, this Mesa-dwelling surfer, skimboarder, spearfisher, and boogey boarder is not only taking full advantage of the salt water playground in his backyard but also sharing it with the world.
Immediately parlaying his early high school exit into a full load of Santa Barbara City College classes, one could easily assume that Maassen is perhaps a bit too focused for someone his age. But talking with him reveals quite the contrary-he simply knows what he likes and isn't afraid to go for it. "It's not like I have anything figured out," he said. "I just really love those days when it's been storming and the clouds begin to part and the sun shines through, you know? And it's just you and your friends, and the waves are perfect. : I love working and looking for those special moments."
To that end, he has his eyes set on getting out of City College in a year or so, something that would once again put him ahead in the traditional educational timeline and thus afford him a big hunk of international surf-searching time. Talking excitedly about an incoming swell, the waves he and his friends Brandon Smith and Trevor Gordon are going to score, and his hopes for a trip to India and Africa next summer, you can't help but be a little bit jealous of the life the young man is carving out for himself. "I guess all I want is for [filming and photographing] to take me somewhere-literally," said Maassen before quickly adding with a laugh, "That, and I just hope I have a good time."
Andy Neumann
Both on his longboard and at his drafting table, Andy Neumann draws beautiful and timeless lines. Celebrated around the world for his contemporary architecture chops, the 1964 Santa Barbara High graduate is also one hell of a surfer. A member of the Santa Barbara Surf Club from its early years and later president of the short-lived though long-celebrated Hope Ranch Surf Club, Neumann was a standout during the club contest scene of Southern California in the 1960s; he remains, to this day, a fixture in the Rincon lineup whenever the Queen of the Coast turns on. Aside from earning a surfing scholarship to Berkeley and competing in world championship contests both in the U.S. and abroad, the dark featured regular foot famously glided his way to the finals of the now famous 1966 Malibu Club contest, going toe to toe with legends of the sport like Mike Doyle, Johnny Fain, and Skip Frye. "The beach," said Neumann, "is a part of my soul."
As impressive as his surfing resume may be, Neumann's credibility in the world of architecture is even more daunting. With a philosophy that drips of surfing innuendo, the Indonesian born former lifeguard explained his basic design approach as "trying to marry the house with the site and become one with the topography, trees, and buildings around it." The Neumann flow can be witnessed from the water all along the coast of Santa Barbara County as his firm-Neumann Mendro Andrulaitis Architects-has designed more than 60 beach houses on wave-rich places like Rincon, Little Rincon, Faria Point, Loon's, Serna's Cove, and (don't tell anybody) the Hollister Ranch.
Though he claims his surfing life "went into hibernation" for years as he helped build his design firm and raise a family with his wife Yvonne, Neumann did make sure his office, which sits on Linden Avenue in Carpinteria and caters to an increasingly diverse and occasionally famous clientele, was close to the ocean. "We are only two-and-a-half miles form Rincon," bragged Neumann with a good-natured tone. "And that was a very big thing for me. : Being able to go surf is so important. It refreshes me and gets me ready to go to work the next day."
Santa Barbara Surf Girls
One day, longtime Santa Barbaran Kristin Walker decided to capitalize on the beautiful surf spots here and adopt the sport as her own. Her only problem was trepidation; she found the possibility of aggressive male surfers in the water an obstacle that only the support of other women could help her overcome.
So Walker, a Web developer for the Santa Barbara County Education Office, started an e-mail list-serve on craigslist.org, calling other beginning female surfers to go out in groups for mutual support, and for plain old socialization. "A lot of women start surfing with a boyfriend who doesn't necessarily remember what it was like to be a beginner," Walker said. "Also, women tend to have more of a collaborative approach, instead of the competitive approach adopted by a lot of guys."
The group-composed of women in their mid-twenties and older-grew rapidly, and after a while, Walker found many women were forming close friendships and splintering off into smaller groups. "The thing about this age group is we're not in college anymore, so there isn't an easy way to go out and meet people who like to do fun stuff," she said. "A lot of really good friendships were formed that went outside the group."
There are all sorts of women in the group-lawyers, engineers, even a heli-repelling firefighter-but all of them like to go out and have fun surfing. These days, the posting on craigslist.org isn't used anymore; Walker has developed a Web site for the group, sbsurfgrls.com. So, if you're a female interested in sharing your surfing experience with a supportive group, look no further.
Decker McAllister
When asked recently where he would travel to surf if he could go anywhere in the world, 10-year-old super grom Decker McAllister paused for a second, gave a heartfelt "Hmmm," double checked: "Anywhere?", and then answered definitively: "I'm going to make up a country that has all the best surf spots in the world on it. Yeah, I'm gonna go there for sure." Given that he has only been surfing for five years and already surfs with a maturity of someone twice his age, the Montecito Union fifth-grader's board riding skills might just take him to those waves someday-though chances are, unless global warming goes haywire, they all won't be on one island.
With sun-bleached blond hair, full-flaring stoke, the right blend of wise-ass and genuine curiosity, a surf-oriented and supportive family, and one of Montecito's more magical lineups just a "short secret path" away from where he sleeps, McAllister is the surf grommet's dream embodied-and you get the feeling he knows it. "Yeah, I want to be a pro surfer," he said. "I love it. But I also promised my parents I would go to college. : Or [I'll] just move to Mexico-it's real cheap there."
While pro surfing is certainly a long ways away for a kid who calls school one of his favorite sports because "you got to work out your brain, too," McAllister has been getting quality contest results, due in no small part to his years spent in Chris Keet's Surf Happens after-school and summer camp program. Just two weeks ago, the pint-sized regular foot took fourth place in his division at an NSSA contest in Huntington Beach and, more importantly, his daily backyard surfing sessions seem to improve on a weekly basis.
With sponsorships from the likes of surf industry heavies Quicksilver and Channel Islands surfboards speaking to his potential, it's McAllister's outlook and refreshingly quirky take on things that make him stand out from the ranks of talented grom surfers throughout the state. Citing Journey, Def Leppard, and AC/DC as his favorite bands, McAllister gets even more surprising when relating his heroes. "Well, my dad for sure," he said, "and then probably Johnny G." Pressed as to why the inventor of the exercise craze known as spinning-and family friend-is his role model, McAllister doesn't miss a beat and certainly doesn't sound like your average 10-year-old: "He is just so peaceful and smart. Like if he wanted to learn how to do a rainbow with a soccer ball he would just keep doing it over and over until he learned. I really like his determination."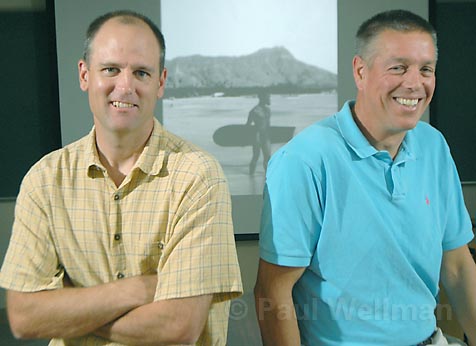 Surf History Class
Santa Barbara is a town rich in surfing history and culture, so it comes as no surprise that in spring 2008 UCSB will be offering a course on the history of surfing. Delving deeper than the popular culture surveys offered by many surf documentaries, the class will be a thorough analysis of the factors affecting a lifestyle that has created a $15 billion global industry.
Visiting scholars Peter Westwick and Peter Neushul will be instructing the course, and having both grown up surfing here, they are seasoned veterans of Santa Barbara's surf scene. Westwick is a senior research fellow of humanities at Cal Tech, with several books to his credit-including histories of the National Laboratory and Jet Propulsion Laboratory. Neushul is also a historian focusing on science and technology.
During numerous surfing sessions together, Westwick and Neushul had discussed teaching a comprehensive surf history class, but the question always came back to what institution would host-and, more importantly, fund-such an undertaking. With its close proximity to several famed surfing breaks and a Geography of Surfing class already being offered, UCSB was a natural choice. The UCSB Department of History accepted their proposal, with funding offered by the Associated Students' Shoreline Preservation Fund.
Although offered through the history department, the course is also cross-listed in the environmental studies program, as it closely examines the environmental impacts of coastal development and the surf industry. "One of the goals of the course is to teach not only the specific facts of the history of surfing, but to think about it in a broader environmental sense and historical context," said Westwick.
Each student enrolled will be required to complete a research project where they will pick a surf break and write a comprehensive environmental history of it. "You see a pristine area you think has been untouched, and when you look at the history, there are some surprises," said Neushul. "There used to be an oil pier at Coal Oil Point, for example."
Spicoli proteges beware: This won't be an easy class-it satisfies a research and writing requirement. "We made the class accessible, fun, and interesting, but grounded in serious scholarly content," said Neushul. "We take surfing very seriously, and if we don't take this course seriously, it won't be on the books for very long."
Kilian Garland
Watching Kilian Garland surf can hurt your ego. The ease with which the 20-year-old, Cottage Hospital-born Garland can turn an average beach break peak into a stage for jaw-dropping, high-performance surfing is enough to make even an accomplished surfer reassess their situation. His surfing act, though young and occasionally inconsistent, is frighteningly complete. On any given wave, the lanky regular foot can display a full arsenal of tube-riding skills, above-the-lip aerial gymnastics, full-rail power carves, and style sensibility that comes from growing up on the same points that bred the legendary Tom Curren.
Not just a free surfing standout, the man-child they call Schwilly spent his teenage years racking up one of the most impressive amateur surfing resumes ever, all while living in relative anonymity with his mother in the decidedly land-locked North County community of Orcutt. "I was pretty sheltered up there," recalled Garland. "There weren't many people who even surfed so I spent a lot of time alone." While popular opinion suggests young surfers-especially those of Garland's caliber-need to be immersed in the Orange County-based surf industry scene to progress to the next level, his sleepy home base didn't seem to get in the way much as he banged out five NSSA National titles and countless other regional and statewide contest wins throughout the years.
The pressures of wanting to make a go at full-blown professional surfing drove Garland south last year, out of his comfort zone and deep into the underbelly of mainstream surfing with a relocation to Newport Beach. The soul-suck of Los Angeles didn't agree with the young man, and, after "losing" himself a bit down there, Garland is back in his homeland and once again surfing on the regular with his father and friends-a development that has him back at the top of a pile of the best young surfers in California, as well as a return to competitive form. "It feels so good to be back home," said Garland late last week. "I'd really been missing Santa Barbara."
Tim Kirshtner
If you paddle out at any one of the surf spots hiding in the nooks and crannies of Montecito, chances are you will encounter Tim Kirshtner. Rarely wearing a leash, often riding a well-worn surfboard he has rescued from the trash heap and restored, drawing classic, wholly functional lines, and always surfing the wave to its end, Kirshtner is not only a mainstay both in the water and on the beach at places like Hammonds and Miramar but he is also a steadfast and lifelong defender of the sandy shores he grew up on. "Surfing is not all about having fun," warned Kirshtner. "As surfers, we take so much from the ocean that we really have to give back, too."
A product of Santa Barbara Junior High and High School, Kirshtner was stoked on surfing at a young age but was far from your average grommet. At 10 years old, after deciding on his own to pick up the trash that littered the beaches and bushes between his beloved Hammonds and the Santa Barbara Graveyard, he sent handwritten letters to each and every resident of the affluent Channel Drive community asking for their support in his trash collecting activities. After getting positive responses, the Beach Doctor-as he became known-was born, and for years after, whenever the surf wasn't good, young Kirshtner spent his after-school hours and weekends picking up cigarette butts, broken glass, and assorted other rubbish from the beach, storm drains, and road around his favorite stretch of sand. "When I started, I would get about nine trash cans worth of stuff a day, but in the end, I was only finding half a trash can a week," remembered Kirshtner with an obvious and rightful inflection of pride.
Now 30 years old, Kirshtner drives a biodiesel truck, dedicates heaps of his time to Growing Solutions-a nonprofit that restores coastal native habitats from Summerland to the Santa Barbara Airport-and runs his own custom sail and canvas business, which speaks directly to his other lifelong passion of sailing.
Constantly tinkering around and putting his pragmatic mind to work on inventions, Kirshtner received a bit of notoriety a few years back when, unbeknownst to him, Surfer Magazine ran a photo of him using one of his creations, the paddle wheel, near the S.B. Harbor. However, there was no accompanying caption about the paddle wheel-a device that attaches to the back of a sailboat and allows you to pedal your boat up to 3.5 knots forward and backward via a big wheel that cuts through the water la surfers' hands. The attention without any actual info on his invention has become a bit of an irritant over the years to Kirshtner because it wasted a great opportunity to spread the word. "I've just always wanted to get people stoked on the environment and put ideas out there to try and help think of their own," he said.