On the covered porch of a De la Vina Street storefront stands a little red wagon full of books. "Huge Book Sale" reads a handwritten sign taped to the shop's front door, "All Books 50% Off." I'm here to meet Ted Tafejian, the owner and founder of Ted's Used Books & Collectibles, to talk about the store closing, but Ted is nowhere to be found.
Inside, sunlight spills though the huge windows, illuminating shelf after shelf of used books: Gray's Anatomy, The Right Way to Play Chess, Why Men Love Bitches, Homer's Iliad, a few dozen bibles. Nestled among the books are all manner of treasures. Beside the children's books, I find a cracked teapot, three wooden napkin rings, and a rubber grip ball that lost its grip long ago. In the travel section sits a cross-eyed porcelain bear. On the bottom shelf, thumbing through cookbooks, I discover Big Mouth Billy Bass, the talking fish of barroom fame. Here is a jewelry rack of beaded earrings for sale, and high on the opposite shelf, a series of framed oil paintings of superheroes. Discarded take-out coffee cups from the Daily Grind dot the shelves, and strains of Schubert emanate from a cheap boom box wedged on a top shelf between sci-fi paperbacks. I figure I could browse here forever.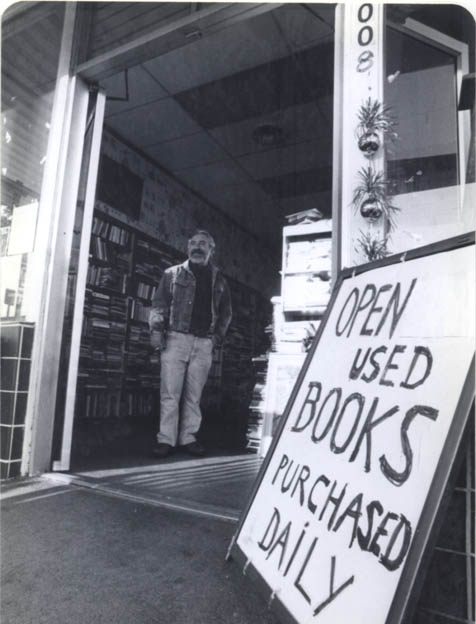 "He's shy about this kind of thing," the dark-haired young woman behind the desk tells me. "He's never had an article written about him before." She picks up the phone, dials. "Grandpa, the lady from The Independent is here. She's nice. Are you sure you don't want to come down?"
Five minutes after her call, I have returned to happy oblivion between the stacks when Ted appears at the desk beside his granddaughter, Justine, along with Sonya, his daughter. Curiosity, it seems, has gotten the better of him. Sonya, Ted, and I walk next door to Los Gallos Mexican restaurant, taking a table outside so Ted can watch the shop door and greet familiar customers. With a little prompting, he launches into his story.
Ted Tafejian was born and raised in Chicago, moving to Santa Barbara with his parents in 1947 at the age of 20. They bought a house on De la Vina Street between Mission and Pueblo. Now owned by Ted's brother, Robert, the house has been converted into Taffy's Pizza. Between 1961 and 1975, Ted lived in Berkeley, where he frequented yard sales, looking for used books that he would buy and then resell to some of the Bay Area's renowned independent bookstores, including Moe's Books and Shakespeare & Company. In 1975, dangerously ill with ulcerative colitis, he returned to the house on De la Vina Street, thinking he might end his days in Santa Barbara. Instead, he recovered, and the following year, a few doors down from his family home, he noticed an empty storefront.
"I looked in the window," he remembers. "I saw some empty shelves, and I said, 'I'd like to have a bookstore. The shelves are there; we just have to fill them.'" With a loan of $3,000, Ted opened Ted's Books in 1976 at 2008 De la Vina Street, just up from what would one year later become Derf's Cafe. At first, Ted dealt primarily in paperbacks. "I didn't know enough about the value of hard-covered books to know what to buy," he explains. In its early days, Ted's was known especially for its honor code system: He left out a table of paperbacks overnight, with a sign indicating that payment should be dropped through the mail slot. "Sometimes," Sonya says, "he'd get notes that said things like, 'A lady in a green coat took a book and didn't pay for it.' He'd just laugh and figure if they wanted to read a book and couldn't pay for it, fine."
In July 2003, Sonya and Justine moved from Petaluma to Santa Barbara to help out with the store. Within a year, the store's landlord decided to renovate the building's electrical and plumbing systems, and asked Ted to remove his books. In a stroke of luck, the space directly across the street was available for rent, and over the course of a few weeks, the three-generation family made the shift.
Thirty-one years after opening, Ted is preparing to shift again. This time, though, the books won't be coming with him. While Justine gets started at UC Berkeley, Ted and Sonya will be settling into Sacramento, where most of Ted's family is based, including his second daughter, her four children, and her five grandchildren. "It's a happy feeling," Sonya says. "He's going to be with his extended family. That's never happened in his life."
For Ted, the move is exciting, but bittersweet. "I feel a little sad if I think about it," he says. "It's kind of hard to quit. I wanted to do it until I was 90, but I'm beginning to realize I'm slowing up." Nevertheless, he says, "I'm looking forward to seeing the rest of my family."
In the meantime, Ted's will remain open at least through the end of the year, and the sale continues. Ideally, the Tafejians would love to find a buyer for the business, but they are aware of the difficulty of securing affordable property and they acknowledge how much the bookselling business has changed throughout the years. "Most booksellers, if they know what they're doing, go online and sell at Amazon.com or Alibris," Ted says. "The Internet has totally changed a lot of stuff-antiques, yard sales; it's a different economic reality."
When the discussion turns to the future of independent bookstores in Santa Barbara, Tafejian is candid. "I don't know if there is one," he says. "It's so hard to start a bookstore with the expense of rent. I think Thrasher Books may be the last great bookstore that opens in Santa Barbara." Karen Thrasher, who opened Thrasher Books on Santa Barbara Street in 1997, had been an employee of Ted's for 10 years. She still stops by the store every Sunday afternoon to chat about the book business. In the three decades since Ted's Books opened, most of his colleagues have either sold their shops or passed away. Flipping through an old pamphlet listing Santa Barbara bookstores, he picks out those that no longer exist, then looks up with a smile. "I guess I did last a while," he says.
Up in Sacramento, Ted expects he'll still go to yard sales now and then, but says his days as a bookseller are coming to a close. "I enjoy looking for books," he says, his eyes sparkling behind his thick glasses. "It's like a perpetual treasure hunt with very little treasure. You don't really make much money-at least I never did. But I figure I had about 20,000 books at a time, and dealt with about 100,000 sales-I've had enough books to last me."
For Santa Barbara book lovers, Ted's departure has come too soon. But for Ted, the timing is just about right. "I feel like it's been a huge privilege just to have a bookstore here for 31 years," he says. "It's been quite an experience. I've met a few friends-a lot of my best friends. I'd like to say thanks to everybody who used to shop at the store, and so long, folks."