Columns
Miramar Part Two Is Coming Next Week
Plus, Montecito Water Woes, Kitchen Benefits, Bus Stops, and a Barry Siegel Award
If you think Montecito goes dormant with the end of daylight savings, think again. The ever-efficient villagers just get up earlier and pack more into the shorter days. Their efforts this week have created quite a bountiful harvest for Montage.
MIRAMAR PART DEUX: Rick Caruso, we hear, is ready to unveil Miramar-II on November 13 at the Montecito Association's monthly board meeting. With Miramar-I not quite the hoped-for box office hit, the amiable Caruso has reworked his production for his derelict beachfront hotel. The ever positive Matt Middlebrook, Caruso's spokesman, said that he's, of course, very positive about new approach. "The revised plan is better than the first plan," he effused.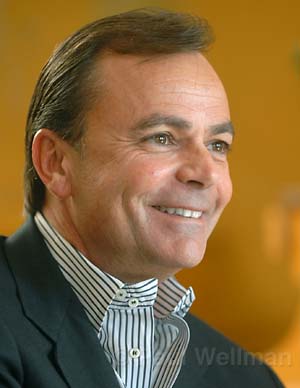 Using every device we know – short of waterboarding – to get the details, Middlebrook remained mum on the particular changes, saying specifics are being kept under wraps until the November 13 rollout. He did, however, share the news that Caruso hopes to be in front of the Montecito Board of Architectural Review by December, and he also confirmed the county has switched staff assignments for the Miramar project.
Planner Julie Harris and senior planner June Pujo, assigned to the project since it was first presented to the county, have been swapped out for the team of planner Michele Gibbs and senior planner Anne Almy. Diane M. Black, P&D's director of development services, said she isn't expecting to see the Miramar plans herself until after November 13. She also clarified the staff changes were not called for by the Caruso team, but made by county administration to even out the workload.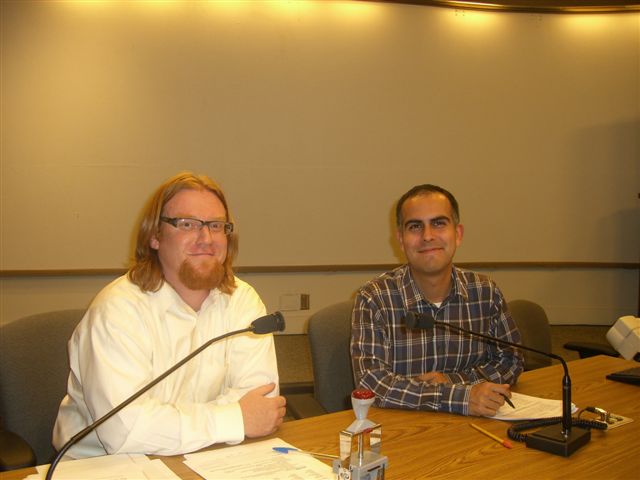 In other county planning staff changes particular to Montecito, the Montecito Board of Architectural Review's longtime staff secretary David Villalobos has been reassigned to staff of the Santa Barbara County planning commission. Since his arrival at MBAR in November 2005, David's pleasant, efficient, and accommodating demeanor has been a real asset to MBAR and to the community. He will be missed, but his replacement Jason Moore seems equally intent on customer service. In yet another staffing change, senior planner June Pujo now adds MBAR meeting monitoring to her list of duties. This change, Black says, was necessitated by department belt-tightening.
TOE IN THE WATER: The Montecito Water District is concerned about water use and they looking for ways to curb the flow – especially at outdoor spigots.
"Seventy to eighty percent of Montecito's water used in Montecito is for outdoors," warned MWD president Jan Abel. "People who live here use more and more water every year and we cannot continue to consume at this ever-rising rate. If the trend continues, we will not have enough water."
Bob Roebuck, MWD's general manager, concurs. He said MWD customer-use has increased steadily since 1995 and the culprit is outdoor watering. He explained, "Everybody wants beautiful landscapes and at this point there is no water use guidance."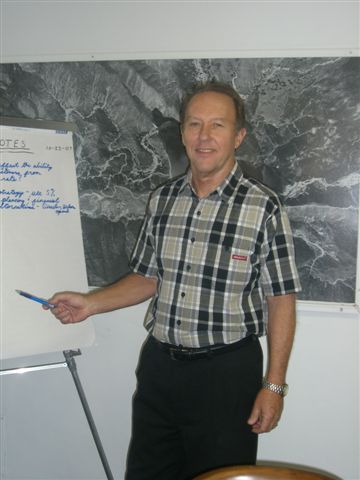 Roebuck said the district is toying with the idea of mandating a new permit that would work in conjunction with building permits to examine new landscaping, assuring a fresh design does not build in high water use.
In other conservation efforts, Roebuck said the district is considering a tiered, or block, usage rate plan. He will present these ideas at the Montecito Association November 13 meeting, but he emphasized he does not expect any Montecito Water District Board action before June 2008.
"Right now I want to share the problem of increased water consumption and decreased water supply with the community," Roebuck said. "The district wants to get some public input on how to promote conservation, because we are all in this together."
THE BUS STOPS HERE: A tour bus on its way to pick up an out-of-town sports team from Westmont College gave the term "bus stop" a whole new meaning this past weekend. Late Saturday afternoon, bus driver Dave Rodarte, from Anaheim, found himself unable to negotiate a hairpin turn on East Mountain Drive near Cold Spring Trail.
In an attempt to turn around and avoid trouble, Rodarte backed the bus off of East Mountain onto a private driveway. As he pulled the bus forward onto East Mountain, the end of the bus got hung up on the steep driveway and, as Rodarte throttled down, the front jammed into the pavement on East Mountain Drive, leaving bus stranded across the road.
With the road now blocked in all directions, motorist Mike Griggs tried to help the hang-up by wedging wood under the bus's now airborne but still spinning tires. When that didn't work, the Montecito Fire District considered foaming the road in order to slide the bus from its precarious position. But before the bystanders got slimed, Craig Germentti from Smitty's Towing arrived to save the day. He chained the tipping bus's chassis and winched it,ever so gently, to safety.
Chris Gabriel and family stopped to watch the bus stop shenanigans, and the sharp-eyed observer dragged Montage to the back of the bus to read a sign he didn't want you to miss. There it was, clarity in print: "Drive this Bus:Earn While You Learn."
COMMUNITY KITCHENS ARE COOKING: When people like Sue Adams and past Garden Lane Guru Nancy Salvucci are on an organizing committee, no self-proclaimed lifestyle connoisseur would think to miss the event. On Saturday, November 3, a six-home, mostly-Montecito, kitchen tour was held to benefit Community Kitchen. The group provides 150,000 meals per year for the hungry of Santa Barbara, proving kitchens don't just cook up food, but lots of love as well.
While the gourmet kitchens were delicious, what really struck me about this event was how respectful it was to the residential nature of Montecito. Parking at each tour home was ample and well marked. Volunteer parking attendants made sure no one trampled the neighborhoods and the guest list was kept to 240 – well under Montecito's permitted party limit of 300.
"We read your article on Oprah," Salvucci teased. But teasing aside, congratulations to Community Kitchens for their good works and for making sure this event fit so well within Montecito's community guidelines.
I'M FLYING: Fly, don't walk, to get tickets for Peter Pan, opening Friday, November 9, 7 p.m., at Santa Barbara High School. Directed by SBHS performing arts chair Otto Layman, this play utilizes the "Flying by Foy" high wire system from the inventors of theatrical flying.
Montage attended part of a rehearsal and stayed long enough to watch Montecito resident Carlin Traxler fight a duel to the death. But there is no sword at my throat when I tell you this performance is way beyond high school drama club level – it is professional grade theater and this family-friendly show should not be missed. The play runs November 9 through 17 and tickets can be bought at Santa Barbara High School.
COAST AUTUMN EVENT: The first annual Coalition for Sustainable Transportation Barry Siegel Award was bestowed on Marc Chytilo, for "his successful public and legal advocacy on behalf of underrepresented communities in Northern Santa Barbara County, including agricultural workers."
At COAST's third annual fundraiser, Pedro Nava honored Martha Siegel with a posthumous State Assembly memorial for her late husband. Nearly 100 people showed up at the COAST event, held at on the porch of the Santa Barbara train station, perfectly situated given COAST's belief in a coastal commuter rail system.
Alex Pujo took home the night's top prize – a pedal-powered three-wheeler – leaving his wife June scratching her head as to where the new vehicle would be stored and how it would be getting home. "I guess he can pedal it home," she said.