Film & TV
Bee Movie
Voices of Jerry Seinfeld, Renee Zellwegger, and Matthew Broderick star in a film written by Seinfeld and Spike Feresten and directed by Steve Hickner and Simon J. Smith.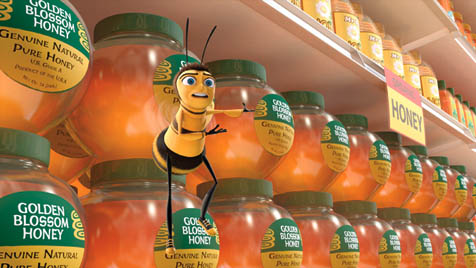 It does not fare well when you're obligated to be compared with that other Jerry Seinfeld masterstroke, namely the nine-season-long phenomenon known as Seinfeld. The latter was a great sitcom, famed for being "a show about nothing," which puts it on the rarefied plane of an Oscar Wilde comedy or a Mozart opera-the triumph of fiendishly intricate artifice over an absurdly empty thematic core. Consider the following sentence, "[It] has no regular, well-defined plot. It is rather a succession of awkward and humorous situations, calling forth an abundance of sparkling repartee." The writer here is discussing Wolfie's blissful masterpiece The Marriage of Figaro-and something this movie is definitely not.
You might say it's wrong to compare a TV show to an animated feature film, but the underlying problem with Bee Movie is its unfortunately insistent relationship with real-life woes. It begins with a multitude of reflections on mortality-the movie keeps reminding us how short apiary existences are-and then ends in an abrupt odyssey into the bigger, satirize-able, and selfish human world. But, even with its extremely absurd premise (a bee class-action suit against humanity for stealing honey), the film manages to summon suggestions of environmental catastrophes like global warming and the frightening buzz surrounding hive collapse.
Of course, it's good to think. Like Santa Barbara's now-infamous Light Blue Line project, you want to congratulate the artists for their sobering vision, yet question the method used to get their points across. This film isn't really funny, though it's often beautiful. Seinfeld (the series) was a magic trick: the artist pulling something out of nothing and producing something of pleasure and amazement. This feels more like a con job. Big issues are raised, then disappear into a series of cute jokes. My nephew, Daniel Warren, age seven, couldn't remember the film an hour later. Instead of delight, this cartoon extravaganza, featuring a slightly preachy Jerry Seinfeld disappearing into himself, may make you feel like you just got stung.