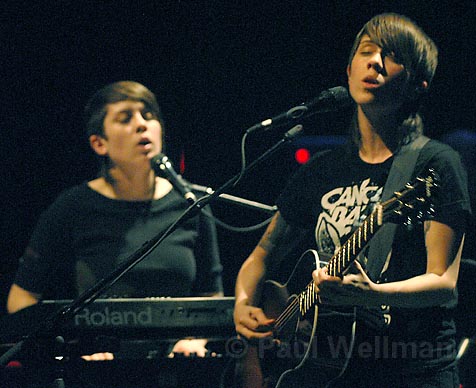 Ever since my parents subtly clued me in to the fact that I was too old to trick-or-treat, I've taken to attending concerts in lieu of blatantly begging for teeth-rotting handouts. The experience, in my mind, is relatively the same: crowds, chaos, screaming, and it's still totally socially acceptable to dress up. And while there are very few Halloween shows I can look back on with anything but happy thoughts, Wednesday night's double bill at the Lobero undoubtedly tops my annually growing list.
Opening act Northern State brought with them an infectious excitement and energy that could have hyped up the dead. Donning lab coats and scrubs they'd borrowed from the medical department at Cal State Fullerton and calling themselves the cast of Grey's Anatomy, the threesome jumped, rapped, and rocked out like an all-female version of the Beastie Boys. With shouts and alt-rock breakdowns that called to mind The Go! Team, and crass, tongue-in-cheek lyricism that was immediately reminiscent of M.I.A., Hesta Prynn, Spero, and Sprout got the patchy crowd of early comers up, singing, and dancing with ditties like "Away Away" and the expletive-filled "Sucka Mofo."
With the growing audience properly wound up, Tegan and Sara took to the eerily low lit Lobero stage with little introduction, launching into a hard-hitting version of "Speak Slow" amid a sea of (predominantly female) fans. "I'm used to a lot of girls screaming," Sara noted about her audience. "But it's the odd male vocals I like. No offense to you guys, but it sounds more like you're warning us of a rock slide [than cheering us on]," she laughed.
But all banter aside, the duo truly put on a show that further endeared them to those lucky enough to be in attendance. The first half of the set was filled with excerpts from the recently released The Con, while the latter portion of the evening was devoted to older material. Highlights included a chill-inducing rendition of "Nineteen," the scathing "Like O, Like H," and "Divided," off of 1999's Under Feet Like Ours. Intensely emotional lyrics resonated through the duo's biting, nasal tone and intricate, epic guitar work. And by closing out their set with the aching-ly emotional "Call It Off," Tegan and Sara somehow managed to satiate my Halloween sweet tooth with something decidedly bitter.