News
Afghan Refugee Visits Area Charities
Road to Freedom Winds Through Santa Barbara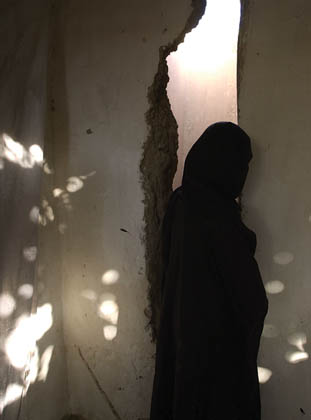 Dressed in jeans and a sweater, her dark hair pulled back into a ponytail, she is not necessarily what an American would expect an Afghan woman to look like. Her name is Amena Shams, and she is the orphanage coordinator for the Revolutionary Association of the Women of Afghanistan (RAWA). Although she has spent all but three years of her life living outside the country in refugee camps, she strongly identifies with the Afghan people, and has dedicated her life to the establishment of equal rights for women and a secular government in Afghanistan.
RAWA is a political organization founded in Kabul, Afghanistan, in 1977 by Afghan women fighting for social equality. Despite the relative freedom enjoyed by women in Afghani urban centers, those in the nation's rural areas were still subject to the same harsh rules that had been in effect for centuries. When the Soviet Army invaded in 1979, RAWA took a nationalistic stance, putting them at odds between the Soviet occupiers and the largely fundamentalist freedom fighters. Their founder, known simply as Meena, was assassinated by KGB agents at a refugee camp in Pakistan in 1987. She was 29 years old.
Shams, now 24, was still a teenager and living in a refugee camp in Pakistan when she first became involved with RAWA. "For me, life has changed since I joined RAWA," she said, "because in Afghanistan, it's very difficult for a woman to speak about political issues. In Afghanistan, women are still very oppressed by fundamentalists-they are still very powerful." As a part of RAWA, Shams pushes for freedom of religion and secular government in Afghanistan. This quest has brought her to Santa Barbara, where a group of local supporters-RAWA Supporters Santa Barbara-is helping her raise awareness and funding for her program here in the United States. She has been in the U.S. since August, working with U.S.-based Charity Help International. "We have amazing supporters in California," she said. "In Santa Barbara, we have quite a large number of supporters." The Child Sponsorship Program, administered by Charity Help International, is a partnership with RAWA that enables people from around the world to individually sponsor Afghan orphans. Meeting with sponsors is a big part of Shams's outreach efforts in the U.S.
Although she currently has an important job with RAWA, it took a long time for her to get there. At just two years old, Shams and her family fled Afghanistan, as violence between the Russian occupation forces and Afghani freedom fighters made it dangerous to live there. Refugee camps existed in both Pakistan and Iran, but they chose to settle in Iran, due to the similarities in language and culture. "Life as a refugee in Iran was very difficult," she said. "There was no electricity and no schools. As refugees, we didn't have any rights in Iran. We were there for nearly eight years."
'During the Mujahideen time : thousands of girls were kidnapped, raped, and killed. They were-of all ages-abused physically and mentally.'
Attempting to return to Afghanistan in 1992, after the Russians had withdrawn, the family arrived to find the situation worse than when they had left it. A group of Islamic fundamentalist warlords known as the mujahideen-who were supported by the U.S. government during the Soviet War-had seized control. Enforcing religious laws reminiscent of medieval times, they forbade women from doing anything that might "corrupt" the male population. Women who had enjoyed education, suffrage, and the freedom to move about during the 1970s and '80s were suddenly forced to stay at home, always covered by the sack-like burqa garment whenever they went out. "During the mujahideen time, more than 65,000 people were killed by the Northern Alliance of Mujahideen," Shams said. "Thousands of girls were kidnapped, raped, and killed. They were-of all ages-abused physically and mentally."
Less than a year after repatriating, Shams's family again fled Afghanistan, this time to a refugee camp in Pakistan. They found better conditions there than they'd had in Iran. Basic services including utilities, schools, and medical facilities were provided. Books, magazines, and other materials were furnished, and a movie theater was set up in the camp. RAWA provided educational services there, ensuring that young girls and women received the formal education they weren't getting from the new Islamic fundamentalist regime at home. It was there that Shams was educated, learning about and becoming involved in RAWA. "My mother was an uneducated woman," she said. "She got her education through RAWA at the refugee camp." Shams herself is mere months away from obtaining a bachelor's degree in computer science.
She has left a lot behind during her six-month tour of the U.S. Her husband, whom she met through her work with RAWA, is a computer technician. He works for various Pakistani firms, and also offers his skills to RAWA. The couple has an 18-month-old son, whom Shams had to leave behind while in the U.S. "For parents it's difficult to be away, but especially mothers," she said. Shams's husband and son are currently in Afghanistan, but she expressed reservations about living there. "I'd like to go back to Afghanistan and live there," she said, "but now the situation is unsafe. Because the government is weak, the fundamentalists are still very powerful. Warlords have the backing of fundamentalists and vice versa. The fundamentalists have had the military and financial support of Western countries since the Russian invasion. Four months before 9/11, the U.S. government gave the Taliban $40 million."
Texas Congressmember Ron Paul made a statement saying as much in November 2005: "We should recognize that American tax dollars helped to create the very Taliban government that now wants to destroy us." In September of this year, Richard Klein-a former State Department official-wrote in the Los Angeles Times, "In reality, Afghanistan feels more and more like September 10, 2001, than a victory in the U.S. war on terrorism." Clearly, Shams and her RAWA colleagues have a long road ahead of them, but they continue to fight for their ideals of egalitarian, secular government. They are survivors, determined to outlast fundamentalist oppression.