Visual Arts
Works by Molly Hahn
At Muddy Waters Cafe.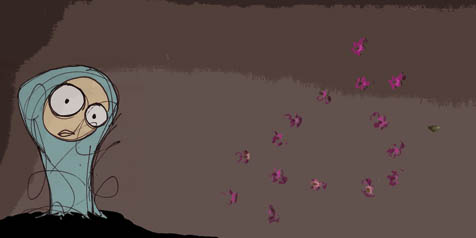 Yes, Molly Hahn is only 25-and-a-half years old, but her current exhibition at Muddy Waters Cafe in no way constitutes one of those shows where a young artist attempts to pass off a limited body of work as an all-encompassing retrospective. It's just what she's done that she thought people might like, she'll tell you. What Hahn is too humble to admit is that she has been producing some of Santa Barbara's liveliest cartoon-inspired art for the past seven years.
Hahn entered UCSB as a mathematics major in 2000, but drew editorial art and a regular comic strip, Patty, for the Daily Nexus before working as a production coordinator for Mike Judge and Don Hertzfeldt's biennial short film festival, The Animation Show, and as a promoter for the legendary animator Bill Plympton. Hahn's is a nearly lifelong history of stylish doodling, and her fusion of cartooning and "higher art"-including paintings, sketches, and digital collages-results in pieces that amuse and give insight into her sunny-but-profound personality.
Currently on display at Muddy Waters Cafe are works Hahn considers among her best, including a series of octopi whose expressions are both morose and Weirdos From Another Planet!-style goofy. Perhaps most striking are the pieces Hahn completed during a brief stint in Los Angeles, images that understandably look less cheerful than her Santa Barbara work. "Fushiagrok" combines a squat, humanoid doodle against a background of fuchsias, flowers she recalled as one of the more beautiful sights in L.A.
This pairing of the comical with the sentimental appears repeatedly in Hahn's work, whether it's in her contemplative comic strips-Patty, or its spiritual successor, Claretoonz-or stylized depictions of thick-thighed women who look frumpy, funky, and primordially feminine. In true Molly Hahn style, the artist will be donating a portion of the proceeds from the sale of her work to the Ruby Scholarship. Sponsored by the Santa Barbara-based Future Traditions Foundation, the scholarship will benefit low-income youth with artistic aspirations.
4•1•1
Molly Hahn will be hosting a reception on Saturday, November 17, from 5-8 p.m. at Muddy Waters Cafe (508 E. Haley St.). S.B. rockers oso will play at 10:30 p.m