Business
Santa Barbara Writers Strike, Too
Writer James Kahn Talks TV, Online Media, and the Money Therein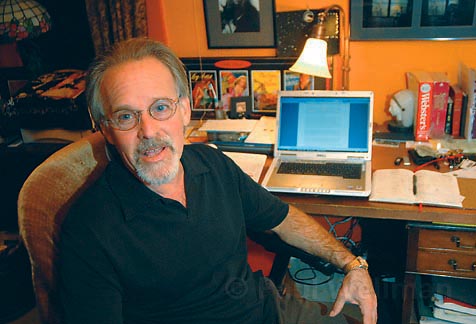 "Don't be greedy, don't be petty. You won't get your Ugly Betty!" -Striker's slogan heard outside the gates at Raleigh Studios in Hollywood
Since the Writers Guild of America (WGA) declared a strike against the Alliance of Motion Picture and Television Producers (AMPTP) on November 5, several prime-time series and most late-night talk shows have completely halted production, casting uncertainty on the future of the 2007-08 television season. More cease-production orders are expected by the end of the month. Network brass and scheduling chiefs are facing a crisis as reserves of prepared scripts run out, and on-set writers stand in picket lines.
Presidential candidates Barack Obama, Hillary Clinton, and John Edwards have publicly supported the WGA's 12,000 writers. Governor Arnold Schwarzenegger urged both parties to resume negotiations in an effort to minimize the effect on the California economy.
One of many Los Angeles industry commuters who resides in Santa Barbara, James Kahn is a novelist and screenwriter whose work includes episodes of St. Elsewhere, Melrose Place, Star Trek: The Next Generation, and his personal favorite, Xena: Warrior Princess.
Some WGA members affected by the strike in 1988 were not satisfied with their settlement, particularly around the issue of residuals. Is this payback time? In 1988, when DVDs were the coming thing, there was a negotiation about what the writer's residual should be. Screenwriters get paid a flat fee per script, then a residual payment every time the episode is rebroadcast or sold retail. I make 43 dollars every time one of my Melrose Place episodes gets shown.
The studios complained DVDs were an unknown medium that they might go broke trying to develop, so the WGA agreed to cut them a break: The writer of the movie would get four cents for every DVD sold. Never mind that the guy who made the box the DVD came in got a dollar per DVD-the writer got four cents. Reminds me of the quote by legendary MGM production chief Irving Thalberg, who told Louis B. Mayer, "The most important guys in the business are the writers-and we must never let them know."
Where do the two sides currently disagree? Writers are still making four cents per DVD, while studio revenues have skyrocketed. So we went into these negotiations saying we wanted our cut to go up to eight cents. We also wanted money for movies and TV shows on the Internet-writers currently don't get a nickel for anything we've written that ends up on your laptop. The AMPTP said the Internet is an unknown medium that companies might go broke trying to develop. (Sound familiar?) So they're not going to pay writers anything for product distributed online.
What other issues do the writers have about how profits are shared? The studios decided to roll back the old TV and film model as well, so the writer wouldn't get any residual in any medium until the studio showed a profit on that show or movie. Ever hear of Hollywood accounting? Shows never show profit. Titanic, which grossed billions, is still in the red, on the books. So is The Simpsons.
What concerns you most about the current negotiations? The sleaziest aspect of all this is the arrogant greed of the corporate owners. Writers collectively get 55 million bucks a year in residuals. If the studios gave us everything we were asking for, that would go up to $75 million. Just one company-Viacom-has annual revenue of $18 billion, and its top execs make about $60 million apiece annually.
How does this affect the writers in the long term? The money is important, but psychologically it all comes back to Irving Thalberg-writers get no respect. We invite it on ourselves to a certain extent. Every writer I know oscillates between "Hey, I'm pretty good," and "What ever made me think I could write?" Executives, like all bullies, seize on that glassy-eyed diffidence in writers, who were usually the unpopular kids in high school. It's just high school all over again. But now the currency is actual money instead of who gets asked to the prom. And in the 21st century, the Internet is where the money is.
Have you gone to the picket lines? I just attended my first picket line since Vietnam. Hundreds of us carried signs in front of Universal Studios. It was noisy because so many passing cars kept honking in support. It's a writer-friendly town, except for the guys who hire us. Picketers were shouting movie lines. ("Today no Spartan dies!")
My favorite moment: An executive pulled out of Universal in an electric car and had to stop at the red light near us. The strike captain ran up to him enthusiastically, said, "I love your car, man. What's it like to drive?" The executive just kept staring straight ahead. Strike captain: "Come on, roll down your window; talk to me." The executive inched his window down, muttered, "I can't talk to you. This is being filmed." The light turned; he drove off. We looked around and found a hidden camera, no doubt documenting us for future reprisals. But the strike captain just faced the camera full frontal, dropped his pants, and said "I hope you guys have a really big lens." And then others behind him started shouting: "I am Spartacus!" "No, I am Spartacus!"
The 1988 strike lasted 22 weeks. What is your forecast of the impact of this strike on writers and on the California economy? It's fun and games now, but likely to be long and ugly. Nobody wanted a strike, but writers need to make a living. Residuals are what pays the rent during those bleak, sometimes lengthy periods "between things." Of course some screenwriters are rich, but most of us just get along. Being out of work on a picket line doesn't help anybody's pocketbook. If the strike continues, the entire L.A. economy is going to take a big hit-restaurants and copy shops will close, the real estate market will plummet even faster. Fortunately, the AMPTP has agreed to come back to the negotiating table on November 26, due in no small part to the solidarity of the strikers, enormous support by SAG and Teamsters, and, interestingly, exposure of the studios' hypocrisy on the blogosphere-the very area they want so badly to control.