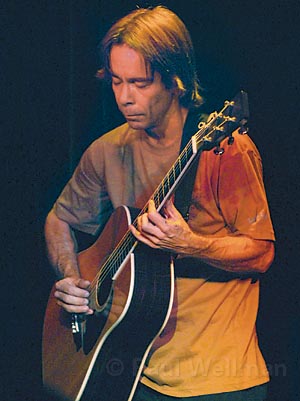 Most people know of Tim Reynolds from his collaborations with Dave Matthews-the two are musical war buddies who met years ago in the trenches of a Virginia watering hole. Since then, Reynolds has been featured on nearly all of Matthews's albums, put out a number of live compilations, had a handful of successful recordings with the band TR3, and enjoyed a prolific solo career. For a number of die-hard Reynolds fans, Wednesday's show at SOhO gave the guitarist the perfect opportunity to display his impressive musical talents and diverse range; and for those who came because of his Dave Matthews Band collaborations, the show was a wild and spacey adventure.
The concert opened with a set from Idaho-based singer/songwriter Marcus Eaton. Eaton, whose former, funkier exploits would please many a DMB fan, played tracks off his new album, Story of Now, a commercially friendly release that comes across as ambient in live performance through Eaton's use of delays and looping. That said, his performance almost outweighed that of the night's headliner, with outstanding renditions of "Drug" and "Who You Are" that evoked visions of Michael Hedges.
Reynolds's performance was a chaotic mix of volume swells, dissonant harmonics, Frampton-y auto-wah, and stylistic improvisation. It was a performance, though, that went unappreciated by the have-nots in the back of the house, which was truly a shame considering Reynolds's musical caliber. He managed a few crowd pleasers: rhythmic-infused covers of Peter Gabriel's "In Your Eyes" and Led Zeppelin's "When the Levee Breaks." Reynolds's vocals occasionally broke while doing his best Modern Times-era Bob Dylan, which might explain why he lost his audience during songs like "Dreaming." It could also have been the length of Reynolds's set, which included a particularly long, though well-performed, medley of Zeppelin's "Kashmir" and "The Rain Song," and an encore that saw the return of Eaton for "You Are My Sanity."
There is something to be said for Reynolds's success through other people's work, and, on the whole, there were solo pieces I wish he had performed and other pieces forgettable enough that I wasn't quite sure he had. But if Wednesday night's performance proved one thing, it was that Reynolds deserves more than he often gets for the ride he takes us on.