Living
Holiday Activities
Conifers and Crafts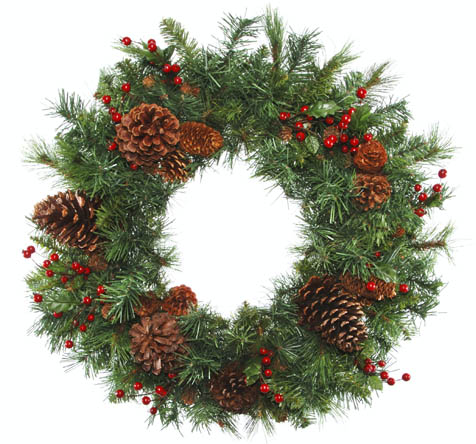 Amid the hustle and bustle of holiday parties, shopping, concerts, and parades, don't forget that there are some wonderful outdoor activities and workshops that focus on plants or the natural world. Here are a few you might want to fit into your busy schedule.
Traditional Christmas trees are, of course, conifers, so a way to enjoy them (besides bringing them indoors and covering them with shiny baubles) is to focus on those that are growing around you. The Santa Barbara Botanic Garden holds specialty tours on the first Saturday of every month. This month it is fittingly themed to spotlight California's native conifers. Join garden staff in a walk around the Garden at 2 p.m. on Saturday, December 1. Another chance to enjoy the garden in a slightly different way is to take a guided tour in search of the myriad different birds that make Mission Canyon their home year-round or pass through on their yearly migrations. Wednesday, December 5 (and again on January 16), you can do just that. The one-hour walks begin at 9 a.m. For more information on either event, call 682-4726 x139.
Another popular offering at the Garden is the Annual Holiday Nature Craft Workshop. This one is open to the whole family, and kids and adults will enjoy making wreaths, ornaments, wrapping paper, and much more from items found in nature. It will be held on Saturday, December 8, 10 a.m.-noon, and the proceeds from the workshop benefit programs for area schools. If you'd like to try your hand at making a living wreath, or a more traditional one from seasonal greenery, Island View Nursery is the spot for you. On Saturday, December 8, at 11 a.m., Katie Sorensen, the nursery's garden manager, will demonstrate a variety of techniques. Wreath-making supplies are available for purchase, while the instruction and foliage are free.
Island View also offers free talks on a variety of subjects throughout the year. Lauris Rose of Cal-Orchid will share all her tips for growing great orchids on Saturday, December 1, at 11 a.m. There will also be a fine assortment of orchids to tempt you (and they usually have some tasty treats, too). Call the nursery at 684-1296 for more information or directions. For more orchid lore and displays of Santa Barbara's finest, the Santa Barbara Museum of Natural History is hosting Orchids, the Friendly Addiction. This is the annual show and sale presented by the Orchid Society of Santa Barbara. Visit the Museum Saturday or Sunday, December 8 and 9, to see the award winners and find a holiday gift or two. For information, call 563-2894.
Happy gardening, and happy holidays, to you all.