Business
Andalucia Getting Renamed
Downtown Hotel Gets Major Makeover
Andalucia Getting New Name: There's been no announcement, but the Andalucia Hotel, only a few years old at Carrillo and Chapala streets, is getting a complete redo and a new name: Canary.
That may sound odd, but one staffer pointed out to me Monday that there's still a Spanish connection: Spain owns the Canary Islands. The hotel remains open, but the lobby restaurant, 31 West, is closed off for renovation and will get a new name – Coast – and a new menu. The hotel restaurant is now downstairs. Look for the changes after Janurary 1. The Andalucia, once the Carrillo Retirement Hotel – then a gaping hole in the ground for years pending rebuilding – is the property of the folks to who own the high-end Shutters and Casa del Mar in Santa Monica. The Andalucia has had a hard time getting the public's attention, but there's optimism that the new look, room renovations, and new name will do the trick when the place is re-launched next month. I heard that Michael Smith, who did the Shutters and Casa redos recently, is the Andalucia-Canary decorator. One plus: It's got Santa Barbara's only roof-top restaurant and pool.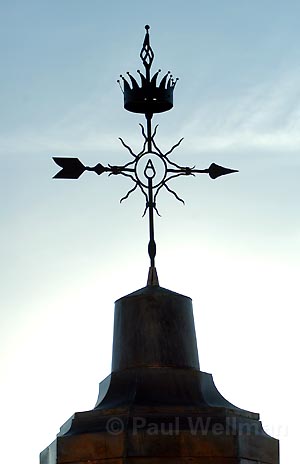 But, according to complaints I've heard, the rooftop bar was so often booked for private parties that both guests and locals were miffed. Speaking of which, a New York Times reviewer who visited after the hotel opened in 2005 reported on the clientele: "Young Hollywoodites on work retreats, who sit on the pool deck in track suits and baseball caps and read scripts while talking on their cell phones to their agents. Well-heeled weekending couples nearing retirement age who prefer the overstuffed chairs in the muted lobby bar." Maybe there just weren't enough of them. Recent Internet comments by guests have been mixed. And maybe not so many script-scribbling guys are on the roof these days. "[Because of the writers' strike] there are no expense account trips," a friend reports. "Hollywood is on lockdown. The restaurant has always had design problems from the day it opened." But that apparently is being fixed.
Who Wants Four Seasons?: I don't mean the hotel chain. I'm talking about all those folks who rhapsodize about "I miss the four seasons." They miss blowing snow, black ice, sleet, hail, and sub-zero weather? Stalled cars? Malfunctioning furnaces? Snow shoveling? But here it was one great weekend: sunshine, two great parades – one on State Street, the other by boat in the harbor – and snow for the kids.
OK, it was chilly Friday night when I went to the Annual Downtown Holiday Parade to see granddaughter Dani in the San Marcos High Dancing Marquettes. But it was fun: bands, fire trucks, and floats loaded with kids; sirens, patrol cars with strings of lights, happy cops, funny costumes, a female Santa in a long scarlet dress rolling along on a skateboard, and a young woman on in-line skates with a babe in her arms; zillions of tikes in strollers; countless Santas, and much more. This, folks, was a family night – an evening of cheer in what sometimes seems to be a cheerless world. The big turnout lined the curb, rivaling that of Fiesta and Solstice. And attendees were local; there were friends everywhere. Listen: Even if you don't have a kid, don't miss this heartwarming (but usually chilly) parade. The Marquettes were sharp; but how could they stand the cold in those skimpy tops? "They're amped up," daughter Wendy explained. I was too. See you there next year.
The Zoo imported 40 tons of snow Saturday morning. But instead, Sue and I headed for Stearns Wharf and strolled around in the sunshine. In my four seasons Chicago hometown, the day's high was 25 degrees and the low was 13. I don't know about the freezing rain though; I was busy getting a tan.
Hospital Needs Clothes: "Our Santa Barbara Cottage Hospital emergency department clothing bank is in need of men's shoes, socks, sweatshirts, sweatpants, and t-shirts in all sizes," reports Peggy Riley Phillips, R.N. "No dresses, suits, or dressy clothing. We need warm clothes easy to slip on and off for homeless and trauma patients." Drop them off.
Ellen Scores: The California housing slump has not hit everyone. Ellen DeGeneres has unloaded the Montecito estate she bought last year for 27 percent more than she paid for it, reports the Wall Street Journal. She paid $15.75 million and sold it for $20 million, the WSJ said.
Scam Warning: A company by the name of Alliance Lending is scamming big bucks from consumers all over the nation, the Better Business Bureau warns. It's an online advanced fee loan scam, involving wiring money to Canada but never receiving anything back.
Barney Brantingham can be reached at barney@independent.com or 805-965-5205. He writes online columns on Tuesdays and Fridays and a print column on Thursdays.