News
Smyser Makes It Official
Former Solvang Mayor Is 3rd District Contender
Former Solvang Mayor Dave Smyser officially announced his candidacy for 3rd District Supervisor with press conferences in Solvang and at Girsch Park in Goleta, where he was introduced by current 3rd District Supervisor Brooks Firestone, who decided not to run for a second term and hopes Smyser will take his vacated seat. An environmental, land-use, and business attorney with long experience in government, Smyser served as Firestone's chief of staff and then as his appointee to the Planning Commission. He has previously served on the boards of the county's Air Pollution Control District, the Local Agency Formation Commission, and the Santa Barbara County Association of Governments. Smyser has been endorsed by the two north county Supervisors, Joni Gray and Joe Centeno.
At the Goleta press conference, which was attended by a large entourage but very few members of the media, Smyser spoke primarily about his family: His wife is serving as interim Superintendent of Schools in Colorado. One of his sons graduated from UC Berkeley, worked with the Peace Corps combating AIDS in Africa, and is now pursuing a Masters in public health; his daughter graduated from Westpoint and is now a US Army Captain serving her second tour of duty in Iraq, as is her husband; another son is studying and "playing guitar" at the University of Colorado at Boulder.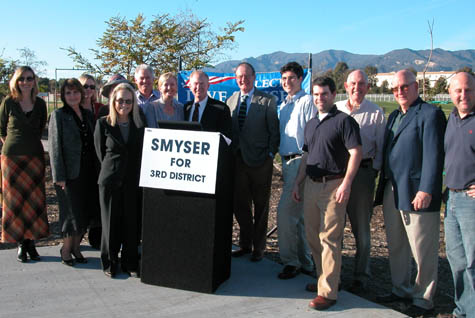 Firestone said Smyser would focus on solving problems rather than on ideology. Smyser said that he enjoyed working out creative solutions to financial shortfalls, particularly private-public partnerships.
The stiffest competition Smyser is likely to face for the 3rd District seat is Doreen Farr, also of Solvang, but formerly a Goleta Valley resident. An environmental and neighborhood activist who served as former Second District Supervisor Susan Rose's appointee to the Planning Commission, Farr has garnered the endorsements of the two south county supervisors, Salud Carbajal and Janet Wolf, as well as that of Congresswoman Lois Capps. Also running for 3rd District Supervisor are business owner Steve Pappas of Los Olivos, who owns an entertainment industry consulting business and a second business assisting employers with workmen's compensation issues, and David Bearman, a physician who advocates medicinal marijuana use, founded the Isla Vista Medical Clinic, sat on the Goleta Water District, and currently serves on the Goleta West Sanitary District Board.
The 3rd District is the only district encompassing both north and south county, as it extends from the City of Goleta into the Santa Ynez Valley. Hot topics in the June 3 contest include preservation of the Gaviota open space and agricultural lands, development within the urban and suburban areas surrounding the Gaviota, and county budget problems.