Arts & Entertainment
Camerata Pacifica
At Fleischmann Hall, Santa Barbara Museum of Natural History, Friday, January 11.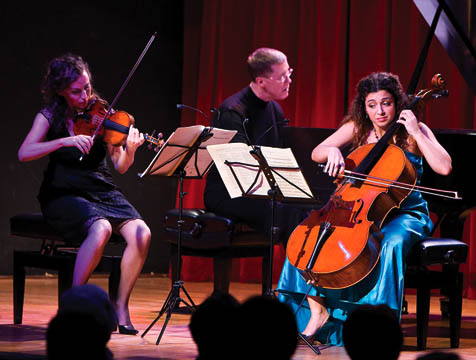 With the beginning of a new year Camerata Pacifica stepped even further into the vanguard of contemporary chamber music performance by presenting a concert blending the old (two pieces by Mozart), the new (a piano quintet by John Harbison), and the now, with Adrian Spence and Warren Jones giving the world premiere of Ian Wilson's Heft. Heft was commissioned by Jordan and Sandra Laby, and is one of a series of commissions for Wilson that have been organized by the Camerata. The musicians on hand included the now-familiar core group of Ani Aznavoorian, cello; Catherine Leonard, violin; and Richard O'Neill, viola. They were joined by Jones and Spence along with Songa Lee on violin for the opening work, which was the Harbison.
John Harbison's oeuvre seems more appealing every time one encounters it. The splendid Piano Quintet heard on Friday night was written with Georgia O'Keefe in mind, and one could hear her delicate balance of simplicity and complexity in every note. At 23 minutes and in five movements, the Harbison Quintet gave everyone involved ample opportunities to shine. O'Neill's viola solo and a violin duet between Leonard and Lee were particularly memorable. Warren Jones then played a relatively little-known Mozart piano solo, the Adagio in B Minor, K. 540, that was 10 minutes of the sheerest bliss imaginable. It may not be what Mozart is best known for, but is there an artist in any medium with a more profound and tender approach to melancholy?
After the interval, Spence and Jones took the stage for the premiere. With the flautist alternating between a standard concert and an alto flute, the 25-minute movement went by in a flash. The energetic multiphonics of the flute are much more than an effect, and the atmosphere thus created is at once constricted and sublime. The composer has certainly more than fulfilled the expectations created by the piece's descriptively monosyllabic title.
A final romp by Jones, Aznavoorian, and Leonard through Mozart's Trio for Piano and Strings in G Major, K. 564 (1788) spun a satisfied audience out the doors of the museum and into a crisp winter's night.