Ryan Adams is good in the sack-or at least so says J.J. Bouillabaisse, the singer's alter ego and opening act for Monday night's performance. Casually taking the stage a few minutes before his 8 p.m. curtain call, Adams sat down, plugged in, and plucked out a couple of tunes sans backing band, halfheartedly berating his rock-star self in between renditions of Heartbreaker's "Damn, Sam (I Love a Woman That Rains)" and Cold Roses's "Blossom" before sauntering offstage to prepare for the big show.
Notorious for his eccentric stage presence, infamously short fuse, and newfound penchant for sobriety (he spent the night triple-fisting Red Bulls, Diet Cokes, and cigarettes), Adams stayed true to form throughout both of his onstage stints, maintaining a zany-if not a bit off-kilter-sense of humor that kept the nearly packed house enraptured for two music- and banter-filled hours.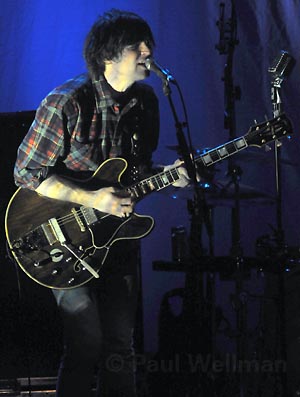 In song, Adams and the Cardinals were close to flawless, jamming through tracks that spanned the singer's nine-album discography with just the right mix of experimentation and tight musicianship. Tracks like "Blue Hotel" became all the more affecting as Adams hunkered over his mike mid-wail, mirroring his lyrical despair in stance and raspy croon. Meanwhile, favorites like "The Rescue Blues" came to life. "Goodnight Rose" played out as a battle of the guitars, while "Dear Chicago" embodied country twang. The night's highlight was an extended version of "Peaceful Valley" from Jacksonville City Nights. With the help of Jon Graboff's pedal steel, Adams embraced his Southern roots, with his band chiming in on vocal harmonies that left the audience awestruck.
In between songs, the singer kept things lively with a stream-of-consciousness stand-up act that straddled the line between bizarre and hilarious. Quips moved from punchy (comparing his fluctuating "hot, cold, hot, cold" body temperature to his previous relationship), to snippy (mocking hecklers though a series of Muppet-like chortles), to awkwardly inappropriate (bedding Ethel Merman?!).
When all was said and done, it was Adams's vocal chops that stole the show. As he finished off the night with "A Kiss Before I Go" and "Shakedown on 9th Street" in a back-to-back progression that melded alt-country with garage rock almost seamlessly, it became clear what the message of the evening was: Talent breeds crazy, and-as long as that kind of crazy makes for a good laugh-by all means, open your own show, make your own rules, and be sure to let your fans know that you're good in bed.