Opinion
The Case of the Missing Conductor
Last minute orchestra switches, 101 widening, and a Rape Crisis Center benefit.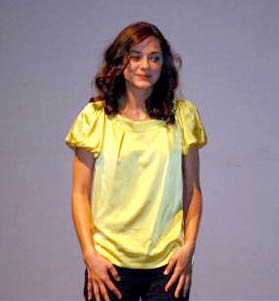 (Pictured above: actress Marion Cotillard at the film festival Virtuosos Award presentation.)
All was in readiness as the Royal Philharmonic Orchestra tuned up for its Arlington concert. But wait, where was the conductor, Jean-Philippe Tremblay? As I watched, who should stride onto the stage but famed violinist Pinchas Zukerman, billed as guest artist for Max Bruch's Violin Concerto no. 1. Seems as though Tremblay had fallen ill earlier in the orchestra's tour and that Zukerman had agreed to take over. New York tour managers knew all about it, the orchestra knew, but no one at the sponsoring Santa Barbara Community Arts Music Association had been told.
But the concert went off smoothly, with Zukerman conducting the Bruch piece while shouldering the fiddle, then Beethoven's Fifth Symphony. No big deal, CAMA says.
New Blood Rising: One by one, five young actors took the Lobero stage Wednesday night and each time their fans screamed like bobbysoxers of the 1940s. The place was packed.
Tiny, sweet-faced Ellen Page, 20, looking like she'd just scuffled in from a junior high playground, told how she never dreamed that low-budget Juno (now grossing $100 million) would be nominated for an Oscar. Page said she originally thought, "Wouldn't it be great to be in the Toronto Film Festival?" Juno's director, Santa Barbaran Jason Reitman, will be on the directors' panel Saturday. His father, producer-director Ivan Reitman, presented the five young actors with the Santa Barbara International Film Festival's Virtuosos Awards. Casey Affleck said people asked why he was playing "a creepy, weird guy" in The Assassination of Jesse James by the Coward Robert Ford. Casey, who played Ford, replied, "I liked him a lot."
Parisian Marion Cotillard, not surprisingly, looked and acted nothing like the tragic French songbird she played in La Vie en Rose. She had to portray Edith Piaf from the age of 19 to 47, take on her blazing personality and practice for countless hours to not only learn Piaf's song's but to be able to breathe properly with split-second timing to make her lip-synching look credible. "I saw her as a woman, not an icon," Cotillard said.
James McAvoy, displaying a strong Scottish accent not present in his role in Atonement, said of the steamy scene with Keira Knightley: "Love scenes are horrible." Every move is carefully choreographed, where and when to put his hand, where to put her hand, he said. In order to make sure that everyday English accents of the 1930s were correctly done, he listened to recordings of BBC broadcasts of the time and watched such movies as Noel Coward's Brief Encounter. Said McAvoy: "When you get the part, it's an act of trust." When director Joe Wright first asked him to read the book, Atonement, McAvoy replied: "Give me the part and I'll read the book." (Much audience laugher at that.) Page recalled that upon meeting Reitman, neither had been signed but agreed: "Wouldn't it be so great if we could do Juno together?"
Amy Ryan, resplendent in a blue dress and high heels, was a far cry from her character in Gone Baby Gone. "She's a train wreck," Ryan told the audience."You have to trust the director," and "give everything to that person," Cotillard said. "Some things are meant to be." She said she talked with director Olivier Dahan about Piaf "like two fans."
What's Going On? That's what Ann Dwelley wants to know. "I drove up Bath Street today and noticed a new series of signs, mostly covered but some visible. It seems that Bath Street will be a northbound 101 detour one of these days."
Well, Ann, starting Monday a $2.8 million Caltrans project will kick off to install a car meter on the Carrillo Street northbound ramp and widen the freeway to the Micheltorena Street pedestrian overcrossing. Get used to it. Completion: next October. The ramp metering project is aimed at reducing northbound freeway congestion by metering the flow of traffic from the ramp. "Large platoons" of cars flooding the freeway tend to disrupt the traffic flow, according to city principal transportation planner Rob Dayton.
Rape Crisis: Alvin Ferrara, an assistant manager at Chuck's Waterfront Grill and the Endless Summer bar-cafe at the Breakwater, asked owner Steve Hyslop if he'd host a fund-raiser for the Santa Barbara Rape Crisis Center, where he works. Naturally, Steve agreed. So on Tuesday, 15 percent of all proceeds from both restaurants that day and night will go to the Rape Crisis Center – if customers let the restaurants know that's why they're there. Steve quotes Alvin: "What can be more fulfilling than fish and chips or a teriyaki rib eye while doing good for your community?"