Books
The Original Culture War
Forrest Church's So Help Me God
Thrown around by pundits of every kind, the phrase "culture war" has become both a trend and a cliche. According to Forrest Church, Minister of Public Theology at Manhattan's All Souls Unitarian Church, the idea of culture war in America is not unique to our time, nor even to the last couple of centuries. In his new book, So Help Me God: The Founding Fathers and the First Great Battle Over Church and State, Church revisits the new republic's bitter debate over religion in the public sphere. The argument continues today, he claims, because the founding fathers meant to ensure a balanced citizenry intolerant of tyranny but one also possessed of a strong moral sense.
"I've heard a lot from the right about this nation being founded as a Christian nation and from the left about this nation being founded on a secular pediment," said Church, on the phone from his home in New York City. "Each side is half right. We began our experiment divided, much as we are today, between those who envision America as a secular republic and those who see it as a Christian commonwealth."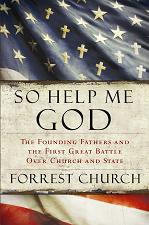 But how big an issue was religion back then? "If anything," Church responded, "religion played a larger role in our early elections than it does today, with rhetoric that would make a modern-day talk show host blush. Thomas Jefferson was called an unholy infidel who would hand the reigns of government to Satan, and his Unitarian opponent John Adams was defamed as a president who would create a state church."
Despite standing at the heart of a religious controversy, the founding fathers were not, Church discovered, particularly devout themselves. "You would think," he said, "that George Washington was the most pious of Christians. In fact, he never mentioned Christ or prayed in church. Because he was such a moral man who used religious language in a general way, some spin together quotes that make him look like a true believer, which he wasn't. None of the first five presidents were."
Whatever their inclinations, the early presidents successfully separated church and state, paradoxically engendering a religion boom. "When a church attaches its star to a political wagon," Church explained, "that star is pulled out of the heavens and dragged through the amoral compromises of politics. The New England religious establishment tied itself to the Federalist Party, and when that party was branded traitorous during the War of 1812, the church went with it. The free churches ended up thriving in the new religious atmosphere; the number of Christian churches tripled."
Competing visions of America, Church reckons, bring about healthy centrism. "We have the Constitution," he said, "a secular document with little mention of religion, and the Declaration of Independence, written from a libertarian standpoint but clearly placing the foundation of our nation on God's gift of equality and liberty, creating a moral imperative for the nation. Whenever we veer toward authoritarianism, the natural American lust for freedom kicks in. Whenever we start to lose our guiding morality, we're pulled back to the center again."
With a Harvard doctorate in history, a senator for a father, and a governor for a grandfather, Church is well-placed to analyze the history of politics and religion. "After 9/11," he explained, "I looked into the nation's history to find the nature of patriotism, leading me to discover this incredible early culture war. After the 2004 election's exit polls showed most non-churchgoers voting Democratic and most churchgoers voting Republican, I feared we'd end up with a religious party and a secular party. After studying our founding period, I think a victory for either of those parties would be a loss for the American people."
Due to illness, Forrest Church's visit to the Borders in downtown Santa Barbara (originally scheduled for Wednesday, February 13) has been cancelled. Visit borders.com or forrestchurch.com to purchase So Help Me God.