Business
UCSB Extension Retreats onto Campus
$5 Million Shortfall in Supposedly Self-Supporting Program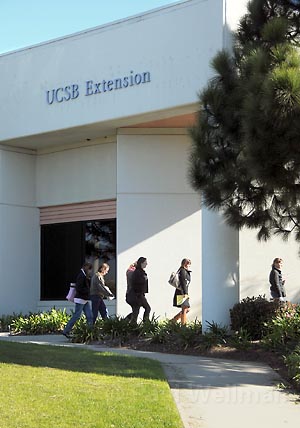 To plug a million-dollar-a-year leak in a program that is supposed to be completely self-supporting, UCSB Extension will chop its course offerings "almost in half" this spring and move survivors onto the main campus. Since the early 20th century, the extension program has offered evening and weekend classes, professional certificates, and intensive courses in specialized subjects to the community at large. Vice Chancellor Gene Lucas attributed the financial shortfall to steadily declining enrollments: from a peak of 15,760 students in 1996 to 7,020 last year.
The discontinued courses are not necessarily those that have experienced the greatest enrollment declines, however. Instead, the Extension-also known as the Extended Learning Program-will keep the courses most connected to UCSB's academic mission, while relying more on university staff to administer them and its faculty to teach them. The move to campus will save about $500,000 in rent on the two Hollister Avenue buildings that currently house the program's offices and classes.
Arts and humanities courses were the hardest hit. The only category to remain was digital arts; painting and writing classes were discontinued. Also gone is the English language program for international students. All of the currently scheduled intensive course offerings were cut. Still remaining are courses in business, law, and education, including the popular "Teaching English as a Second Language" certificate courses. The Information Technology, Engineering and Sciences category survived, though the only class still scheduled is one on infrared detectors.
The Open Enrollment Program, which allows community members to enroll in regular UCSB courses, will continue. It is already self-sustaining thanks to fees heftier than those paid by regular UCSB students. Also unaffected, so far, is the three-year-old Osher Lifelong Learning Institute (OLLI) program, which offers classes at a variety of venues such as community centers and churches. Funded entirely by grants and student fees, OLLI is geared toward "mature adults," with course titles that include "The Politics of Social Security" and "The Joy of Home Winemaking." OLLI's grant expires at the end of its fourth year, but it will be eligible for a permanent endowment if it attains a certain enrollment level by that date. If not-and Lucas did not sound hopeful-it will be killed.
Lucas said that Extension enrollments fell partly due to intense competition from Santa Barbara City College's expanded Adult Education program. Another factor was a saturated market: Most of the people who wanted or needed Extension courses seem to have already taken them. Historically, the continuing education program broke even, Lucas said, but in 2003, after a couple of years of operating in the red, it received a new dean-psychology professor Loy Lytle-and a five-year deadline to balance its budget or else. Despite attempts to streamline, it did not meet the deadline. The Extended Learning Program accumulated a total of $5 million in debt during those five years. In September, Lucas convened a budget team to salvage what it could.
On Friday, February 1, 18 of the Extension's faculty and staff were handed termination notices effective March 31. Most of the instructors are not UCSB faculty but employed on term-to-term contracts of about 10 weeks each, while a few had year-long contracts that included benefits. Nonetheless, some had worked at the Extension for many years and came to rely on it as regular employment. "They say that we are contract workers so we have no expectation of continuation of employment," said one instructor, who asked to remain anonymous. "Well, there is expectation. We just have to put up with the category of temporary worker and everything that goes with that, which is nothing." Many cobble together a living from part-time contracts at the Extension and other institutions such as SBCC Adult Ed and Allan Hancock College. "My pipe dream," said the instructor, "is that some action is taken on the part of the university to ease the blow, give these people severance or a year of insurance."