Arts & Entertainment
Ugandan Brings Art for Peace
Dan Morris Tumusiime Comes to Santa Barbara as Part of African Heritage Film Series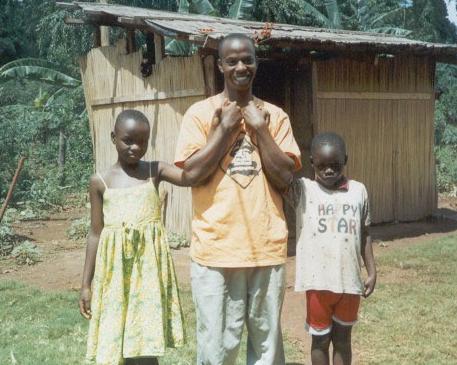 Although the most brutal conflicts have subsided over the past couple years, the civil war situation in Northern Uganda is still very dire for the people who live there. It remains unresolved as the Lord's Resistance Army rebels and the Ugandan government can't come to terms on a solution. As such, refugees still live in hopeless squalor, and children are still afraid of being taken by rebels. Meanwhile, many other children are dealing with the psychological scars of having served as soldiers against their will.

Numerous programs exist to help these kids return to society, and one of the more intriguing approaches is being administered by Dan Morris Tumusiime, who runs the IX Foundation, which was formerly called Art for Peace. He is coming to Santa Barbara this week as part of the annual Santa Barbara African Heritage Film Series to show off his art and work with children.
Tumusiime will take part in the community celebration at the Cabrillo Arts Pavilion on Friday, February 15, an evening of food and music where some of his paintings will be auctioned off. Attendants will also be lead by Tumusiime in the creation of a peace mural. Tickets are $8-$10, and you can see this website for more information.
He answered a few of my questions last week via email from his home in Uganda.
Who do you work with and where in Uganda?
I work with an NGO called the IX Foundation, formerly known as Uganda Art For Peace. It's an NGO that promotes artists and promotes a culture of peace and non-violence in Uganda. We are located in Mukono district. We have worked with IDP camps in Kumi district and others in the north.
How does making art help former child soldiers and children scarred by war?
First of all, giving them artistic skills have somehow created employment for them in the camps. They sell the art and crafts and get some income to support themselves and their families too. Secondly, the activity has kept them busy, thereby reducing on many risks resulting from idleness. Art has also acted as a form of psycho-therapy for them – they feel relieved when they transfer their experiences on paper or canvas.
What have your former students gone on to do?
Most of them have gone on to practice amateur art – selling crafts and other creative products – and others have gone back to school because there is relative peace now in the north of the country.
What are your plans for the future?
We plan to build a vocational school and home for former child soldiers where we can concentrate on training them not only in art but also with other vocational skills
What do you expect to do in Santa Barbara?
Apart from exhibiting my artworks, I plan to give talks about art-for-peace concept. I also want to find out whether I can network with some of the organizations to conduct exchange programs and request support for the IX Foundation.