Film & TV
Fools Gold
Matthew McConaughey, Kate Hudson, and Donald Sutherland star in a film written by John Claflin, Daniel Zelman, and Andy Tennant, and directed by Tennant.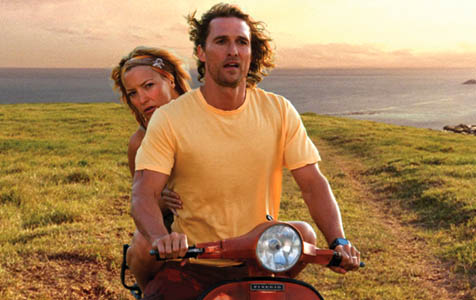 Early on in Fool's Gold, as Tess (Kate Hudson) is waiting to finalize her divorce from Finn (Matthew McConaughey), her lawyer tells her why it didn't work out: "You married a guy for the sex and then you wanted him to be smart." That pretty much sums up the problem with this movie, which purports to be a romantic comedy (although there is precious little sex and virtually no romance) but is really an action-adventure film-and not a very smart one at that.
Finn is a treasure hunter whose obsessive quest for the Queen's Dowry-a Spanish ship carrying a trove of gold and jewels that sank off the shores of Cuba in 1715-puts him on the wrong side of a thuggish rap star and his minions, and leads Tess (his treasure-hunting partner) to divorce him. But circumstances soon bring Finn and Tess together again to go after the treasure one more time, this time with the super-rich Nigel Honeycutt (Donald Sutherland) acting as their sponsor, and a rival treasure-hunting crew and those vengeful gangsters in hot pursuit.
Hudson is likable as the brainy and sensible Tess, who gives as good as she gets when the thugs start playing rough, and the viewer can see why Finn-an irresponsible but irrepressible man-child who can't understand what he's done to drive her away-would want to win her back. But despite the respective charms of the lissome Hudson and the shirtless McConaughey-and the marketing campaign that's been constructed around them-this movie is not really about getting the two of them back together (possibly because they're never really shown being apart). Instead, Fool's Gold works best in its entertaining and sometimes suspenseful action sequences, which provide an opportunity for McConaughey-or his stunt double-to engage in some outrageous antics. Although the two chefs on Honeycutt's yacht provide some amusement, much of the movie's humor misfires. Dopey secondary characters like Alfonz (Finn's sketchy Ukrainian diving partner) and Gemma (Honeycutt's dimwitted daughter) don't add anything; especially troublesome are the scenes with the gangsters, who are alternately portrayed as brutally menacing and comically inept.