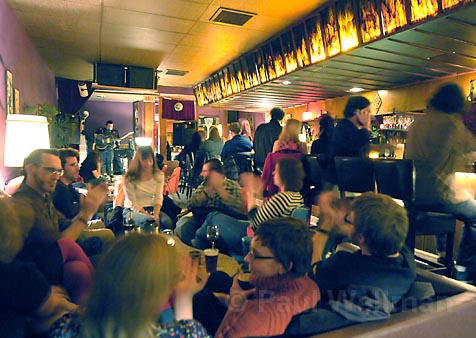 There was a time when venues everywhere would simply handle their music bookings from across the bar. A band could corner the owner or an unsuspecting 'tender when they were in a good mood and slip them a copy of their demo tape. The secret was, of course, to do a lot of drinking there so the establishment would know your face-which never seemed to pose a problem for most musicians-and then hassle the staff constantly. More often than not, persistence would yield the desired result, and it wouldn't be long before the band would be plugging in and hopping onstage, much to the delight of their friends and fellow patrons. But not anymore.
With bookers and agents curating the nightly musical happenings in the majority of venues around Southern California, the governing factor for many a show these days is an artist's ability to pull a crowd. There are typically an elaborate series of imperatives put in place that dictate a minimum draw before a performer sees any revenue. Some places even require the band members to buy and sell the first batch of tickets themselves. The end result being that the only person who makes a dime off the evening is the sound engineer. And being local doesn't seem to count for very much anymore either.
Fortunately, Santa Barbara is still mostly sheltered from that. Muddy Waters, Elsie's, and Wildcat are all havens where locals bands can lug in, set up, and take the first step to dominating the musical world. The most recent addition to that list is "Thursday Night Live" at The Mercury Lounge. Goleta's favorite neighborhood bar has long boasted a strong affinity for both local and touring musicians. And with Suzanna Brown now stepping in to assist with band booking, Thursday nights are being injected with a little something extra.
For five years, Brown has diligently tended to The Mercury Lounge's beer and wine bar. By virtue of her seemingly eternal presence behind the taps-and her repetitive interaction with local musicians such as Mind Left Body and Zohn Shotir-she inevitably became the go-to gal for bands looking to perform at the venue. So when the idea arose for The Merc to start hosting a weekly concert series, Brown took control of its coordination, and in so doing promised to make the night something special.
"We tend to bring in outside bands on Fridays and Saturdays," explained Brown. "Bands that have a name are going to pull in a lot of people and make it possible to charge a cover. But on Thursdays we are working things a little differently. We want to create a place where people come to listen to great local music without paying a cover charge. And that is what is now bringing a lot of people out on Thursday nights-that, and they are starting to feel confident that they can come in and hear good music."
And The Merc's confidence in Thursday Night Live is certainly building. When emerging local luminaries Ave Caesar took to the stage two weeks ago, they had the cozy lounge space busting at the seams. Born in an S.B. garage, the four-piece has already taken its affecting blend of ethereal vocals and spiraling instrumentation to venues like Muddy Waters, Legends, and Wildcat. So when it came time for the guys to hit The Mercury Lounge, the deal fittingly came from some old-fashioned, across-the-bar solicitation.
"The Ave Caesar show came about just by them looking for a cold beer after rehearsal," laughed Brown. "Their rehearsal space is right around the corner from the bar and, about a month or so ago, they started coming in and hanging out after rehearsing. Once they realized we did live music, they pretty quickly brought in a demo, and when I gave it a good listening to, I was so impressed that I had no hesitation in booking them immediately."
As the band's performance that night proved, Brown's confidence in what she heard was well justified. Among the warm glow of The Merc's antique lamps, Ave Caesar quickly inspired the assemblage to rise from the bar's plush couches and onto their feet. But that is part of the venue's charm. Its seductive ambience and setting is equally conducive to lazing back and taking in a brooding acoustic act as it is to swaying to more up-tempo rock outfits at the foot of the stage, which is something that a band like Ave Caesar-whose music encompasses the emotive and dynamic range-is very appreciative of.
"That place is definitely one of a kind," enthused keyboardist and vocalist Adam Rasmussen. "State Street gets really tiresome. It's great for 21st birthdays and things like that, but there is so much activity that you can't have a genuine conversation when you go out there. The Mercury Lounge puts music into a setting where people want to hang out, and that's great for everybody. In that regard, The Mercury Lounge is kind of untouchable."
With Thursday Night Live firmly establishing itself as a focal point in Santa Barbara's weekly music scene, the coming months will see a diverse array of artists taking their musical shows to Goleta, including Mind Left Body, Zhon Shotir, Oso, Jesse Rhodes, and Natalie D-Napoleon. So if the glowing ambience of Santa Barbara County's favorite beer and wine bar isn't enough of a reason to entice people out to downtown Goleta on a Thursday night, then some of the area's finest emerging musical exponents certainly should be.
4•1•1
On Thursday, February 28, The Mercury Lounge (5871 Hollister Ave., Goleta) will play host to Zhon Shortir and Mind Left Body as part of its ongoing Thursday Night Live concert series. For upcoming shows and contact information, visit myspace.com/mercurylounge.