Sports
Sneak Attack!
Big Surfs Takes SB Surfers by Surprise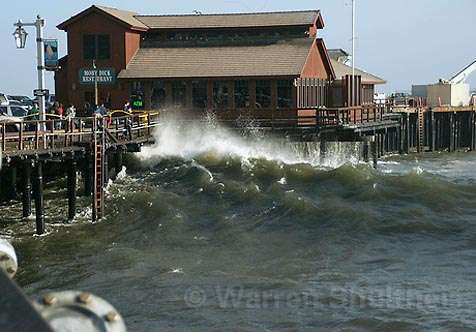 Thoughts of raucous waves slamming into the Santa Barbara coast would have probably been far from anyone's mind during the early morning hours of Sunday, February 24. As the noon hour approached, however, the wind began to swirl from the south, the east, and finally from the north. The sun mounted a comeback for the first time in more than 72 hours, and an increasingly visible lump of energy began to steadily rise beneath the surface of the Pacific.
To even an untrained eye this instantaneous upswing in ocean energy was something to behold. Offshore, the National Oceanic and Atmospheric Administration buoy reading jumped more than 10 feet in height in a span of two hours. On the beach, this wholly unexpected and rapid growth-roughly equivalent to sunny skies giving way to snow squalls mere minutes after you decided to take off your shirt and work on a tan-resulted in an audible thump of waves along the typically tranquil shores of East Beach.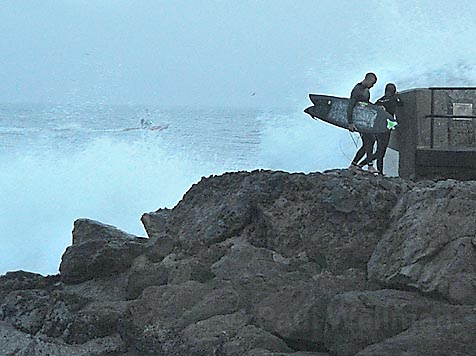 Before the day was done, waves would be crashing into seafaring and earthbound alike, keeping rescue crews busy rounding up stranded surfers, shutting down access to both the Harbor and Stearns Wharf, and, in general, reminding anyone with a view of the water of nature's power. Even the surfing community-always a group with eyes on the horizon and on weather forecasts alike for any hint of upcoming tidal action-seemed taken aback by Sunday's display.
In this day and age of Internet-powered surf forecasting, it seems every incoming swell, real or imagined, is hyped more than Christmas the day after Thanksgiving. That being said, a swell event riding the coattails of yet another north Pacific rainmaker roared into town Sunday morning. This near-shore low pressure engine packed more of a punch than even the saltiest of salts expected. From then on, between Ventura and Gaviota, it was not uncommon to find surfers beaten, boards broken, and more than a few diehards shaking water from their sinuses and saying things like, "Wow. That's about as big as it gets out there," or "That's probably not worth the beating you are guaranteed to get if you paddle out."
By 10 a.m., waves were scraping the bottom of Stearns Wharf, while the more sheltered point breaks like those found around Montecito and Goleta saw overhead set waves, though the wind conditions were less than ideal. At J Seven Surf designs, owner Jason Feist looked at a computer screen showing massive blobs of perfectly west-angled swells slamming the South Coast and shook his head. "I just got a call from one of my team riders. He's down at the Harbor and says it may be the biggest he has ever seen it." By early afternoon, some were riding nearly 18-foot-tall faces at a reef shelf near Emma Wood State Park. At Rincon, 15-foot faces challenged a few surfers while hundreds of passersby with cameras lined the beach and Highway 101 above.
Mother Nature flexing her muscle also proved treacherous on Sunday for landlubbers. Rescue crews handled mid-grade chaos at both Stearns Wharf and the Breakwater protecting the Harbor. Shortly after noon, a 14-foot Laser sailboat was smashed against the pilings of the pier, breaking the mast off the boat, throwing the captain overboard, and causing quite a spectacle for onlookers on the pier. No one was injured. Harbor officials report that a large wave broke over the Breakwater near the Santa Barbara yacht club around 3 p.m., wiping out several pedestrians, throwing them through and over a metal fence and across boulders, and washing them down into the Harbor. While most escaped with scrapes and bruises, three were carried on stretchers to Cottage Hospital, reportedly with injuries ranging from a broken ankle to a severe head laceration. One eyewitness later recounted, "You wanted to laugh, but it was bad, man. One lady literally was thrown right through the railing. She knocked it out of the concrete with her body." The popular seawall walkway was quickly shut down and remained so through Monday.
Stearns Wharf, too, was shut down around 11 p.m. after angry waters took out plumbing leading to Moby Dick Restaurant.
Meanwhile, pro surfers like Santa Barbara's Chris Brown and East Coast transplant Cory Lopez tore into the fast-breaking waves of Sandspit. All told, Harbor officials estimate they helped pull more than 40 surfers to safety-including a teen who lost his board near Miramar Beach. "Yesterday we did far more rescues than we normally do on any given day," reported Waterfront Director John Bridley.