Opinion
Anarchy on the Streets
Barney Talks Driving, Reading, and Spring Arts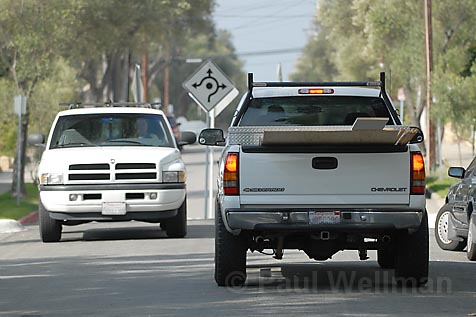 No Insurance: One out of every four drivers you pass on the road in California is uninsured, according to recent estimates.
Sure it's the law, but scofflaws don't care. California Insurance Commissioner Steve Poizner has put a screeching halt to his proposal that would allow authorities to seize license plates from uninsured autos.
Too much opposition and too complicated, opponents argue. As for tourists from other states, the percentage may not be much better. And don't be surprised to see Poizner run for California governor in 2010.
Anarchy on the Streets: "I agree people are writing their own rules as they go," fumes one Woman Driver. "Is it because we have so few police, or what? There seems to be no enforcement."
"My other gripe is pedestrians. They do not obey the 'walk/don't walk' signs. Yes, they may wait until the sign says 'walk,' but [they] continue to cross when autos need to be able to turn right while they have the light to do so. I also dislike the fact that people, often with children, just step off the curb and go without so much as looking to be sure drivers are watching. Too many people, too many cars, total disrespect for signs and rules. [It's] time for drastic changes and citations."
Dear WD: As I've said before; police can't be everywhere. The buck stops with us. There could be a cop on every corner and the nuts holding the wheel would still be blowing stop signs.
David Declines: Although the entire news world was debating the New York Times piece about presidential candidate John McCain, former News-Press editor David McCumber refused to run it in his Seattle Post-Intelligencer. Managing editor McCumber said he didn't run the piece because it failed to "convincingly make the case that McClain either had an affair with a lobbyist, or was improperly influenced by her." How about letting your readers decide instead of suppressing it, David? Or, if there are questions in your mind, how about assigning your reporters to look into the pros and cons?
Piranha at Rocks: Matador Tapas Bar and Latin Steakhouse will be opening at 714 State St., replacing Piranha, which is moving up the street to the current location of Rocks, 801 State. Similarly, the future of Mel's Place, the longtime dive bar at Paseo Nuevo, is up in the air. The lease is on a month-to-month basis, and it looks like Mel's will remain at least until August.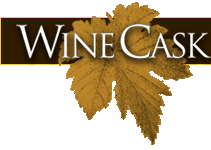 No Whining: The Wine Cask, Santa Barbara's clubby downtown restaurant in El Paseo, has hired a new executive chef from a Santa Monica eatery that won two (that's two) Michelin stars. John Pettitt, 32, helped Josiah Citrin win those impressive stars at Melisse. He'll be introduced at a press conference Thursday.
Store Closing: Millie Castro, noting that the Rite Aid drug store is closing at Goleta's Pacific Oaks shopping center, wonders what's going in. The store manager confirmed to me that the business will close after the inventory is liquidated, in "no less than a month." Tony Romasanta of Islay Investments (the store's landlord), tells me that he's "talking to a number of people" about taking over the property and that no decision has been made. But he said it would be a retail establishment compatible with the rest of the center.
Readin' and Writin': The Beatles may believe in yesterday, but I believe in tomorrow, especially after dropping by the Read at Roosevelt Day. I found myself surrounded by kids and their teachers, all of who love to read. I'm inspired. (But kids, please read newspapers too. Don't let the news die.) Speaking of reading, I've just plowed through about 700 pages of W. Somerset Maugham's bio, a biography of President Franklin Roosevelt of about the same length, and a thick volume of historian-insider Arthur Schlesinger's memoirs. But now, for a change of pace, I've amused myself with This Terrible Business Has Been Good to Me, director-producer Norman Jewison's account of the joys (In the Heat of the Night, Moonstruck) and lows (loudmouth John Wayne calling him a "Canadian pinko") of making movies. When I finished, I moved on to the subject of Doris Day, whose adopted home of Carmel we just visited, and how her outrageous husband managed to lose all her money and plunge her into debt and humongous problems with the IRS.
Films and Fun at UCSB: Folks at the university have lined up quite a banquet of events this spring to stimulate both town and gown.
There'll be folks like computer geek Steve Wozniak (Wednesday, April 2 at the Arlington); concert singer Marilyn Horne (Saturday, May 17 at the glorious new Granada Theatre); the film Conspiracy, about the Nazi's "final solution" against the Jews (Thursday, April 10 at Campbell Hall); and violinist Midori (Friday, April 11 at Campbell Hall).
And here's a partial list of culture and assorted other good stuff: Bobby McFerrin, Chick Corea, and Jack DeJohnette (Tuesday, April 15 at the new Granada Theater); Arlo Guthrie (Wednesday, April 16 at Campbell Hall); comedian Andy Borowitz (Thursday, April 24 at Campbell Hall); the Oscar nominated film, The Diving Bell and the Butterfly(Monday, April 28); novelist Salman Rushdie in conversation with Santa Barbara writer Pico Iyer (Sunday, May 4 at Campbell Hall); Willie Brown, former San Francisco mayor and California Assembly speaker (Wednesday, May 14 at Campbell Hall); an evening with former Monty Python member and Santa Barbaran John Cleese (Thursday, May 15 at Campbell Hall); Marilyn Horne and Barbara Cook performing selections from the American songbook (Saturday, May 17 at the Granada); travel journalist and novelist Pico Iyer (Monday, May 19 at Campbell Hall); and the Santa Barbara Human Rights Film Festival (Tuesday, May 27- Thursday, 29 at Campbell Hall).
Barney Brantingham can be reached at barney@independent.com or (805) 965-5205. He writes online columns on Tuesdays and Fridays and a print column on Thursdays.