If pouring out your heart and soul in song isn't enough of a daunting prospect, for those who wish to share their muse and musings with the world there also exists the business side of the industry. And for those artists, writing a song often proves to be just the start of the challenge. For the uninitiated, publishing deals, record contracts, promotion, and publicity can be far too much to bear and frequently result in many a talented artist falling by the industry's wayside.
Over the course of a single weekend each spring, a collection of music's upper echelon retreat to the Santa Ynez Valley, where both emerging and established songsmiths have the opportunity to gather some valuable insight into the current musical world and their own, individual pursuits. Each year, the Durango Songwriters Expo offers its participants the unique opportunity to explore the dynamics of both the creative and business sides of their craft. And in so doing, songwriters glean a good deal of firsthand insight from some of the industry's finest.
This year's event boasts the arrival of A&R personnel from a number of major record companies, representatives of leading music publishers, and a collective of songwriters responsible for a plethora of chart-topping compositions. A regular participant at the expo has been Santa Barbara-based songwriter Rob Raede. Like many of his colleagues who make the annual pilgrimage to the Durango, it might have been word of mouth that first sparked Raede's interest with the event, but it was what was offered that has kept him coming back.
"It sounded like a good way to meet other songwriters and maybe also rub elbows with a couple of industry heavyweights," offered Raede. "As it turned out, it was really more than that. Some of the people who they get to come and speak are really fascinating and, of course, very accomplished in the field. It is also a chance to learn something about the business itself and to see what people are actually looking for in contemporary songs these days-and to learn a little more about the craft of songwriting itself."
And Raede has definitely put his expo experiences to good use. Having returned to Santa Barbara some 10 years ago after a successful career on Wall Street, Raede decided to make a return to his first true love: music. During his time at UCSB, Raede played in a band-and even toured Europe with the ensemble-before a career in finance interfered with his rock star dreams. As a coproducer of the Sings Like Hell concert series, Raede will also release his debut solo recording when the Santa Barbara Songwriters Showcase hosts his CD launch party at Rocks on Thursday, March 6.
And even still, Raede is confident that the expo has played a large role in his ongoing musical evolution. "I think I have certainly gotten to be a better songwriter as a result of what I have learned up there," he said. "In the music business, it is easy to sit in your bedroom and write songs and send them out into the world, and if nothing ever happens, you start to wonder if there is really anybody else out there. So it's great to get out there and meet other people-to talk and share your success stories and disappointments-and from that glean the inspiration to keep persevering."
Another valuable aspect of the Durango Songwriters Expo is the networking possibilities it provides. Not only do participants have the opportunity to collaborate with other artists, often walking away from the event with a notebook full of new songs, but it also has gone on to spawn a number of musical matches that existed long after the expo's three-day run. It was at Durango where Raede first heard Texan singer/songwriter Chuck Cannon. An introduction quickly followed, a friendship ensued, and, as a result, Cannon was brought onboard to play Sings Like Hell.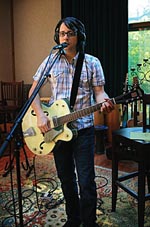 Born into a family of Pentecostal preachers, it was the church that first seeded music into Cannon's life. After discovering the Beatles and Johnny Cash, Cannon took his singing out of the church and into the larger musical world. As well as carving out a successful career as a singer/songwriter, Cannon has penned hits for the likes of Toby Keith and John Michael Montgomery. Add to this his administrative undertakings within the industry (including his term as president of the Nashville Songwriters Association International), and you can easily see why Cannon has been invited back to the expo year after year.
"I have been doing this for a few years now and it's the one thing I look forward to every year," beamed Cannon. "I have managed to win a few new friends up there-and even a few new fans. But, most importantly, at every single one of these events, I have learned something new. : Above everything else, I just love hanging out with songwriters. I really enjoy seeing a bunch of people who are interested in learning the art and craft of songwriting. And I really enjoy seeing them work really hard at being better at what they do."
While Cannon's participation in the event led to him opening the current season of Sings Like Hell, Fastball's Tony Scalzo and Miles Zuniga's introduction to the expo world yielded a co-writing partnership with S.B. music luminary Ben Margulies. Now firmly entrenched in his Montecito recording studio, it was Margulies who co-wrote and then pushed Mariah Carey's infamous five-song demo that eventually resulted in her signing with Sony. The songs co-written by Scalzo, Zuniga, and Margulies are soon to be released on Fastball's new album. But prior to joining the expo, Scalzo admits to having been a little bit skeptical about how roomful of songwriters would gel.
"I would have doubted it, sight unseen," laughed Scalzo. "But, since I have now been to a few of them, I have noticed there is a very strong bond and a great community feel to it. We're all songwriters, and we're all there because of that, and for me it is kind of an ego stroke. I have been living a fairly normal, domestic life here in Austin, Texas, so it's really great to get out there and get inspired."
The highlight of this year's expo will be the Saturday night concert. And, once again, it will be open to the public. Taking place at the Santa Ynez Valley Marriott, the 2008 show will be headlined by Glen Phillips. Joining Phillips will be Cannon, Scalzo, Zuniga, and Al Anderson. And just like the various other Songwriting Showcases that take place each night of the expo, this offering is sure to add another unique element to what is already a remarkable teaching tool and creative vehicle for songwriters of all walks.
4•1•1
The 2008 Durango Songwriters Expo will take place from this Thursday, February 28, to Saturday, March 1, with concerts, panel discussions, and listening sessions to take place throughout. For details and schedules, visit durango-songwriters-expo.com.