Business
Barfoot Snowboards Turns 30
Dropping In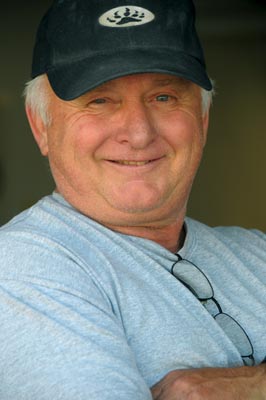 Not long after calendars the world over were turned to 2008, a massive drought-breaking winter storm rolled into Santa Barbara, delivering several inches of much-needed rain and dropping a bit of ever-mesmerizing snow in our foothills. In the mountains behind Ojai, this same low-pressure system dumped several feet of the white stuff, creating a Winter Wonderland that many area residents and outdoor enthusiasts, especially those around Mt. Pinos, were calling the biggest snowstorm in decades.
In a turn of synchronicity lost on all but the most well-versed snowboarding historians, this snowy start to 2008 was a downright poetic omen for those who know and love Chuck Barfoot. Often overlooked by the history books, repeatedly finding himself on the wrong end of busted-up business deals, and a lifelong devotee of the ride-be it by land, sea, or snow-this snow-blessed 2008 (a recent excursion found a nearly 10-foot base up Mt. Pinos way) also marks the 30th anniversary for the Santa Barbara-born Barfoot Snowboard Company-the unsung, callused hero of a snow-sliding revolution.
Fifty-six years young, Barfoot has called the South Coast home for nearly 40 years. After relocating from the shores of New Jersey to the hippie haven of Mountain Drive in the early 1970s, the former high school wrestling champion and one-time Greg Noll surf team member has carved out a life for himself literally with his bare hands. From designing, building, and riding boards of all kinds to carpentry and house painting, Barfoot, at an age when many are eyeing the recliner-chair perks of retirement, still spends seven days a week in his Ventura factory making long-board skate decks, shaping surfboards, and preparing his soon-to-be released 30th anniversary limited edition Barfoot snowboards.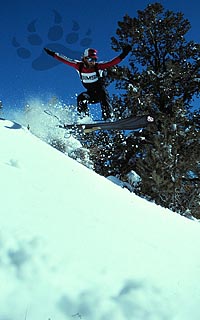 His hands are strong and worn, his face weathered from a life spent smiling in the sun and surf, his language peppered with words fit only for R-rated films, and his laughter, frequent and contagious, reeks of slightly dangerous fun. Spend even a short time talking with him and you are guaranteed stories at every turn in the conversation, ranging from nude wine stomps and barefoot hell runs on skateboards down Hot Springs Road to rock climbing chaos with his 90-pound dog Wakunda hanging off him and billy goats kicking rocks onto his head 40 feet up a rock face.
Barfoot is the type of person who, you suspect, should you encounter trouble on the trail or waves or snow, would put a reassuring arm over your shoulder, make light of the situation, and pass you a whiskey-filled flask to ease the pain. A self-described "big kid who likes to play a lot," Barfoot, who has called La Conchita home since 1988, is a salty character from the lore of local surf culture on a par with the best of them-and that's before considering his pioneering, hard-luck-riddled contributions to the birth of snowboarding. As one Rincon resident recently summed it up, "Love him or hate him-Chucky is an absolute legend."
In the Beginning
Now a multi-billion dollar industry and darling of the Olympics, snowboarding was not too long ago little more than a pipe dream of teenagers in woodshop class. Like just about every other activity in the extreme sports category, there is great debate over who exactly invented snowboarding. With that said, and in the name of brevity, the story goes a little something like this: A guy from Michigan named Sherman Poppen invented the craze-causing "Snurfer" in the early 1960s. Little more than a piece of plywood with rinky dink foot straps and rope looped through its front nose to tug on for balance and steering purposes, the Snurfer was made for kids; nearly 100,000 of them were sold, primarily as Christmas presents, in the late 1960s, eventually passing from the public favor as fads often do.
Around this time, another high school-aged New Jerseyite-and future Santa Barbara resident-Tom Sims, was looking to revamp the Snurfer in hopes of better simulating his surfing and skateboarding experiences on the frosty slopes common to the northeast during the winter months. Calling it a "skiboard," Sims brought several of his prototypes with him when he moved west in 1971. (During this same time period, people like Washington state's Mike Olson, Virginia's Bob Webber, and current snowboard/surf industry titan Jake Burton all claim to have been developing improved Snurfers in their high school woodshop laboratories.)
Though Barfoot and Sims knew little of each other during their days on the East Coast, the like-minded young men ended up living together on Mountain Drive, a coincidence born of mutual friends, and became running buddies, chasing thrills on skateboards and surfboards all over the South Coast. Sims was a damn fine skateboarder and, due in large part to his competitive success and business savvy, the Sims name was the Cadillac of the skate industry by the mid 1970s. As Sims recalled, "Chucky was always very creative and one hell of a designer," and as such it wasn't long before Barfoot was lending a helping hand to Sims's bustling business, overseeing production and offering the occasional design expertise. It was in this capacity that Barfoot took his first steps into snowboarding history.
Sims had never given up his dreams of an improved Snurfer and continued tinkering with the idea throughout the '70s, eventually hooking up with Bob Webber, who had secured a patent for his designs in 1972. Taking a laminated wooden Sims skate deck (designed by S.B.'s Lonnie Tofts), Barfoot bolted one of Webber's footstrap contraptions onto the top of it in 1977 and the "Flying Yellow Banana" was born. Hardly a commercial success, the Banana really was just a market placeholder until Sims and Barfoot could further refine their efforts, making fiberglass boards heavily influenced by surfboard shapes in time for the following winter. Things were happening so fast in the as-yet-unnamed snow sport that Barfoot, though he was playing a fundamental role, hadn't even tried the product out yet. "Pretty much I was putting together these early snowboards for Sims and even designed a few of my own before I had ever even ridden one," remembered Barfoot with a deeply ironic laugh during an interview last week.
Barfoot and Sims were still collaborating in 1980, as well as working individually to help introduce the infant sport of snowboarding to the ski-loving but reluctant masses. Sims had a headquarters on lower Milpas Street while Barfoot was doing most of his grunt work up on Mountain Drive. "Those were exciting times," remembered Sims. "Chucky and I were working in parallel to figure out what worked best and then, in between surf sessions at Rincon, we'd drive up to Mt. Pinos to test them out." As for the snowboard business as a whole, Barfoot summed up the climate of the early '80s perfectly: "Basically, the ski companies were laughing at us, telling us what a bunch of fucking idiots we were-little did they know what snowboarding would become."
Snowboarding Finds Its Footing
The tide of popularity turned in the winter 1981, and just as the sport began to get national editorial coverage and improving consumer reports, Barfoot and Sims-the two founding fathers and decade-long friends-locked horns. Battling over everything from differences in design and a shared manufacturing connection in San Diego to money, advertising campaigns, and even romantic interests, Barfoot and Sims's relationship went real bad real fast. The bad feelings remain, at least in part, to this very day, even though both men still call the 805 home and continue to make a living in the industry.
While Sims went on to both fortune and fame-not only was his self-named label a long-running industry heavyweight on a par with Burton for many years, but Sims himself also made a high-flying snowboarding appearance in the 1985 James Bond movie A View to Kill-Barfoot's business trajectory, despite being the number-three name in snowboards until the early 1990s, was not nearly as impressive. After things went sour with Sims, Barfoot entered into a doomed production and distribution relationship with Atlantic Skates. Trusting to a flaw, Barfoot, who was at that time making boards out of the old Ice House in Santa Barbara using a press made by the late great La Conchita surfer cowboy Tony Alvis and enjoying an almost cultish following of young surfers, skaters, and snowboarders, made an ill-fated "handshake" deal with Atlantic for wider distribution and vastly improved profit margins. Within a year, Barfoot snowboards went from 350 boards annually to 3,500, but the company's namesake had little to no money to show for it. After a few years, despite the growth of the sport and the ever-improving sales of Barfoot snowboards, things once again-riding the heels of scandal and disputed dollar amounts-"just plain and simple turned to dog shit," said Barfoot.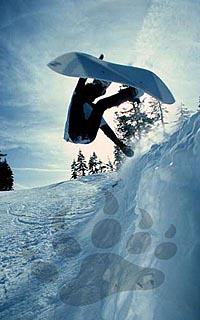 The Atlantic shakedown had left Barfoot disillusioned, borderline broke, and, thanks to the uncertainty surrounding his label during those turbulent times, without most of his sponsored team riders, as they had jumped ship to rival companies. Looking to make a comeback and determined to stay in the industry he had helped create, Barfoot turned to Southern California skate company Veraflex, which was looking to grow its presence in the snowboarding industry. Once again signing his name away on a poorly thought-out business deal, Barfoot soon found himself in familiar fiscal waters. "By the end of Veraflex I had nothing to lose, man. I was just so fed up. I never was a good businessman, but what the fuck? I couldn't get a good deal anywhere." In 1990, Barfoot angrily walked away from Veraflex with little more than his name and a terrified, quivering Veraflex accountant left sitting on the office floor from a Barfoot body slam.
Adding insult to injury, in 1987, under the flag of Barfoot nation and inspired by a design hatched by Summerland snowboarder and surfer Matt Donovan, Canadian snowboard legends Ken and Dave Achenbach helped develop the revolutionary Barfoot Twin-Tip. The double-ended board was the first of its kind and has become the industry standard shape in the years since. Without the symmetry of a twin-tip none of the freestyle antics that snowboarding is famous for, like rodeo flips and 180-degree spins, would even be possible. "If we had patented that thing we all would be sitting pretty today," summed up Barfoot without a trace of resentment in his voice.
The Future Is Now
These days Barfoot can be found either at his rented home of 20 years in La Conchita, working long hours in his modest factory in Ventura, or out chasing the stoke he continues to get from skating, surfing, and snowboarding. With his former partner Sims living a comparatively more decadent life in the foothills of the Gaviota Coast and onetime rival Burton recently brokering a multi-million dollar deal to buy out Santa Barbara's Channel Islands Surfboards label, it would be easy to forgive Barfoot for feeling the occasional bout of bitterness. But, while he admitted to certain amounts of hurt and anger in the past, his outlook remains incredibly positive.
One reason is his reunion with old friend and early '80s business associate Ernie Delost. In a partnership born more in creative like-mindedness than actual business interests, the two have been shepherding the Barfoot label in recent years, preparing it for the 30th anniversary. The associated line of handmade, signed, and numbered, all-mountain, top-end snowboards are due out in a matter of months. "[It's] the type of board that people will come up to and say 'Damn, man! Where did you get that?!'" said Barfoot. And given their combined experience in the trenches of the industry since its inception, Delost and Barfoot have more than their fair share of people rooting for them.
As for the missed opportunities of his youth, Barfoot promised, "Never again am I going to listen to anybody giving me the silver tongue up the butt. It's me and Ernie and no one else from here on out." Then, after detouring into a story about how he and Ernie first met, Barfoot continued, "So I've missed the boat in a few spots. But you know what? I'd still be doing what I am today even if I was filthy rich. I love building boards for people and at 56 years old I am living and doing what I love-it's never been about the money for me. All I've wanted to do is have fun and ride with my guys," said Barfoot before cracking himself up and adding, "Yeah, I think my message will have a happy ending."
That looks to be true, as even Sims and Barfoot's famously frosty and lost friendship appears to be thawing. Barfoot said recently, "Tom really should be the guy who gets the credit for getting this sport to take off : I would never have even started my company if he hadn't brought me around." As for his part Sims offered in passing during an interview late last year, "Chucky is a great guy, he really is. And he was a very good friend."