Business
Photographic Exhibition Celebrates Santa Barbara's Workforce
Essential Viewing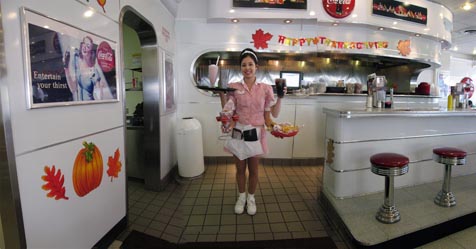 We take it for granted that things run seamlessly in our little paradise. Our trash and recycling are whisked away weekly; our food appears on the table shortly after we've ordered it; our children and our parcels are safely ferried to their destinations. Yet we rarely recognize and appreciate the very cogs that keep the wheels of our lives turning efficiently.
Now on display at the Channing Peake Gallery is a photographic exhibition spotlighting the workforce necessary to sustain a thriving community. In The Essential Worker, 10 regional photographers capture images of laborers in the service industry and trades, those whose tasks include keeping us housed, safe, and fed.
The inspiration for the exhibition came from the work of Bay Area photographer Candacy Taylor, who investigated the stories of career waitresses. Santa Barbara County Arts Commissioner K.C. Thompson brought the concept to the attention of the Commission's Executive Director Ginny Brush and Visual Arts Coordinator Rita Ferri. They adapted the concept to Santa Barbara County workers from a variety of industries, and The Essential Worker was born.
One unusual aspect of the show is that every photo was taken specifically for the exhibition. "None of these images existed prior to November," explained exhibition curator Brett Leigh Dicks, "which is much different from how exhibitions are typically curated, using catalogued images. These images really pulse with life as a result."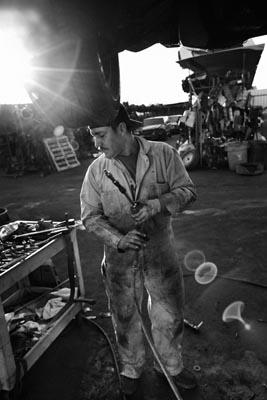 The artists were charged with the mission of focusing their attention on those behind-the-scene workers whose jobs, although critical, typically go unnoticed. Cathy Gregg documented the daily routines of shipping and grocery stock clerks. Nell Campbell highlighted the county's dedicated crossing guards. The day-to-day responsibilities of firefighters were showcased by Ian McKaig. Kate Connell portrayed carwash attendants at work amidst the reflective surfaces of cars. Paul Wellman captured the labors of the theater employees who make Santa Barbara's world-class cultural scene possible. Bob DeBris photographed a gardener, a house cleaner, a fisherman, a gas meter reader, and a teacher, all of whom he described as "overworked, underpaid, and overlooked."
The resulting images document a segment of the workforce that performs some of the most difficult, exhausting, even dangerous, yet fundamental tasks in our community. Matt Straka, who photographed public works operations ranging from waste treatment to levee maintenance, mused, "We'd be screwed without these guys. I don't think the public thinks about where stuff goes once you throw it away. Someone's got to deal with it. If you flush something that's not meant to be flushed, there's someone who fishes it out." Larry Mills, who photographed a salvage crew, found a certain appeal in photographing what he terms "rough" work: "There's something romantic about getting dirty."
Several photographers found that although most of the workers they encountered were accommodating, some were reluctant to be photographed. The risks of jeopardizing their livelihoods precluded many undocumented workers from appearing in front of the camera. "Their existence is very fragile," related Barbara Parmet, who focused on restaurant workers, including waitresses, cooks, and dishwashers. "One man didn't have papers but wanted to be photographed, so I photographed his hands. I didn't want to identify him. They could be deported; their lives could be changed."
"It was an honor to photograph people who don't usually get seen," continued Parmet. "I met people who work multiple jobs with low pay, who struggle to survive without the status and recognition they deserve. I was very humbled by how hard they work and how underappreciated they are."
Patricia Clarke, whose background in construction and design inspired her coverage of construction workers, concurred. "The reaction I saw on their faces was, 'Wow, you noticed me?' Construction workers-a lot of workers-are so anonymous and taken for granted, though they're creating where we live and where we work and what we drive on."
4•1•1
The Essential Worker shows now through June 27 at the Channing Peake Gallery on the first floor of the County Administration Building, located at 105 E. Anapamu St. Call 568-3994.