Visual Arts
Art for Hamachi and Hot Dogs
Off the Wall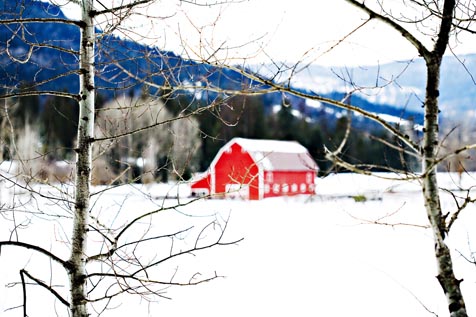 When art shows up in unexpected locations, it does more than decorate: It surprises and soothes, complements and enriches, informs and inspires. Here are some of this month's artistic treasures you'll find hanging anywhere but the gallery wall.
From Havana to Hendry's
Whether it's the happy din of a busy kitchen or the flurry of activity in the packed restaurant, popular sushi spot Arigato always seems to have an irrepressible energy about it. This frenetic setting is the perfect context for the photography of Nell Campbell, whose photos from her Cuba series are currently on display. The Santa Barbara artist has proved her prowess for capturing her subject matter with a dynamic flair, and these photos are no exception. Images of Cuban cars in large-scale format feature the vintage vehicles that have become so symbolic of this mysterious country, but with a typical Campbellian twist: Her photo "Chevy in Garage" depicts a car in a darkened storage space, lights beaming down from the ceiling slats as if it is about to become a victim of alien abduction.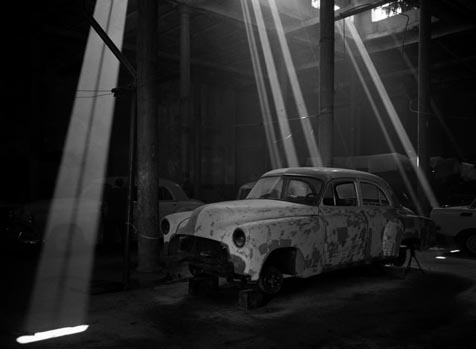 On the retail end of things, upscale Montecito boutique Dressed combines the artistry of international fashion designers with the local imagery of painter Hank Pitcher. Hank's wife Susan is the owner of Dressed and the one responsible for making sure Santa Barbara is on its best high-fashion behavior. Susan uses the wall space to rotate a selection of her husband's paintings, which depict the brilliant hues of Santa Barbara's beaches with an acuity for color that only a longtime resident and ardent admirer could achieve.
Artistic Stimulation
For a shot of artistic stimulation (or espresso), swing by Starbucks on Victoria and check out the work of photographer and former Brooks Institute student Melanie Bess Hogan, who has embarked on an ambitious and admirable project, Debt Free By 30, to eliminate her hefty art school debt by the time she turns 30 in October. In order to reach her goal, Hogan is selling prints of her photographs for two dollars each on the principle that thousands of baby steps equal one giant leap. Each month, she releases a new series of photos. Her subjects vary from close-ups of flora to portraits from her travels abroad, and her work exhibits a preternatural stillness.
For stimulation of a different sort, cruise over to Yoga Soup where landscape painter Sean Kirkpatrick has turned his talent to abstract color-field paintings that set the mood for all activities yogic. Hung sparingly on the studio's walls, Kirkpatrick's meditative paintings complement the peaceful and powerful practices taking place around them.
Classic Flavor
In how many cities can one study the complex lines of a cubist-inspired painting while enjoying a chili cheese dog? This unlikely union is a delightful part of the experience at Lettuce B. Frank, the reincarnation of the beloved DogHouse, which currently showcases the work of painter Jason Guastucci. Part Picasso and part Art Deco, his paintings give the space a flavor that can't be imitated.
Over at Roy, owner Roy Gandy already has a reputation for supporting Santa Barbara artists with his perpetually rotating exhibitions. This month, Roy asked Jean Nerfin to add to the restaurant's vibrant atmosphere with his playful, Miro-inspired paintings that capture the joy of music-making on canvas.
Nell Campbell at Arigato (1225 State St.) through April 15.
Hank Pitcher (sullivangoss.com) at Dressed (1253 Coast Village Rd.).
Melanie Bess Hogan (melaniebessphotography.com) at Starbucks (1235 State St.) through April 30.
Sean Kirkpatrick (seankirkpatrick.com) at Yoga Soup (28 Parker Way).
Jason Guastucci at Lettuce B. Frank (413 State St.) indefinitely.
Jean Nerfin (jeannerfinstudio.com) at Roy (7 W. Carrillo St.) through April 30.