Arts & Entertainment
Natalie Cole Speaks Out on Music, the Grammys, and Life
The Messages We Send
Natalie Cole exploded onto the music scene three decades ago when she was in her mid twenties. Her debut album, Inseparable, included "This Will Be (An Everlasting Love)," one of the most enduring hits in contemporary music. "This Will Be" went to number one on the Billboard R&B charts and won Cole her first Grammy in 1976 for Best Female R&B Vocal Performance. Of course expectations were always high for the daughter of Nat King Cole, one of 20th-century America's most iconic performers and a hero of the civil rights era.
Natalie began her career with a lot to live up to, and in the early 1980s the rush of sudden stardom turned into high ups and deep downs by way of a serious drug problem, something that proved to be a difficult and all-consuming obstacle for this driven woman to overcome. She nevertheless managed to come back not once, but twice, winning seven more Grammys in the process. Her 1991 album, Unforgettable:with Love, won Album of the Year and Record of the Year at the 1992 Grammys. Natalie Cole will perform in Santa Barbara on Friday, March 14, at the Granada. I spoke with her last week by phone from her home in Los Angeles.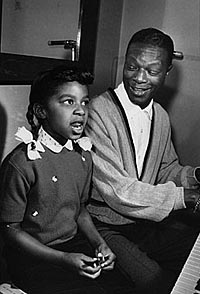 Did your father, Nat King Cole, teach you about music? Somewhat-he never really said all those things that maybe as a daughter I would have liked to hear, or taught me as much as he could have, because he was away so much. But I know I absorbed his work ethic, and I saw the way he interacted with his friends and the people he was in business with. And he was so joyful and purposeful that I really noticed that, and I got that from him.
Was not having him at home as much as you would have liked hard for you? Yes, it was a tough thing for me that he wasn't around. Sharing him with the world was definitely hard. He liked to keep the people he worked with close and to lead by example, and that didn't always leave much room for his family.
How did you end up recording Bruce Springsteen's "Pink Cadillac" in 1987? That was a crazy thing. I have to give credit to Dennis Lambert, the producer on that record, for suggesting the song. He said we should take this Bruce Springsteen B-side-which was really a country or rock 'n' roll kind of song-and make the lyrics over from the man's point of view to the lady's, and arrange the music as contemporary R&B. We did six different mixes on that, including some that were made for the dance clubs, and it ended up doing very well there. Every once in a while a producer will tap into a hidden talent or connection that an artist might not find on their own, and that was what Dennis did for me with Bruce Springsteen. [laughs.] When you go beyond your comfort zone, you can get amazing things.
Are you working on a new record? Yes, my new project is jazz, and it is being independently financed by a woman named Tina Clark. She never really put a record together like this one before. The plan is to distribute it through a company that's not a music company, and to make it available through their outlets, but I can't announce it yet, so that's all I'm going to say. I will go into the studio soon, and I will delve into the American songbook, and I will also be singing a song of my dad's that will work for me and that's well known.
You wrote an exciting show business autobiography-Angel on My Shoulder-that is also about addiction and recovery. What was it like to write the book? It took me a long time to write that book because, even after some of the things I describe in it were over, I still needed time to live it out. You have to be comfortable in your own skin to write your own story, I think. Otherwise the process might be therapeutic, but it will come out self-serving. You have to make sure you don't just go in a big circle.
Is it true that you said something about Amy Winehouse not deserving her Grammys? Did you mean that? There has been a lot of fuss about what I said, but I am sticking by it. Fans of Amy Winehouse are taking this the wrong way because they don't know what I've been through. I generally try to stay out of publicity stunts or whatever, but this Grammy show struck a nerve with me, and I spoke up about it. I couldn't keep quiet, because I felt I knew the story too well, and I am tired of it.
Too many young people are dying-in and out of the music business-as a result of the messages we send. People inside the music industry know that most of us work hard, have families, and keep it together. But outside of the industry there is a perception that music artists are all the same. The public expects us to be drug- and sex-crazed people who are crazy-looking and -acting. It's a part of how music has always been marketed.
I had early success at the Grammys myself, but it wasn't until years later, with Unforgettable, that I really appreciated what it meant. What I am saying to the Grammys-and to Amy Winehouse-is let a career roll for five years, then reward it. Because the other [early rewards to seemingly reckless artists] reinforce the public's negative image of us. I don't mean to be judgmental, but I've been there; I've done it. I was addicted to heroin; I did things that I regret. But now I feel that, in this area at least, I have paid the cost to be the boss. And then I see the music industry handing out its highest honor to someone who, when they get it, it basically means to everyone who is using that you can get away with it. It's like the business is giving her permission, powerful permission, to throw her life away. I can't stay silent over that. There is a point at which freedom becomes chaos, and I am talking about this because I have personally been past that point. That's all I'm saying; that I've lived this, and it is not cool. People need to get the big picture here, and I am giving it.
4•1•1
Natalie Cole will appear at the Granada on Friday, March 14, at 7:30 p.m. For tickets and information, call 899-2222 or visit granadasb.org.