News
Nelson Sexual Assault Trial
Accuser Testifies Against Former Rehab Manager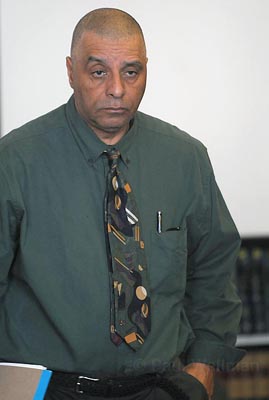 Jurors in the trial of accused sexual assailant Bruce Nelson heard emotional and explicit testimony on Tuesday when one of the alleged victims took the stand. Nelson, a 56-year-old former high school basketball coach and former night manager at Solutions Rehabilitation Center, is accused of sexually assaulting two women who were patients at the center in 2007.
One accuser, a 22-year-old former UCLA student, recounted five separate occasions while she was at the center, which primarily serves patients who have suffered brain trauma and injury, in which Nelson allegedly committed sexual acts that she said she neither wanted nor invited, including using his tongue to kiss her, inserting his fingers into her vagina, touching her breasts, forcing her to touch his penis, and attempting to have intercourse with her. When she looked around Superior Court Judge Frank Ochoa's courtroom-particularly at Nelson-she smiled, a seemingly odd gesture considering the circumstances. When prosecutor Joyce Dudley asked the woman about her expression, she said she smiled not because she was happy, but because she was scared.
The woman had to be helped from her wheelchair to the witness stand by her mother, and used a special microphone to be heard. Like the second alleged victim in the case, a 43-year-old woman who is expected to testify today, the 22-year-old damaged her brain after an apparent attempt at suicide. She went into cardiac arrest after overdosing on medication, and the lack of oxygen to her brain during a weeklong coma in February 2007 led to permanent damage.
In his opening statement, defense attorney Steve Balash characterized the woman, Jane Doe #1, as continually improving from her injury and as having consented to the actions. Nelson "admits to having consensual sexual contact" with Doe #1 while at Solutions, Balash said, noting, "There was inappropriate conduct [for an employee of Solutions], but certainly not to the level of charges." He also cited a doctor's examination in which the doctor said Doe #1 becomes confused about relationships with different people, especially those who show her attention. During her time at Solutions, the woman wasn't confined to the center, and Balash attempted to prove that her physical and cognitive skills were not far from normal.
In her testimony, the woman said that, while most of the alleged sexual activity made her feel "gross" or "bad," some of it felt good, even though she testified she didn't want him to do it. The woman, who answered questions from Dudley and Balash mostly with short, one-word answers, said she didn't speak of the incidents until the day before her discharge because Nelson was mostly a nice person whom she didn't want to get in trouble.
The very person who was paid to protect the two women, Dudley said in her opening statement, not only didn't do that, but hurt them. "The evidence will show the defendant preyed upon and sexually assaulted two of the most vulnerable" types of people, Dudley said.
Nelson, whose five-year stint at Solutions ended following the allegations in 2007, is a staple in the Santa Barbara basketball community, having served as head coach of the Dos Pueblos High boy's team for the 1994-95 and 1995-96 seasons and as an assistant for the boy's basketball team the past two seasons at Santa Barbara High, where his son Roberto is a standout basketball player.
The trial is expected to last through the end of the week. It is not known whether Nelson, who is black, will testify in his defense. Ochoa issued a gag order after Tuesday's proceedings, meaning neither attorney could comment on the case. Perhaps dragged out because Nelson is facing life in prison, jury selection took six days and four jury panels-roughly 200 people-for the attorneys and Ochoa to come up with a 12-person jury and two alternates. The jury is made up of eight women and four men, none of whom are black.