The S.F. JAZZ Collective began in 2004 as an all-star touring band sponsored by S.F. JAZZ, the San Francisco nonprofit that puts on the city's annual San Francisco Jazz Festival. Partly because of the way the Collective was structured from the outset, and partly because of the high quality of the musicians involved, the group quickly became something more-like the best modern jazz octet in the world. The concept for the group came from S.F. JAZZ executive director Randall Kline and original artistic director and tenor saxophonist Joshua Redman, who thought that the music of the major composers of the modern jazz era-an era covering roughly 1955 to the present, and including such figures as Ornette Coleman, John Coltrane, Thelonious Monk, and Wayne Shorter-was not being cared for or presented to the public with a level of support appropriate to its historical importance.
Fortunately for all concerned, the music being made by S.F. JAZZ Collective soars right past any notion of historic preservation, to a place where great musical minds meet and merge. The new lineup includes some of the most respected and exciting musicians alive; people like saxophonist Joe Lovano, trumpeter Dave Douglas, vibraphonist Stefon Harris, saxophonist Miguel Zen³n, pianist Renee Rosnes, bassist Matt Penman, and drummer Eric Harland. And the word on the critical street is that the current incarnation of the Collective is the hottest ever-and that is high praise indeed, especially given the amazing set played by Redman and Bobby Hutcherson when they visited S.B. in 2005. I spoke with trombonist Robin Eubanks last week about what it is like to be the newest member of the Collective. Eubanks was named Trombonist of the Year two times by a Downbeat Critics poll and is a veteran of such outstanding ensembles as the Dave Holland Quintet and Art Blakey's Jazz Messengers.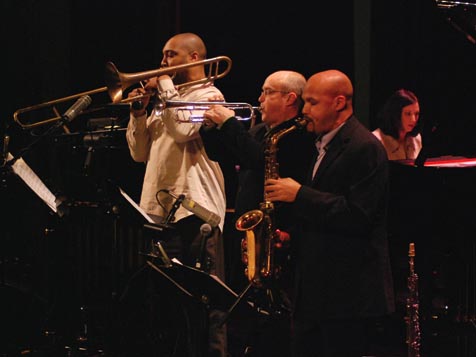 I understand that this group actually gets a chance to rehearse, which is unheard of in jazz. Is that true? Yes, we did have rehearsals, two weeks of them. One week it was in New York and the other was in San Francisco. Everyone was asked to bring an original song and an arrangement of a Wayne Shorter piece. I had to hustle to get my stuff ready. It was kind of short notice, so I was happy to have that time to work through things.
You have an interesting recent trio recording with your own group. It's called EB3, is that right? Yes, that release actually comes with a DVD as well-it's called Live Vol. 1. Seeing the visual aspect of EB3's performances really enhances the experience. With the DVD, you get to see what each musician is doing and compare that to what it sounds like. A lot of the time what it looks like is not at all what it sounds like, because of the way we are using technology and looping and sampling and digital processing. It was not easy finding musicians who could pull that off. Kenwood Dennard and Orrin Evans could do it, and honestly it is pretty amazing. I am very pleased with the way that came out.
How is it working with the other members of the S.F. JAZZ Collective? It's cool. Dave Douglas is one of the best-connecting, highest-energy trumpeters I have played with. Miguel is a tremendous saxophonist, and so is Joe Lovano. I have played with Joe before, and with Renee Rosnes, the pianist, but not for a while. The vibraphonist, Stefon Harris, is really exciting too, and his instrument adds some great colors to the arrangements.
I only found out about this gig a month before it was supposed to happen, and at first, well, I didn't think about it too much. But then a check came in the mail, a payment for the original and the arrangement, and I thought, "Okay, I better get to work," you know? As for the vibe at the rehearsals, I am still finding out myself about the situation and the organization, so at this stage I am mostly quiet, listening and learning from everyone. There have been some changes. Apparently it was only recently that the decision was made to do without an artistic director. That has led us to a place where things are pretty much discussed as we go. Given what some of the people involved have accomplished in jazz, the level of ego has not been that bad. So far everyone gets along.
There's an old saying that bebop was the worst thing that ever happened to the trombone. How do you feel about that? What? Who said that? Why?
I don't know who said it first, but I think what it means is that bebop was more difficult technically for trombone players than the music that came before it. That's not true, not at all. I guess the only way I would acknowledge something like that would be to say that J. J. [Johnson] bridged the gap : if there ever was one. Anyway, if there was, then I am glad he did.
4•1•1
The S.F. JAZZ Collective will play at the Lobero Theatre on Thursday, March 20, at 8 p.m. For tickets and information call 963-0761 or visit lobero.com.