Books
NPR's Wait Wait : Don't Tell Me! Comes to Santa Barbara
Goofing Off on the Air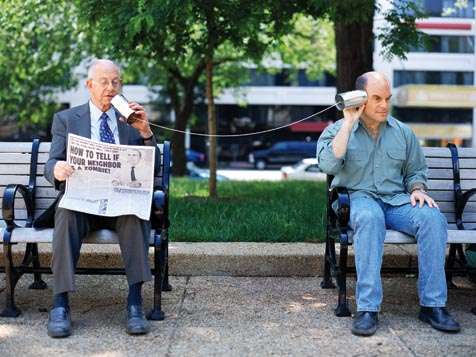 In 1998, Peter Sagal made the somewhat unorthodox career transition from playwright to public radio show host, and in the intervening decade he has risen to stardom in the medium. "It's almost embarrassing," he said on the phone from his Chicago office. "Ira Glass started cutting tape and carrying microphones as an intern at age 17, and finally, when he'd earned every stripe you can earn, he got to host his own show. I didn't do any of that stuff; I stumbled into it. A friend just called me and asked if I wanted to be a part of a new public radio show." Sagal said yes, and the show turned out to be NPR's highly popular news quiz, Wait Wait : Don't Tell Me!
Having begun as a panelist, Sagal was soon elevated to host duty. "The producers said, 'This guy Sagal, here, he seems host-ish,'" Sagal joked. "It was a move of utter desperation. The show had just been launched and wasn't working so well, and the public radio community wasn't high on it. They needed to make a change; it was like going to the chorus girl after the lead breaks her leg."
Even Sagal's presence at the helm couldn't turn the show around instantaneously. "We were trying way too hard," he admitted, "making a lot of strained jokes, attempting to do what we thought other people would think was funny as opposed to stuff we laughed about ourselves. Ultimately, you can only please yourself and hope there are enough people like you to appreciate it. I asked in a meeting if we wanted to make a serious news quiz that rewards people for their hard work acquiring information, or if we just wanted to goof around and have fun. We all wanted to goof around. There was nothing to lose, so we just started having a good time. I think people tune in because it allows them to have a good time with us."
But why produce a news quiz in the first place? "NPR knew that on weekends, listeners get up, tune in to Scott Simon, then Car Talk, then go away until Monday. None of the other weekend shows appealed to the central demographic in the same way. Our producers wanted to get that news-listening audience; why not a quiz about the news? It was a way to provide the public radio audience with a way to do what surveys show is their favorite hobby: feeling smug."
Few newsworthy events escape Wait Wait's lampoons. "I enjoy finding bizarre bits of hilarity in serious goings-on," Sagal said, "like when the prime minister of South Korea wanted to drink boilermakers with Madeline Albright. We also have fun with stupid laws, dumb criminals, people stuffing animals into their pants-at this point, we're beginning to think people do these things just to get on our show. Why else would you, say, rob a bank and leave your resume?"
New York governor Eliot Spitzer's recent resignation amid a prostitution scandal provided particularly rich fodder for Sagal and his panelists. "It's so down our alley that we almost feel guilty. Everybody expects us to tear into this guy, so we almost want to be rebellious and not talk about it-but of course we do. We talked about Larry Craig, we talked about David Vitter: We talked about all these guys' sexual scandals. It's what we do."
Wait Wait is well known for recording in various American cities away from its Chicago headquarters, but the show hasn't always been on the road. "At first we were in a studio," Sagal said, "and a Salt Lake City station asked if we could do the show there in front of an audience. We didn't know if it could work, but everything went really well, so after the broadcast we started getting requests to do it in other cities. On the road, we play for audiences who are very excited and grateful that we've come to see them where they live. With a theater background, I was distrustful of this radio thing because I couldn't see the audience. I love that we travel around the country and get to say hello to all these people every week. It doesn't suck to have thousands come up to you and say, 'Hey, I like what you do.'"
Pop quiz: Which of our city's many attractions is Peter Sagal most looking forward to when he and his crew visit Santa Barbara later this month? Answer: "My very favorite taco stand in the universe: La Super-Rica."
4•1•1
Wait Wait : Don't Tell Me will be recorded live at the Granada on Thursday, March 27, at 8 p.m. For tickets or more information, call 893-3535 or visit artsandlectures.ucsb.edu.