Dance
Per° Negro
At UCSB's Campbell Hall, Wednesday, March 12.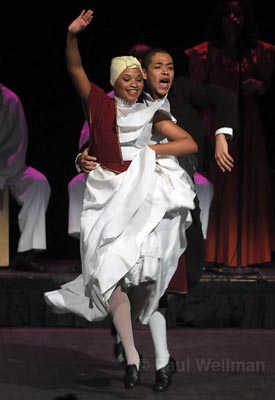 The final piece in Per° Negro's show, "Estuve Covando," precisely encapsulated the entire performance: exuberant, flamboyant, joyful, and involving every member of the ensemble and audience. The attendant standing ovation was unsurprising, given the level of enthusiasm with which the group was received throughout the evening.
Although Per° Negro, composed of Peruvian dancers mostly of African descent, fuses song, dance, instrumentals, and cultural commentary into one very successful whole, it's the percussion section and ensemble dance routines that really shine and make the group the incredible spectacle it is. Using at least nine different drums and percussion instruments, three guitars, and the music of their stamping feet, Per° Negro's musicians created an exciting and complex background rhythm.
Santa Barbara is famous for its drum circles. Even so, most of the audience might never have even seen some of the group's more outre instruments before in their lives. There were crate drums and bongos, an enormous maraca, and some even less standard instruments, including donkey jawbones and church collection boxes. These were used to particularly striking effect in "Cajones," in which the percussion section took front and center and showed that it could dance while creating its own accompaniment. While the entire evening's performance displayed the group's good fellowship and sense of humor, this piece's joking competition, presented with broad gestures and musical one-upsmanship, stole the show.
Many of the dances represented courtship and flirtation; village girls with washtubs swirling their brightly colored skirts and stamping their feet, and groups of young men who vied for the girls' attention with leaps and displays of ever more expert Peruvian tap-dancing. In one piece, "Toro Mata," the ridiculously ruffled costumes and an opening courtly pavane satirized colonial aristocrats before the dance became a rhythmic and distinctly African-influenced display of foot-stomping and jerky, punctuated upper body movement.
Overall, Per° Negro's dancers captured both the spirit of Spanish dance, with some of their movements being strongly reminiscent of flamenco, and the pulsing power of their African background. African ritual dancing and sultry South American coquettishness met and mingled, and the result was a wild and graceful narration of what is, to many Americans, a little known part of Per°'s cultural history.