News
Supes Attempt to Prevent Mussel Invasion at Cachuma
Mollusk Madness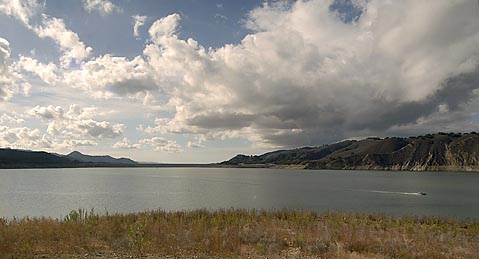 With a storyline that reads like one ripped from the pages of a science-fiction novel, the Santa Barbara County supervisors battened down the hatches this week at one of the county's most popular parks, fortifying the border of Cachuma Lake against an all-out assault from an invasive mollusk originating in the Ukraine that, despite rarely growing bigger than a dime, threatens to wreak havoc on the water supply infrastructure throughout the state. Stopping just short of an outright ban on motorboats, supervisors approved a defensive counterstrike against the invading quagga mussel that calls for increased security details, high-powered hot water washes at boat launches, 14-day boat quarantine protocols, and an elaborate database that tracks who uses Cachuma and where a boat has been.
Underscoring the danger of the quagga, and no doubt fearing the financially draining ramifications the fast-reproducing mussel may have on the water pipes of the 3,000-acre reservoir, Charles Evans, president of the Lake Cachuma Operations and Management Board, sent a letter to the Board of Supervisors earlier this winter calling for an outright closure and saying plainly, "If they [quagga mussels] do enter the lake, they will severely impact all of the Cachuma project physical facilities including the Bradbury Dam, intake and outlet structures to the mainstem of the Santa Ynez River and Hilton Creek and Tecolote Canyon. : It will cost hundreds of thousands of dollars annually to remove the mussels and maintain the water delivery system that provides this vital resource to some 300,000 residents on the South Coast."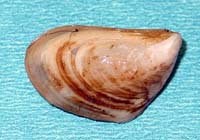 First rearing their troublesome foot in the late '80s in the decidedly more chilly waters of the Great Lakes, the quagga mussels, believed to have arrived in U.S. waterways via transoceanic freighters, have been slowly making their way west and south since early 2007, essentially hitchhiking anonymously on the hulls and propellers of trailered boats. First detected out of the Great Lakes at Lake Mead along the Nevada border in early 2007, the thumbnail-sized mollusks, mimicking their stealthy migration from the Ukraine, have since ridden on the undersides of boats, stowed away in bait tanks, and ridden on propeller blades to at least 10 California lakes and reservoirs, including the Colorado River Aqueduct, Lake Powell, and San Vincente Reservoir. Once in a new body of water, the quagga, which can survive out of water for up to five days, start their mating ritual. According to data presented to supervisors during a hearing earlier this month, a quagga colony can increase from two invaders to an army of 10 billion mollusks in two years or less.
Looking to attach themselves to flat and hard surfaces, the mussels find pipe openings, intake and outtake valves, and even dam flaps-objects that happen to be in abundance at reservoirs-more than ideal for their survival and colonize them in a matter of months, eventually rendering them useless. "As of this time, there is really no way to get rid of the quagga once they are introduced," said Daniel Hernandez, director of Santa Barbara County Parks and Recreation, of the bivalve's tenacity.
Fear of the mussel infestation and its implications for drinking water supplies, has, in recent weeks, forced complete boating bans, much to the displeasure of freshwater fishers, at several locations throughout Southern California, including the immensely popular Lake Casitas in Ventura. However, with 200,000-plus annual visitors paying an $8 daily entry fee to Lake Cachuma and average annual boat traffic approaching 6,500 vessels-each of which pay an additional $8 launching fee-supervisors opted against the boat ban in favor of taking a chance with increased security and scientifically informed firepower at a price of about $500,000. Using washers that blast out 140-degree pressurized water, officials hope to kill off any would-be quagga invaders, which die at about 104 degrees, before they can enter the lake.
Furthermore, rules that go into effect on March 28 ban all fishing bait except for live nightcrawlers and commercially purchased worms and enact an identification program that will allow S.B.-based boats that don't travel anywhere else to come and go from the lake without enduring the quarantine. As for the latter, boats coming from out of state or counties where the quagga or similarly invasive zebra mussels are known to reside, as well as boats more than 24 feet in length, will be forced to sit on dry land for 14 days before entering Cachuma waters. Though the quarantine will no doubt be an irksome issue for visitors this summer, it is, when viewed in light of alternatives like a total ban on boating in the lake, a small price to pay. As Parks and Rec's Hernandez said, "The bottom line is our residents and visitors alike will continue to have access to the lake."