Living
Ultrasound Helps Reveal Anomalies in Dense Breasts
Looking Through the Layers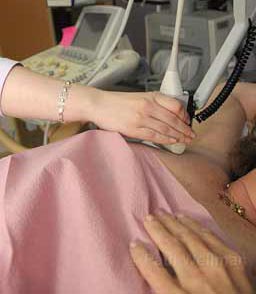 After my first mammogram, the radiologist told me that my breasts were so dense the film couldn't pick up a "large amount of detail." She then said that otherwise everything looked fine.
Let's see. Since baby tumors are the epitome of detail, free from worry was not the emotional state I attained in that moment. I could only think that if a mammogram can't pick up all the tiny variations in my so-called dense breasts-and thank you for not snickering-why bother having them painfully flattened like cookie dough between two Plexiglas plates in the first place? It is not my idea of a party.
But I have since discovered that between 45 and 50 percent of women are in this very predicament. And even though it sounds like a true inadequacy, having dense breasts only means the tissue doesn't contain a whole lot of fat. (And it so figures there wouldn't be much right where I'd actually like a little.) Instead, there are greater amounts of other stuff-milk ducts, glandular and fibrous tissue. It sounds weird but physicians who understand these things say it's normal.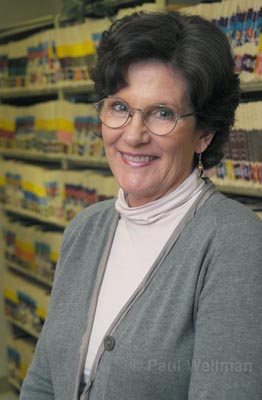 None of this would merit sensible discussion if it weren't for the need to be screened for cancer every year; a process that, however unpleasant, has saved millions of women's lives. Judy Dean, MD, a Santa Barbara radiologist who specializes in breast imaging, explained recently that mammograms are summation x-rays; they look through all the overlapping tissue at once. When it's dense, also known as fibrocystic, abnormalities can be masked. A 2007 New England Journal of Medicine study found that women with dense breasts have an 18 percent greater chance of their cancer being missed on a mammogram than women with fatty breasts.
But the situation for us dense breasters isn't as worrisome now that a group of physicians, including Dean, have taken the issue on. Three years ago, Dean was selected to participate in a nationwide study of a particular ultrasound device that screens women for breast cancer. It was designed mainly for those with dense breasts, but is also recommended for women at high risk of breast cancer and who have implants.
When I went in for a mammogram in 2006, Dean suggested I also have a whole breast ultrasound. A nurse handed me a clipboard of consent documents; if I agreed, I'd automatically be part of the study. The only downside was a biggie: Since the procedure wasn't yet approved by the Food and Drug Administration (FDA), my health plan wouldn't cover it. At $300, I took a deep breath, signed the form, and kissed the cool summer outfits I'd wanted good-bye.
Flash forward two and a half years. All the data is in and the study will soon be published in a peer-review medical journal. "I can't really release the data ahead of [time]," said Dean, "but I can tell you that it's roughly double the number of cancer detections if you add in ultrasound." That number is slightly skewed, Dean cautioned. Because breast tumors take as long as 10 years to reach a detectible size, women having their very first mammogram or very first breast ultrasound are more apt to yield an aberration than women having repeat procedures. Most of the study participants were having their first whole breast ultrasound. Even so, the increase in cancers found is substantial.
Ultrasound is similar to Magnetic Resonance Imaging (MRI) in that it looks at thin slices of tissue at a time, micro-millimeters thin. The machine itself makes a whirring, white noise sound, but doesn't pinch or strain your nerves the way mammograms can. First you put on a special camisole, then you lie on an exam table. A technician applies gel (warmed up, thank you very much) to your breast, and a computer-guided transducer wand tracks over it methodically from right to left, until every inch is covered, and the results are recorded onto film. Dean watches it later, sometimes multiple times, looking for any abnormality in a background of motion.
The particular machine used in Dean's study, SonoCine, was developed by Kevin Kelly, MD, of Pasadena's Hill Breast Center. "It was a thousand little steps, and no big steps," he said of his 15-year effort. Though ultrasound has long been used to diagnose breast cancer, getting a detailed look at anomalies already identified, looking for something that may or may not be present is a different kettle of fish; you have to search every last inch. Kelly determined the proper speed the film had to go for radiologists to be able to spot something at odds with its surroundings.
"If I had a five millimeter cancer, I'd like people to be able to have a half a second to cover that amount of tissue. That works out to be one frame for every eight-tenths of a millimeter," he said.
When it comes to breast cancer detection, size really matters. Dean said SonoCine is finding cancers significantly smaller than the ones found on mammograms. "For mammography, most of the cancers have to get over a centimeter to be able to see them, whereas in ultrasound we can see most of them at under a centimeter." She said SonoCine had tripled the number of cancers found at under a centimeter.
Ultrasound's possibilities aren't going to send mammography the way of the dinosaurs. There are certain abnormalities that mammograms can detect but ultrasound cannot, like micro-calcifications-tiny, sometimes-precancerous lesions in the milk ducts. They can become fast-moving cancers. Ultrasound doesn't pick these up at all, Dean said. So, since there's no cure for breast cancer, ultrasound coupled with mammography are women's best defense.
The study took place at four breast imaging centers around the country: Judy Dean's practice in Santa Barbara, The Hill Breast Center in Pasadena, and centers in Albuquerque and Atlanta. Until the FDA approves SonoCine, women are going to have to pay for it out of pocket. Dean said only a third to a half of those who need it opt to have it because of the cost. That's gradually changing, however, as women who've had cancer caught very early with whole-breast ultrasound tell friends and family members what $300 bought them at Judy Dean's office.