Business
McDonald's Myth Dies Hard
Ty Warner's New York Enterprise and the True Origin of McMuffins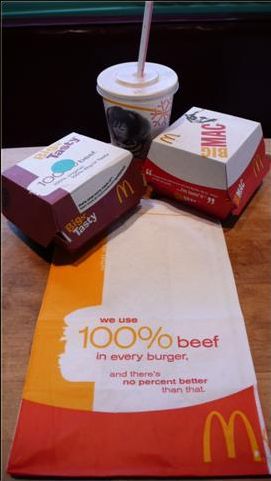 I'm Outta Here! Yep, I'm quitting the Indy and accepting a more-than-generous offer to return to the News-Press at double my old salary and half the work. (April Fool!)
Ty Warner's $50 Mil Penthouse: For a mere $30,000 a night, you can swell it up on the entire 52nd story of Ty Warner's New York Four Seasons hotel. There you will be safe from muggers, politicians hustling votes, hookers, peddlers hawking inedible hot dogs at Times Square, screeching taxies with drivers screaming vile oaths in strange tongues, and even worse, swarms of kids swearing in Jersey accents. Our Ty has sunk $50 million of his billions into the playground in the clouds. At the Ty Warner Penthouse, every effort has been made to shield you from the (ugh!) outside world, including a private elevator, infinity edge bathtub and zen garden. However, if you do wish to gaze upon the unfortunates below, there are magnificent views of Manhattan. No noise from the city that never sleeps will creep into your aerie. Other perks: Your own designated table at the hotel's Joel Robuchon restaurant. Why venture out into mean streets when you can dine safely at home? You also have use of a butler, chauffeured Rolls, spa treatments, and unlimited phone calls.
More and more hoteliers are finding ways to accommodate the swelling elite who will pay any price for privacy. One Scottsdale resort has purchased private homes and converted them to mini-resorts within its compound, complete with choppers so that the hoity toity can whisk to and fro without having to mingle with the hoi polloi at the main resort.
Ty Wins: Meanwhile, the 7th Circuit Court of Appeals in Chicago has cleared Ty of witness tampering and affirmed a jury's decision awarding him $713,000 in damages, on a trademark infringement claim. In 2000, Ty sued Softbelly's Inc., a California plush toy maker, for trademark infringement in connection with Softbelly's "Screenie Beanies."
'Fore' Seasons: Ty is asking the Four Seasons hotel group, which manages his Santa Barbara Four Seasons Hotel, and Coral Casino, to also manage his Montecito Country Club. He is working with golf legend Jack Nicklaus to renovate the hillside course.
Working for Herb: What was it like working for the late Herb Peterson, owner of the local McDonald's franchises? Jeff Kennedy recalls the work ethic and attention to detail that Herb instilled in his young employees:
"I got a job at the original McDonald's in Goleta on Fairview back in 1968, when it first opened (and I was in high school). I was there opening night and it was a madhouse. We were all a bunch of high school kids trying to remember what we were taught and just winging it for the hundreds of hungry and demanding customers. I worked there all my senior year as much as I could, as I was determined to make enough money to spend my summer before college in Europe on a motorcycle. (Which I did.)
"I do remember that Herb was always in the restaurant watching us and making sure we did everything the McDonald's way. Ray Kroc [the man who launched McDonald's into fast-food frenzyland — BB] would occasionally show up too, but he would say he was coming and Herb would have us cleaning EVERYTHING: the equipment, the floors, the ceilings, and the parking lot and even out scooping up the gutters along the street. As I recall, Herb was always coming up with new ideas and tweaks for Mr. Kroc and they would work on them at Mr. Kroc's kitchen at his home in Santa Ynez. I heard that Mr. Kroc had a kitchen that was a duplicate of the kitchens found in most McDonald's restaurants.
"I distinctly remember that Herb was upset that he could only use his restaurant facilities for lunch and dinner. He felt it was a great waste not to be using the facility in the mornings. He came up with the idea of cooking up loads of burgers in the mornings and selling them to the schools for lunches. I remember, in the summer following my return from my European adventure, cooking up bags of hamburgers that some of the private schools picked up. So Herb was definitely thinking about breakfasts and wanting to do some business at this time.
"Here is my take on the claim that some guys working at one of the McDonald's came up with the Egg McMuffin: I find it very improbable that Herb or any of his managers would be letting workers fiddle around on the grill in the morning or at any time during the day with cooking up their own food. Herb and his team were 'company men' and did everything by the book. McDonald's corporate types would never allow putting odd things like eggs, Canadian bacon, etc. on the grills. Herb would never have let a worker mess around like that. A McDonald's before the Egg McMuffin did not use or have eggs, Canadian bacon or English muffins lying around, either. They seem an odd combination to bring to work at a hamburger place too. I guarantee that if a manager or Herb saw anyone cooking up stuff like that on his grill they would be told that it was the last time and if they saw them doing it again they were fired. When I worked at the restaurant in Goleta we would get tired of burgers and go next door to the Taco Bell for a change. Herb would not allow us to bring tacos, etc. back into the restaurant to eat, or be seen at the Taco Bell. The Taco Bell people would occasionally come over and buy our burgers and shakes too.
"Bottom line, there was no messing around cooking strange stuff at McDonald's by the workers. I never saw anyone do it in the years I worked there. Herb ran a tight ship."