Theater
The Syringa Tree, presented by the Ensemble Theatre Company Production
Alhecama Theatre, Saturday, March 29. Shows through April 20.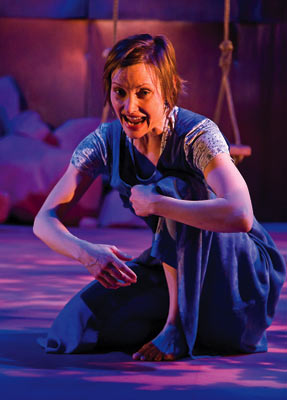 The Syringa Tree portrays an epic subject-South Africa during the years of apartheid-through a huge and diverse cast of characters, from small children and teenagers to their parents and grandparents, from white English and Afrikaans to township black. All these characters are portrayed by one actress.
One-person shows have become their own genre with a fairly standard set of expectations, but Shannon Koob and The Syringa Tree manage to sail right past the cliches, landing squarely in the territory of the drama. The primary reason for this is Koob's daring, high-intensity performance. It's one thing to memorize a 90-minute continuous monologue with two dozen characters in it, but to put it together with the kind of near-dance, full-body characterization Koob employs is nothing less than amazing. There must be more than 100 light cues, and Koob hits every mark at full pitch.
The show comes from South Africa by way of Cambridge, Massachusetts, where playwright Pamela Gien was an actress with the American Repertory Theatre. Gien was asked to tell a family story as part of an acting exercise in a class, and it was there where she first performed an episode involving her maternal grandfather, her mother, and her nanny that left everyone in the room in tears. Gien returned to the material and expanded it to tell a generational story of growing up as an Anglo resident of South Africa before, during, and after the great Soweto uprising of 1976.
At the core of the story are two children: the narrator Elizabeth Grace and her nanny's daughter, Moliseng. Born in secrecy and kept out of sight to avoid being forced to leave her mother and return to Soweto, young Moliseng grows up playing with her older friend Elizabeth in the shade of the big syringa behind the Graces' house. Koob has a great ear for the song-like speech patterns of Moliseng and her mother, Salamina Mashlope, rendering the tremendous challenges they face during the course of the play all the more heartbreaking. This is a great story and a wonderful production, beautifully realized by Koob and director Michael Evan Haney.