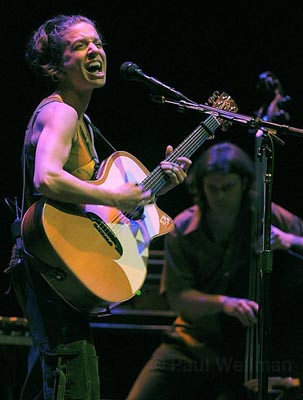 "Does she rock, or what? Is she a righteous babe, or what?" This was the conversation overheard upon leaving the Lobero following Ani DiFranco's truly righteous Sunday night set. And the sentiment was shared in our group and among the packs of fans streaming out of the theater.
DiFranco's anthems have served as the soundtrack for many, capturing joy, defiance, heartache, heartbreak, and the quest to figure out how to make it in this world. Each one of her 20-plus albums has featured songs that I've played again and again, assuring myself, "Oh, yes, that's the way it is." And on Sunday night, I was in the company of people who felt the same way, mouthing lyrics along with DiFranco's impassioned delivery. There are few who throw as much passion and excitement into a live show as DiFranco; the combination of personal, political, and poetic lyrics, hard-driving guitar-strumming, and a nonstop, high-energy stage presence give her an unequaled charisma.
From the moment she opened with "Shy," DiFranco proved she was anything but, performing with a smoldering intensity and mischievous gleam in her eye. Without taking a break, she demonstrated her poignancy and relevance with older tunes like "Not a Pretty Girl" and newer ones like "78% H2O." And her capable backup band-made up of Todd Sickafoose on upright bass, Allison Miller on drums, and Mike Dillon on assorted percussion-never missed a beat. The energy was palpable and the sold-out crowd could not sit still. As the evening raged on, the wave of dancers swept forward from the back rows until the entire room was on its feet.
It was a bit hard to know what to make of openers Judy Grahn and Animal Prufrock, accompanied by Anne Carol. The mix of spoken word, political commentary, and unabashed worship of DiFranco (Prufrock proclaimed that Ani gave her an "emotional boner") paled in comparison to DiFranco's driving, take-no-prisoners approach. Yet during "Evolve," Prufrock joined-and nearly upstaged-the singer with her joyful topless striptease.
During the second encore, DiFranco reminded us of our connections to each other and why we all get an "emotional boner" listening to her sing, saying, "I know there is strength in the differences between us, and I know there is comfort where we overlap." Amen, sister.