Iration
At Velvet Jones, Thursday, April 3.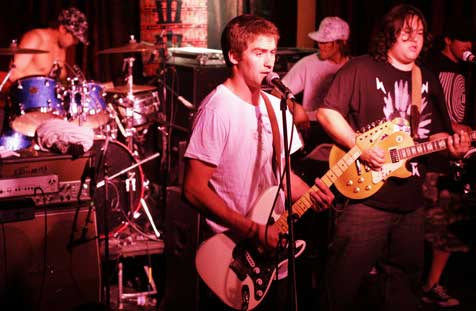 The floor was packed at Velvet Jones last Thursday night for Santa Barbara's rock/reggae staple Iration, who stopped by to say goodbye before heading out on a national tour with Pepper (of "Give It Up" fame). In typical Velvet fashion, although slated to play at 11 p.m., the band took the stage just before midnight, but had everyone dancing within the first 10 seconds of their bass-heavy opener "Meditation." Led by the vocal stylings of Micah Pueschel, Kai Rediske, and the charismatic Catlin Peterson, the crowd sang along for "Heavy," "All Night," and the song that should probably be adopted as the S.B. college student anthem, "Downtown."
All hail from the island of Hawai'i and first started playing as a Bob Marley cover band when they moved to Santa Barbara. After solidifying members Adam Taylor (bass), Joe Dickens (drums), Cayson Peterson (keyboards), and Joseph King (synth), Iration began writing their own songs and quickly gained a substantial following on the Islands and in California, playing the backyard parties that defined weekends for most of us Isla Vista-dwelling party-goers who provided inspiration for tongue-in-cheek songs like "Walk of Shame."
What sets Iration apart from the typical reggae band is their significant rock feel. Heavy percussion and deep bass lines define songs like "Fire," which lead singer Pueschel said comes from listening to the energy of bands like Led Zeppelin and Metallica. The rootsy, romantic side to their music appealed to the females on the floor Thursday night, leading some ladies to dance their way onstage during "Electricity." Dimmed lights and the bluesy, sensual "Wasting Time" forced this reviewer to find a way to hold a beer, scribble on a notepad, and sway simultaneously, and had more than one girl slow-dancing with a pulsating speaker.
With two CDs and plans to head back into the studio this June, more than 25,000 votes on mtv2ontherise.com, and the excitement of covering 16,000 miles in five weeks with Pepper, Iration seem poised to spread their music to the masses. And with good music and good looks, we can't help but wish them good luck!