Books
Journalists Steve Coll and Robin Wright Present Their Visions of the Middle East
One Region, Many Perspectives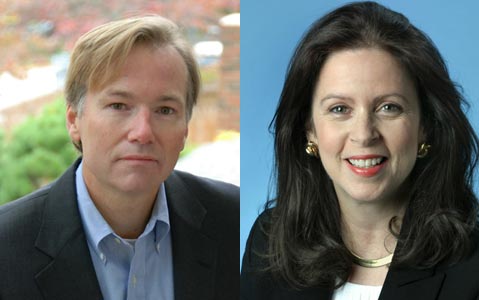 While the Iraq War and the events of September 11, 2001, are common household topics, the Middle East, in some ways, remains a mystery to most Americans. For those eager to expand their understanding of the region's politics and its history, an opportunity is about to present itself. Journalists Steve Coll and Robin Wright, who are appearing in a joint speaking engagement at Campbell Hall this month, have spent decades exploring the history of some of the most intriguing and frequently misunderstood characters and nationalities in the region, and both have recently published illuminating books on the subject.
As a correspondent for and then managing editor of the Washington Post, Coll had already traveled widely before beginning his second book project, The Bin Ladens: An Arabian Family in the American Century. The book traces the life and times of three generations of Osama bin Laden's enormous Saudi Arabian clan. In a recent phone interview, he said the travel, the interviews, and the sheer amount of detail he had to assemble to write the book were exhausting, but the process was also a great deal of fun. "I've always said to my friends that of all the things I've done, this was the most entertaining subject [to research]," he said. This attitude comes through in the book. The Bin Ladens is a sweeping narrative so full of personal details relating to the bin Laden family that it could almost be taken for a novel, were it not for the exhaustive research process that is so painstakingly documented in footnotes. Beginning with Osama bin Laden's grandfather at the turn of the century, the book traces the rise to power of Osama's father, Mohamed bin Laden, in Saudi Arabia. As King Abdulaziz's primary contractor, Mohamed amassed a vast fortune through not always above-board means.
Mohamed bin Laden also found time to father an astonishing 54 children; Osama was born almost precisely in the middle. Coll follows the differing paths of these children-primarily Osama and his brothers, as the lives of Saudi Arabian men are better documented than those of women-and in the process sheds new light on Osama's early life. Any reader with an interest in the lesser-known facts behind one of America's greatest rhetorical villains will find much to fascinate in The Bin Ladens.
Robin Wright has taken a very different approach in Dreams and Shadows: The Future of the Middle East, treating seven Middle Eastern nations one by one, and examining the current political atmosphere of each in some detail. Dreams and Shadows contains a wealth of information collected not only during her 35 years of journalism in the region, but during a period of intensive interviewing and travel immediately prior to writing the book.
During a phone interview, Wright said, "In the aftermath of our failure in Iraq, I realized one of the reasons for it was that we knew so little about what was going on inside Iraq. We are ignorant of what's going on inside most Middle Eastern countries." She believes that both the government and the people of the United States, when discussing Middle Eastern nations, tend to "value them or assess them in terms of their regional policies," rather than as distinct countries with unique difficulties and struggles. The individuals who are working to improve political conditions in their native nations, and who are frequently quashed by their governments, are not well known in the U.S.-and Wright has collected their stories.
Following lectures drawn from material contained in their books, Coll and Wright will engage in a discussion of the issues they've raised. Coll's focus on the life and times of the bin Laden family and his examination of the Middle East's past is sure to illuminate Wright's overview of the region, and her speculation on what the future holds.
4•1•1
Steve Coll and Robin Wright will deliver presentations followed by a discussion at UCSB's Campbell Hall on Thursday, April 17, at 7 p.m. This is a free event. For more information, call 893-3535 or visit artsandlectures.ucsb.edu.