Dance
UCSB's Spring Dance Concert Features a Rare Collaboration
Reviving 'Anemone'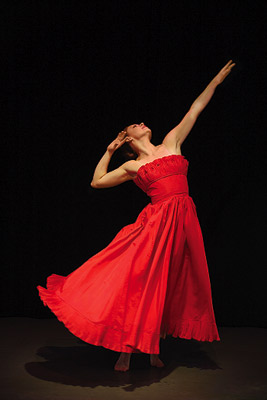 In the darkened ballet studio at UCSB, a single dancer is rehearsing for the department's upcoming spring concert. As she whirls through space, breathing audibly, she catches occasional glimpses of her reflection in the wall of mirrors. Her hair is tied in a loose bun, and over her sweat-stained leotard she wears a long, billowing white skirt. She curves her spine in deep contractions, unfurls her arms toward the ceiling elbows first, and spins in rapid spirals that seem to travel through her body from her feet to the top of her head.
Sitting on the floor at the edge of the room are Christopher Pilafian and Nancy Colahan, teachers in UCSB's dance department. They watch Melissa Ullom intently; their bodies sway slightly in response to her movements. Every few moments they break in with suggestions. "The second time you do it, it's really fierce, right?" says Colahan, stopping Ullom after a particularly dramatic descent to a crouched position on the floor. "But the first time, you're just getting into it." Ullom wears the expression of an earnest student, but the powerful, decisive quality of her dancing is that of a mature artist. With every comment, she returns to the movement as if feeling it for the first time-lowering her weight, then lifting it, repeating a gesture over and over, searching for the sweet spot.
The dance Ullom is rehearsing is "Anemone," a solo that Pilafian first created for Colahan in 1998. Before joining the UCSB faculty in 1997, Colahan danced for nine years with Lar Lubovitch Dance Company in New York, also appearing with such luminary modern dance troupes as Alvin Ailey American Dance Theater and Jose Lim³n Dance Company. Ten years ago, when Colahan was invited to perform a work of her choosing in a shared concert of women's solos, she asked her colleague Pilafian, a master performer and prolific choreographer, to create a new piece for her. They commissioned an original score from Gianna Abondolo, an Oakland-based cellist and composer, with the request that Abondolo perform onstage alongside Colahan.
From the beginning, "Anemone" was conceived as a character study. "The dance follows a woman's journey into her soul," Pilafian said. "It takes its name from the flower, anemone, which opens when touched by the wind." Ever since its 1998 debut, Colahan and Pilafian have considered reconstructing "Anemone" on one of their students, and for 10 years they waited for the right dancer. When Ullom joined the department last year, they knew they'd found her.
A Santa Barbara native, 26-year-old Ullom trained at the Goleta School of Ballet and the Santa Barbara Ballet Center. Graduating from Santa Barbara High School early in order to join Houston Ballet's pre-professional training program, she went on to dance with San Francisco's Smuin Ballet and to train at the school of Hubbard Street Dance in Chicago. She joined the UCSB dance department in early 2007. "Melissa is one of the finest modern dancers ever to emerge from the Santa Barbara dance scene," Colahan said, adding, "There is something so lovely about the passing on of material from one generation to the next, bringing a piece back to life again, and watching a young artist find new depth and challenges that will propel her into a whole new level of professionalism and expression."
The collaborative process is what excites Ullom about this project as well. "As a piece that explores the psyche of a woman going through a major transformation, much of this process has been about discovering how the choreography, use of space, and relationship to Gianna represent different stages of change, reflection, and growth," she said. "To work with such incredible people and dance a beautiful work that helps me grow as an artist and as an individual. : I know how rare and valuable this opportunity is."
This weekend, Ullom and Abondolo will perform "Anemone" as part of the department's annual spring concert, this year titled Breakthrough, and featuring both faculty and student work.
As dedicated dance educators, Colahan and Pilafian thrive on their interactions with students, but it's clear this collaboration is particularly fulfilling. After watching Ullom dance the 10-minute solo from start to finish, they spend more than 30 minutes discussing its nuances, making suggestions, rising to their feet to demonstrate, and sitting back to watch as Ullom interprets their feedback. Finally, it's time for a second run-through. Abondolo is out of town, so an empty chair represents the cellist's position onstage, and a recording replaces the live music. Ullom begins in stillness and silence. As the score builds, so does her movement. Soft gestures give way to dramatic pitches, soaring split leaps with her face to the ceiling, and a collapse that leaves her crumpled on the floor. There's a compelling sense of inner turmoil, but just as arresting are Ullom's exquisite control, her ability to remain connected to her body and to the performance, and her sheer physical power. Finished, she glows with exertion; her teachers glow with the satisfaction of seeing their work come alive.
4•1•1
Melissa Ullom and Gianna Abondolo will perform "Anemone" as part of the UCSB dance department's spring concert, Breakthrough, on Friday, April 11, through Sunday, April 13. For more information, call 893-7221 or visit theaterdance.ucsb.edu.