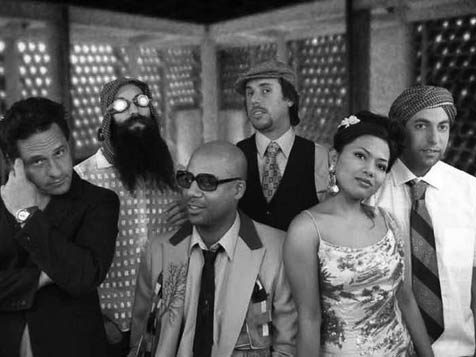 SPRING FEVERISH FESTIVAL: In the beginning was the memorable UCSB New Music Festival, run for a decade by former Corwin Chair professor and internationally noted composer William Kraft. Each spring, it was the high-water mark on Santa Barbara's musical calendar, especially where contemporary music and "fringe" fodder were concerned. Among the points of focus in the festival's history were Stravinsky, contemporary music from Mexico and Poland, and the less public but lively "concert music" of celebrated film composers, including the late, great Santa Barbara-based composer Elmer Bernstein.
With Kraft's departure, the festival morphed into the more broadly defined music, dance, and "other media"-oriented entity, the Primavera Festival. Directed by Jeremy Haladyna, also a pivotal figure in the New Music Festival, this year's fifth annual model runs from April 21-26 at various UCSB venues. The spotlight is on UCSB's own respected figure in the world of computer and conceptual music, JoAnn Kuchera-Morin, who has been a strong presence in the convergence of music and digital media for years. She is the founder of the University's "CREATE" (Center for Research in Electronic Art and Technology) program, which was launched in 1986 and has presented many an intriguing digitally inclined concert, especially in recent years.
Kuchera-Morin's "Aquaforms" will be the centerpiece of the CREATE concert at Lotte Lehmann Concert Hall on Thursday, April 24, and she will give a lecture-demonstration on Wednesday, April 23, at 3 p.m. in Music Room 1145. And on Saturday, April 26, from 2 to 4 p.m., Kuchera-Morin will give a tour of the vast new "Allosphere" in the new California NanoSystems Institute on campus. Other features in this year's Primavera Festival include the Ensemble for Contemporary Music's concerts on Tuesday afternoon at 4 p.m. and Wednesday night at 7 p.m., plus current Corwin Chair holder Clarence Barlow's sound installation "Amaludus" in the College of Creative Studies gallery for the duration of the fest.
OFF BEATEN POP PATHS: April is the coolest month in Santa Barbara, it would seem, with more cultural taste treats and reasons to leave the house than we know what to do with. The laundry will just have to wait. And then there are those much-cherished surprise parties in venues off the main drag. Take the Mercury Lounge in downtown Goleta, where a recent week included shows by the truly fab electro-pop Swedish band Little Dragon and an unplugged solo show by John (X) Doe.
As the main showcase club in town and landing pad for many a touring artist, SOhO is more "on the beaten path" in terms of the club scene here, but that brick-lined room has its share of eccentric treats, too, including two in the next week. Hybrid Asian perspectives are in the air. If Little Dragon is distinctive partly because of the seductively left-of-center stylings of the Japanese-Swedish lead singer, a similar fusion cuisine effect can be ascribed to the SoCal-based but Cambodia-leaning band Dengue Fever, coming to SOhO tonight. The band mixes post-psychedelic rock cooked up by brothers Ethan and Zac Holtzman, whose ears were piqued by Cambodian pop after a trip there. They found the ideal singer for their band, Chhom Nimol, just down the 101 freeway in Long Beach's Cambodian community of Little Phnom Penn. Their music is a trip, quite literally, between cultures and 'tudes.
Then, next Thursday, SOhO hosts the wild splendor of the band known as Man Man, who have been gaining cred and a following for their theatrically and musically wild work-especially in the live context. They hail from Philly geographically, but culturally they hail from some quirky place where comparisons to Captain Beefheart and Tom Waits seem unavoidable but only tell part of the story. After building attention through opening act slots with Modest Mouse and Arcade Fire, they have a new record, Rabbit Habit (on Anti-, Waits's current home), and a slot at Coachella soon after they show SOhO patrons what they're made of. Be there.