Arts & Entertainment
Seattle Symphony, presented by CAMA
At the Arlington Theatre, Wednesday, April 9.
This final CAMA concert at the Arlington for this season attracted a large and enthusiastic audience for the orchestra and for internationally renowned violinist Nadja Salerno-Sonnenberg. Gerard Schwarz has been conducting the Seattle Symphony for 15 years, and the depth of his connection to his players showed in the way they brought precision and color to each of the pieces, two of which were excerpts from operas, by Wagner and Strauss respectively. The Wagner, from Act III of Die Meistersinger, came first, and served as an introduction to the evening's theme: an exploration of the most advanced and intricate forms of late 19th- and early 20th-century orchestration.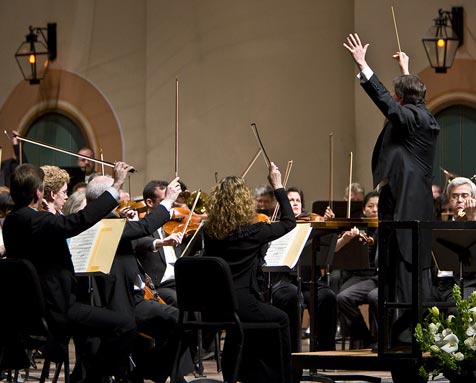 Next came Samuel Barber's grand and highly expressive Violin Concerto, Op. 14. Salerno-Sonnenberg danced and swayed her way through this superb and, in the third movement, extremely challenging score. Barber's characteristic blend of late Romantic warmth and texture floated over the room in waves as the first two movements set the stage for the virtuosic turn in the third. The extended oboe solo at the beginning of the second movement was played beautifully by acting principal oboist Ben Hausmann. Salerno-Sonnenberg can double-stop with the best of them, and gave a ravishing account of the rhythmic and technical demands of the finale, a section that was thought to be unplayable by some of Barber's contemporaries.
The second half of the concert was a feast for fans of Richard Strauss and was one of the most memorable stretches of orchestral music played in the Arlington this year. First up was the brilliant and beautiful Don Juan, Op. 20. Strauss can be relied upon to make a compelling case for music as narrative art, and nowhere is this more pronounced than in Don Juan, which has all the drama, twists, and turns of an exciting play. Based on the stringently conceived Don Juan of Nicolaus Lenau, the piece evolves through a wilderness of voluptuous abandon into the devastated wasteland of its final, despairing note. The Suite from Der Rosenkavalier, Op. 59 that followed was even better; robust and sophisticated, with crackling changes and sinuous waltz themes winding through darker, more foreboding passages.