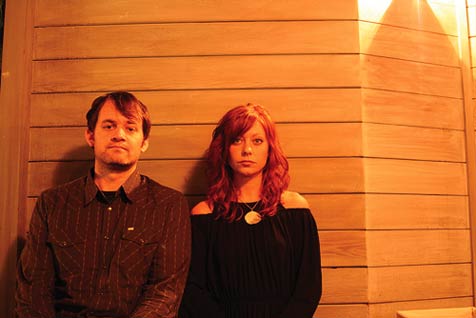 FRESH STARTS: While the rest of you spent your weekend diligently camping out in front of the Bowl in anticipation of the early-morning rat race for Radiohead tickets, I had the chance to sit down and trudge through the great-if not always grammatically correct-pile of electronic feedback I've gotten since embarking on this little adventure just over a month ago. And following said task, I came to a conclusion: Within the walls of our delightfully insular music scene, it seems things have been growing, shifting, and changing quite a lot as of late. Take, for example, the recently released debut from Santa Barbara transplants ThreadSpinner. I admit I tend to shy away from bands that choose to arbitrarily screw around with English-grammar constructs, but a job is a job, so I swallowed my pride and took a listen. What I found upon further inspection was a simple but lush setup, courtesy Michiganites Sarah and Jon Ziebarth. Teetering between the constructs of contemporary country and indie folk rock, the duo (who man vocals, piano, guitar, and bass collectively), have chosen to team up with a bevy of backing musicians for their debut recording, The Firefly Lawnchair Parade. Whether ThreadSpinner's sweet lyrics and twangy instrumentation will hold up outside the studio remains to be seen, but I've got high hopes-and plenty of chances to find out. Check them out Saturday, April 26, at Cold Spring Tavern (5995 Stagecoach Rd.) from 6-9 p.m. for their CD release party. Visit myspace.com/threadspinner for details and additional show dates.
FAMILIAR FACES: While seeking out the newest, hippest, most under-the-radar young blood will always be a music critic's favorite pastime, something must also be said for the number of breakups and shakeups that have recently played out in our town. Case in point: the quiet burial of S.B.'s alt-rockers Ona. Not so long ago, these State Street staples were rocking out alongside Iration, Sugarcult, and Animal Liberation Orchestra for the 2007 installment of Twin Productions' West Beach Music Festival (westbeachmusicfestival.com). But soon after, "creative differences" reared their ugly heads, and the gents went their separate ways. Fast forward a few months, and enter the Omar Cowan Band. Staring Cowan (Ona's former frontman), bassist Shane McKillop, and drummer Justin Flint, the group recently helped organize an epic evening of local tunes at the MainStage at Jensen Music (2905 De la Vina St.). Too young-or perhaps simply too anti-establishment-to put their names to a Web site as of yet, I have no doubt we'll be hearing more from these lads in the coming weeks. Stay tuned.
In the world of entrepreneurial endeavors, Westmont grad (and resident Indy music crush)Reid Spencer (reidicus.com) has taken on a new pet project, helping to manage the solo career of former Something Corporate axe man William Tell. Since leaving the piano punk outfit (who claim to be currently in "suspended animation" : whatever that means) in 2004, Tell has been touting his own wares in and out of the studio, most recently touring in support of his solo debut, You Can Hold Me Down. Tell will be heading to UCSB's Storke Plaza for a free noontime show this Tuesday, April 22. Visit myspace.com/williamtell for tunes and tour dates. And as for Spencer? Well, he hasn't gone all corporate America yet. He'll be playing back-to-back sets at this year's Santa Barbara Fair & Expo on Saturday, April 26, and Sunday, April 27, at theEarl Warren Showgrounds. Visit sbfairandexpo.com for details.