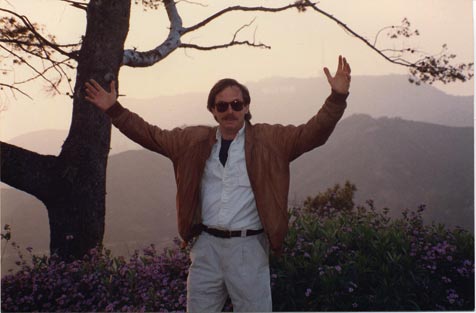 Will Spens spent 30 years reporting and anchoring on radio and television, earning two Emmys and a New York City Civilian Heroism Award. When he moved to Santa Barbara in the mid 1990s, Spens told his family he was pursuing religious and monastic studies. It is fair to say that he also struggled with psychological demons that rendered him paranoid. Nonetheless, he wrote about current events on several blogs (see willspenssummary.blogspot.com), supported journalists who were fired or resigned from the News-Press, and recently recorded radio spots on behalf of 3rd District Supervisorial candidate Dave Bearman.
For the past 10 years, Spens lived at the Faulding Hotel. A memorial service was held there, and another at the Salvation Army, where he often ate meals and through whose auspices he visited nursing homes to talk with the residents. Friends praised his wit, his humility, and his "genius at cutting through inauthenticities in social relations."
Spens died at the age of 57 in a one-car accident near the Ventura County line on April 1. His cell phone had only five phone numbers in it, all of them to major news networks. What follows is a reflection on Spens's life by Tony Russomanno, a San Francisco news reporter.
Bachelor parties are depressing. This one was the kind of downer that would make you swear them off forever.
It was on the eve of his first marriage to a Manhattan socialite. Will Spens leaned against the nicotine-stained wall of his Upper East Side co-op and cataloged what he would lose in the divorce.
In between drags on a cigarette, Will counted off his possessions in a low, liquid voice, the voice of the all-night obituary of the air.
Co-op. Sailboat. 280Z.
The marriage lasted six months. His career as a New York TV and radio news anchorman and reporter lasted quite a bit longer, but eventually, no one in town would hire him.
By then, I had moved to Santa Barbara. One day on the phone, I advised Will to get on a plane and find a job in L.A.
"How do I do that?" he asked. I forgot that people as talented as Will usually do not have to look for work. Potential employers find them.
So I started to explain the basics of getting an agent and putting together a resume when he interrupted me.
"No, I mean, how do I get on a plane?"
Will fully expected to be back on the air soon. He was, in my opinion and in those of his colleagues and competitors, the most naturally talented broadcast newsman we had ever worked with or against.
He was also lost. The tragedy was that his talent never left him. He was always done in by his bad choices, but he always screwed up in wonderfully creative ways.
Will came to work one morning at a top New York City radio station newsroom and found a note that read "run this" taped to an audio cartridge on his desk.
First, he listened to the tape in the production studio. It was a report of the Pope's visit to Manhattan, full of the pomp, excitement, crowds, and bedlam that only New York in the throes of full-on religious fervor can muster.
Excellent piece. Big news story. So Will gave it the full Spensian dramatic intro on the air. Only one problem: The Pope's visit was the year before. The report was supposed to have been aired as an anniversary story.
When Will's news director asked him how he could possibly think the Pope was in town when he really wasn't, Will said, "How should I know? I'm not Catholic."
John Bruni, who worked with Will and me at NBC News in New York, wrote last week that verses from Dylan's "Stuck Inside of Mobile with the Memphis Blues Again" could apply to Will's life.
But me, I expected it to happen
I knew he'd lost control
When he built a fire on Main Street
And shot it full of holes
A mutual friend, Richard Procter, one of the Deluxe Brothers comedy troupe heard on KTYD in the 1970s, wrote about Will's death:
Certainly no surprise, but still very sad. Carl Jung said, "A whole person is one who has both walked with God and wrestled with the devil." Will seemed to spend 100 percent of his time wrestling with the devil, and losing.
Will wasn't addicted to anything you could buy on the street, except cigarettes, and he didn't like to drink. He truly had a burning desire that he could not escape, despite advice and help from friends and professionals for many years.
My candle burns at both ends;
It will not last the night;
But ah, my foes, and oh, my friends-
It gives a lovely light!
-Edna St. Vincent Millay
Before his short-lived second marriage, to a Santa Barbara bisexual dominatrix some 25 years after the equally short-lived first marriage, Will called and put the squeeze on me for a couple hundred bucks to buy a ring for his bride. It was one of the last times I talked to him, but I was kind of glad I missed the bachelor party.