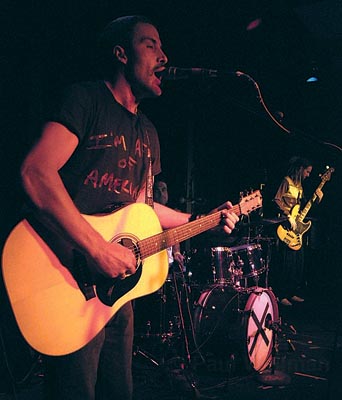 It has often been written-admittedly more than once in the pages of this very paper-that Australia's The Beautiful Girls are a band with a saltwater-infused sound, much like Santa Babylon's beloved part-time resident Jack Johnson. I am happy to report that such claims, though perhaps once true, were absolutely obliterated last Friday when the Sydney-based trio, making a return trip to the 805 as part of its first headlining U.S. tour, used their trademark rootsy sounds as a launching pad into the skunky, funky, and a little bit dirty rock reggae cosmos. And I think it is safe to say that everyone in the near-capacity crowd was more than willing to make the trip.
Years ago, during a previous life when I haunted surf towns the world over with little more than the clothes on my back and a few fast-fading surfboards, I was lucky enough to wash up along the north coast of Sydney for a few months. On what seemed like a weekly basis, the melodic Mat McHugh, drummer Bruce Braybrooke, and bassist Paulie B would turn up at the local Narrabean pub and perform. Calling themselves The Beautiful Girls, the boys played a downright enjoyable brand of the easygoing barbeque music that Mr. Johnson made famous.
Nearly a half decade and three albums removed from those days, The Girls spent Friday night channeling a genre-bending, dance-inducing sound more akin to The Police or The Clash than the folk-bloke music they often get recognized for. One listen to "I Thought About You" and you'll know exactly what one double-fisting Aussie meant when he remarked to me only three songs in, "Makes you just want to grab your woman and dance her, doesn't it, mate?"
At times-especially when playing tunes off their new album, Ziggurats-The Girls took their varied influences, crushed them together, and spit them out in a positively gritty and guitar-driven sound. But then, just when you thought the skins of their earlier albums had been shed, they would downshift and give you something slow and sweet like "Sturdy Up Your Heart." It was a salt-and-pepper balance and a brilliant complement to a beer-filled Friday night.