News
Finding Bombs at Vandenberg and Beyond
EOD Team Cleans Up Base and Clears Iraqi Roadways of IEDs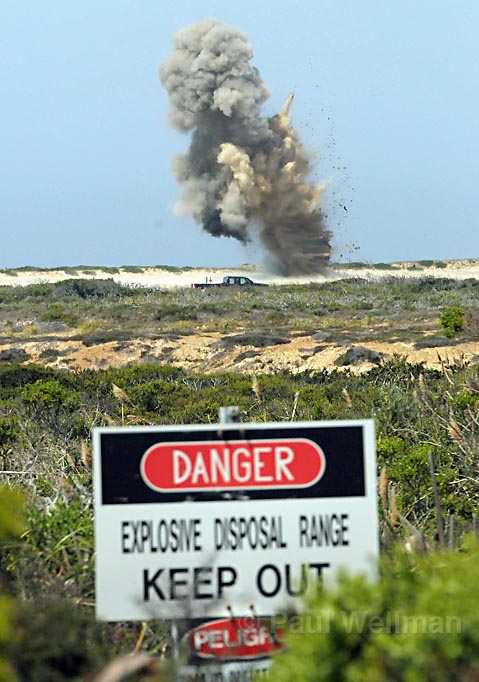 Vandenberg Air Force Base is usually a place known for its rockets, missiles and space program, but there is also another little known unit dedicated to diffusing bombs and disposing of explosive devices. The 30th Explosive Ordnance Disposal (EOD) Flight, part of the 30th Civil Engineering Squadron, not only trains on the base, but also keeps very busy disposing of the regularly found unexploded ordnance (UXO) which remains on base property from its days as an Army tank corps training camp. The 30th EOD Flight is also the most frequently deployed unit at Vandenberg, and members of the unit regularly go on six month tours in Iraq and Afghanistan to support infantry units there by finding and attempting to render harmless improvised explosive devices (IEDs).
In order to stay sharp with their very dangerous medium, the 30th EOD trains constantly. "We have to be extremely proficient with explosives so that over in Iraq we don't waste time screwing around and getting killed," said senior airman Lindsey Ahonen, one of the unit's enthusiastic members. According to their statistics, one in five air force combat deaths is an EOD technician. Twice per week, the 30th EOD conducts explosives training, which members of the media were invited to yesterday. Twice per year, the FBI visits to base in order to blow up a large vehicle and practice dealing with the repercussions of that occurrence, or situations similar to Timothy McVeigh's bombing of Oklahoma City in 1995. Armed with C4 plastic explosive, TNT, and an array of gadgetry that would make 007 jealous, the 30th EOD practices blowing up charges for different purposes on their test range at Vandenberg's South Base. Yesterday was different though, as TV and print journalists were afforded the opportunity to scream, "Fire in the hole!" before pushing the buttons to detonate the test explosives.
Many may not know it, but volunteers armed with metal detectors comb the grounds of Vandenberg looking for UXOs. Finding UXOs fairly often, the type ranges from frequently collected rifle-fired grenades and rockets from Korean War era troop exercises to the 500-lb bomb they found about a month ago next to Space Launch Complex 3 (SLC-3). "Two weeks earlier, the Atlas 5 was sitting on top of SLC-3," said Staff Sergeant Robert Butler, one of the unit's team leaders. According to Butler's numbers, they have found 65 UXOs on base since January. UXOs are disposed of by detonating them. If they are too corroded to move safely to the EOD range, safety berms are constructed and the UXO is detonated on site. The Air Force and other military forces maintain that this is the safest way to dispose of ordnance, because nothing remains of it.
The 30th EOD also disposes of UXOs, nuclear, biological and chemical weapons, weapons of mass destruction, improvised explosive devices (IEDs), and any suspicious packages found on base or federal property at Vandenberg, Camp Roberts, and Fort Hunter Liggett in Monterrey. Butler added that they get called to help out in Lompoc and other area communities sometimes due to their proximity to those areas. Apparently, World War II and Korea veterans passing away and leaving behind UXOs for their family to dispose of is a not uncommon occurrence.
Over in the Middle Eastern war zones, technicians from the 30th EOD do much the same thing, albeit under greater pressure. Riding around in 40,000-lb Joint EOD Response Vehicles (JERVs)-$750,000 armored trucks constructed of 3-inch thick steel with windows that are approximately 8-inches thick-three person EOD teams support infantry units and highway convoys. Butler said that a JERV can withstand a direct hit from a fairly large IED. "We were blown up 13 times-twice on our vehicle-on 312 combat missions," Butler said of his last tour in Iraq. "We're pretty good, but you can't find 'em all." He said that the unit they were attached to took a few casualties during that tour, but that nobody was killed.
In addition to disarming the explosives that are found, EOD techs deployed in combat zones are also collecting information that will lead to the arrest of insurgents and people involved in the dispersal of IEDs. "We're hunting the guys who place them, but more importantly, we're hunting the guys who make them. We've been pretty successful." During his first six month tour in Iraq, Butler said that his 30-person shop disposed of nearly 500,000 pieces of ordnance. The significance of that is that insurgents are beginning to fashion their own explosives instead of using leftovers from Iraqi and other military forces. "That's both good and bad," he said. "Sometimes they don't know what they're doing and it doesn't work, or they blow themselves up, which is:fitting." Many of the roadside IEDs the 30th EOD finds are disarmed using remote controlled robots, which they keep in the back seat of their JERV.
The EOD range at Vandenberg is permitted by the state, and due to the fact that explosives are considered hazardous materials, all EOD technicians are required to be HAZMAT certified. They are regularly inspected by the California Department of Toxic Substance Control (DTSC) and EPA to ensure their compliance with state and federal environmental regulations. An environmental team is attached to the 30th Civil Engineers Squadron to monitor its environmental impact, and, like their missile test flight counterparts, EOD technicians are required to file a report for any type of release into the atmosphere. These reports are part of requirements imposed by the California Air Resources Board.
Being tasked with finding and disarming bombs, members of the 30th EOD have a distinctly dangerous job to perform, but aside from their training and high tech gadgetry, most of them seem to be armed also with enthusiasm, a wry wit, and the firm belief that what they do is saving people's lives.