Books
Ojai's 9th Annual Storytelling Festival
Telling Tales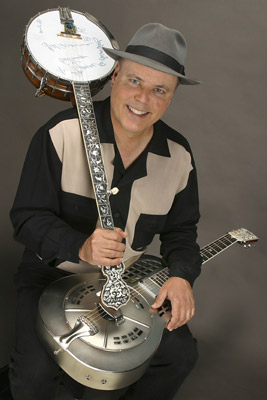 Some people exaggerate. Some outright lie. But when did you ever hear of someone making a living at it?
Bil Lepp does. Five-time winner of the West Virginia Liar's Contest, in 2000 he was invited to the National Storytelling Festival in Jonesborough, Tennessee, and has been touring the country telling his tales ever since.
"My stories pick up where good sense leaves off," he said with a laugh. "The Appalachian region is known for tall tales, but I'd say exaggeration and humor are pretty universal."
Lepp is featured at this weekend's Village of Tales storytelling festival in Ojai. Brian Bemel, longtime elementary school teacher, launched the festival eight years ago. He is proud of the caliber of storytellers he is able to commission and excited about their effect on audiences.
"When you hear the stories," he said, "you create your own mental images and can get lost in them. In theater there's the fourth wall, but in storytelling there's no wall-just a bridge between the teller and the audience."
David Holt, who will also perform, is a UCSB graduate who was first drawn to Appalachia to learn its old-time music but then got interested in collecting old mountain stories, too. In 1976, he was invited to the Jonesborough festival, which has grown from an audience of 150 then to 11,000 today. He is now a nationally renowned storyteller and multiple Grammy winner.
"Somebody gave me a tape, a long time ago, of David Holt," Bemel said. "And I was just enthralled. It was my first exposure to professional storytelling. I started bringing a lot of storytellers into the schools. About 10 years ago, I got involved with the National Festival and decided I wanted to start one here."
Ojai's schools strongly supported the fledgling festival, which played to a modest audience its first time out. During the next few years, word spread among the national network of storytelling aficionados that world-class tellers were being featured in a sleepy little California town. Recently, more of the region's residents have been drawn to the festival as they discover this rich opportunity in their own backyard.
To those who dismiss storytelling as just for kids, Bemel said, "It's the theater of the spoken word. In today's high-tech society, there's something refreshing about focusing on one person and the magic they can create with what they have to say. It isn't somebody reading a book. It's spontaneous."
As a matter of fact, there is a special show late Saturday night for adults only, titled Balls to the Wall. Holt and Lepp will provide the necessary true grit. "The audience for storytelling today is mostly adults," said Holt. "For example, I'm going to tell a true story that involves a medical quack who made a fortune implanting goat testicles into men."
Also appearing at the festival is Kevin Kling, a Minneapolis-based playwright and storyteller whose commentaries are heard on NPR's All Things Considered. Born with a short left arm with no wrist or thumb, Kling lost the use of his fully functional right arm in a motorcycle accident in 2001.
"Wisdom isn't cheap," he wrote, explaining how his career is different than it might have been if not for the accident. "It comes with a price. I'm not saying I'm wise by any means, but I know a lot more than I used to."
As one of only three people of color among a faculty of 70 at the Philadelphia school where she taught, Charlotte Blake Alston saw storytelling as a way to encourage appreciation of different cultures among her students.
"All stories cut across man-made barriers," she said. "They speak about human frailty and courage and longing and hope. My goal has always been for the human element in the story to reach out and connect to the human in the listener."
Eighteen years ago, she left teaching to tell stories full-time. Though the trend during the last decade has been toward the telling of personal stories, Alston remains devoted to traditional tales, largely focusing on African-American and African cultures.
She recounted an experience while traveling in Senegal with high school students, visiting children in a refugee camp.
"We brought lots of toys and candy, thinking, they have nothing. But they wanted to give us something because we were their guests. So they put on a skit for us. Without money, without status-without a country even-they gave us themselves. They knew it was a way they could connect with us, and they did."
"Stories ask the big questions," Kling summed up. "And even if an answer isn't found in the telling, by the telling we know we're not alone, and sometimes, most of the time, that's enough."
4•1•1
The festival starts tonight, Thursday, May 1, at 7 p.m. with a free opening night show at the Libbey Bowl, and runs through Sunday. For tickets or more information, call 646-8907 or visit villageoftales.org.