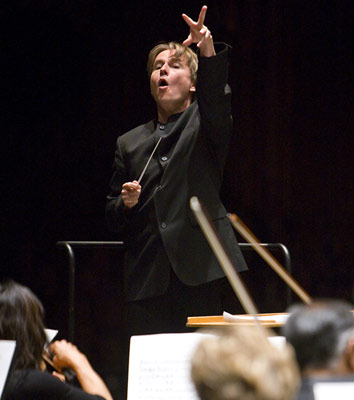 Making History: When the L.A. Philharmonic broke in the Granada for orchestral music last Saturday, for some, it was just another symphonic night out, albeit to the tune of a world-class ensemble. For most, though, it was hard to escape a palpable subsonic rumble taking place in this room on this night. History was being made and remade. Santa Barbarans sensed an epochal and cultural continuum we rarely get in this still-young continental outpost.
In her introduction, Bitsy Bacon, president of the Community Arts Music Association, first stated, "We are back," adopting the role of the omniscient observer not subject to mortal time waves. I don't believe anybody there on Saturday was also around when this band first played here in 1926. But in the long-arced, time-warped world of classical music culture, we ponder the lives and musical thinking of Bach and Mozart as if they lived decades instead of centuries ago. So it was nothing for us to wrap around the phrase "we are back," resting comfortably in the sense of "we" as an immortal, shared entity.
Consider the facts and factors, some of which were neatly laid out in the program. The Los Angeles Philharmonic, an orchestra frequently hosted by CAMA since its 1926 Granada debut, last performed here in 1976, before orchestral culture moved up a block to the Arlington Theatre. Saturday's orchestral groundbreaking ceremony at the Granada was the eleventh and final local stop for this now internationally respected orchestra in the glorious era under transplanted Finn maestro Esa-Pekka Salonen, who is stepping down after 17 great seasons. This was also Salonen's third Santa Barbara appearance with Norwegian pianist Leif Ove Andsnes as soloist, the first being in 1993, when Andsnes was but 23.
Yes, the numbers added up nicely and neatly, but how was the all-important sound? In a word-great. Local lovers of orchestra music can rest assured that Santa Barbara now has an orchestral hall in which the music can breathe and flourish. Especially once Salonen broke out the Wagner Ring cycle excerpts, an ecstatic haze washed over the Granada's newly scrubbed, faux antiqued surfaces. It was a revelatory moment in our cultural history.
On Brahms's second piano concerto, delivered fresh and steamy by Andsnes, the orchestra sounded substantial, clear, and balanced, although the piano sounded a bit hollow and under-nourished-at least from seat H13. That sonic second-guessing washed away in an inspirational gush when Wagner came to town. (This also served as a teaser for next season down south, when the L.A. Opera mounts its first Ring cycle.) To put it crudely, the Granada is a vast improvement over the Arlington, but a far cry from the Disney-admittedly an unfair comparison.
In a way, the worst thing to happen to the Arlington was Walt Disney Concert Hall. When it opened in 2003, finally pushed to completion through an ultimatum laid on by Salonen, Disney Hall rapidly became known as one of the finest and most agreeably live-warm orchestra rooms in the country, and beyond.
To step back a bit, some parallels can be made between the orchestral hall shuffle in Los Angeles and the recent change of venues in Santa Barbara. In the process of ramping up the machinery of expectation, hope, and hype for the new home, the old homes were unfairly disparaged. Dorothy Chandler Pavilion, like the Arlington, is a too-large theater for an orchestra's delicate demands. Yet neither theater is a dowdy has-been. The Dorothy Chandler works well now as the L.A. Opera's home, and the Arlington has lost none of its luster as a historic and kitschy scenic theater of note.
And to be fair, the Arlington's acoustics as an orchestral room were never as bad as they were cracked down to be. Depending on where you sat and how the orchestra grooved with the space, a good and aurally rich time could be had. Clearly, the Granada-with its more intimate, 1,500-seat capacity versus the Arlington's boomy 2,000-seater-is the place to be to go for a symphonic evening. We are back.