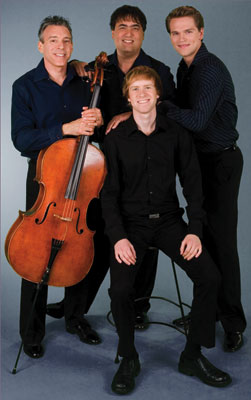 The members of the Turtle Island String Quartet-David Balakrishnan and Evan Price, violin; Mads Tolling, viola; and Mark Summer, cello-are coming off a second consecutive Grammy Award in the newly created category of "classical crossover artist." Their approach to playing jazz music in the idiom of a classical string quartet involves decades of experience, serious compositional chops, and an informed love of the full range of both world and American groove music. The Ventura Music Festival is an ambitious two-week affair that this year brings Turtle Island along with early music eminences the Concord Ensemble in for the second weekend of musical excitement at Ventura Missionary Church on High Point Drive in Ventura. Will Engel spoke with Mark Summer of Turtle Island.
How did the Turtle Island Quartet approach making your Grammy-winning concept album, A Love Supreme: The Legacy of John Coltrane? To begin with, we discussed the project from the standpoint of how to make a jazz tribute album without simply playing a list of Coltrane's hits. Since David Balakrishnan identifies so much as a composer, he saw it as an opportunity to arrange the A Love Supreme suite as the centerpiece of the album, and specifically the first movement of A Love Supreme as a vehicle to showcase his composing chops. He took John Coltrane's sax solo and composed a setting for the string quartet around it, modulating where, in the original, the solo implies the modulation while the ground bass remains in the key of B flat.
How would you respond to people who refer to Turtle Island as a "classical crossover" group? Well, since we recently received a Grammy for Best Classical Crossover, we won't be saying much about that! The Classical Crossover category is relatively new, and this is our second Classical Crossover win in a row, so really, it is a good thing for Turtle Island to be recognized and have a place in the scheme of things, Grammy-wise. It opens all kinds of doors, and anything that helps the public understand us and identify with the very strong connection this group maintains with the classical tradition is extremely helpful. That being said, as when we started in 1985, we're merely further developing the model that David Balakrishnan created that takes a classical form and fuses it to the groove-based music that is so quintessentially American-blues, rock 'n' roll, American fiddle, and jazz, as well as music from India.
Was there ever a time when you questioned whether the Coltrane project would work out as well as it did? We are painfully aware of the limitations of playing jazz on string instruments-not so much as solo voices, but in overusing these textures we have developed and exploited throughout the years. This is one of the reasons there is such an emphasis on the compositional element in this group. In using the traditional techniques of counterpoint and harmonic development that are commonplace in classical composition, we are able to create much more of a richness in sound, and a variety of textures that help sustain interest through an hour-long plus recording. In arranging the Love Supreme suite itself, I know that David worked mightily to expand the musical palette to create something that does not attempt to merely re-create what Coltrane created with his group, but takes it into more of the contemporary classical realm, especially in the first movement of the piece.
The Turtle Island Quartet will be coming to the Ventura Music Festival on May 9. What aspect of playing at this particular festival do you look forward to the most? It's always a pleasure to perform close to home, and to revisit old haunts. My father taught at Taft High School in Woodland Hills in the San Fernando Valley. One winter, after my parents had gotten divorced, he moved to Ventura. I spent many weekends at his apartment, which overlooked the ocean. I would lie awake at night, looking at the lights from the oil derricks, and listen to the ocean. It was extremely peaceful. As far as the actual concert is concerned, we are thrilled to be able to present John Coltrane's masterpiece, A Love Supreme, to audiences that are often unfamiliar with his magnum opus. It's gratifying to bring his most personal work to a wider audience, perhaps one unaccustomed to listening to jazz, and also to interact with jazz lovers who seldom listen to string quartets.
4•1•1
The Ventura Music Festival concludes this weekend with concerts on Thursday, May 8 (early music with the Concord Ensemble at 7:30pm), Friday, May 9 (Turtle Island Quartet presents A Love Supreme: The Music of John Coltrane at 8pm), and Saturday, May 10 (Festival Orchestra featuring Nicole Cabell, soprano, and David Lomel-, tenor). All shows are at the Ventura Missionary Church (500 High Point Dr., Ventura). For more information, visit venturamusicfestival.org or call 648-3146.