News
Four Arrested in September Murder
Body Was Found Near Highway 154, Connected to Large-Scale Pot Grow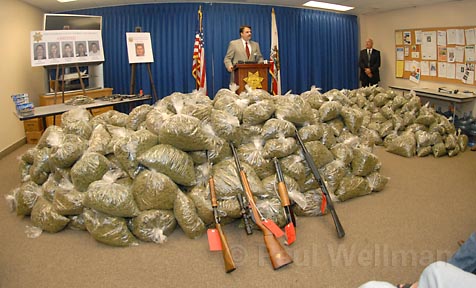 Authorities have arrested four men they believe were involved in murdering a man whom Santa Barbara Sheriff's detectives said was connected to a huge marijuana grow in Lompoc. The 23-year-old Adan Ruiz was found September 17 in a sleeping bag, dead from a bullet wound to the chest, along Highway 154. While investigators originally believed Ruiz was killed roughly eight hours before his body was found, they now say it took place on September 15. Allegedly, several people were taking processed and packaged marijuana out of the grow site. A "lengthy and detailed investigation" led detectives to information that "showed the suspects' direct involvement in the planning and murder of Adan Ruiz," spokesman Sgt. Alex Tipolt said in a press release Thursday.
The body was found about 15 miles from a large marijuana grow, which sat in part on the ranch property of Jim Poett, husband of Independent editor-in-chief and co-owner Marianne Partridge. (Investigators confirmed that the owners of the land on which the grow was found aren't involved in the operation.) A large drug cartel was said to have been growing roughly 93,000 mature marijuana plants on the site off Highway 1, the largest ever found in Santa Barbara County. The grow was discovered by a helicopter flying overhead after a man was arrested nearby with a backpack full of marijuana.
Arrested for murder were Perris, California, residents Servando Cabrera, 20, Jose Villa-Cervantes, 26, and Santa Maria residents Horacio Santoyo, 19, and Dimas Satoyo, 29. All four were booked into Santa Barbara County Jail and held without bail. "In conjunction with the Santa Barbara District Attorney's Office who has reviewed this case, Sheriff's investigators are confident they have solved the investigation into the murder of Adan Ruiz," Tipolt said in a release.